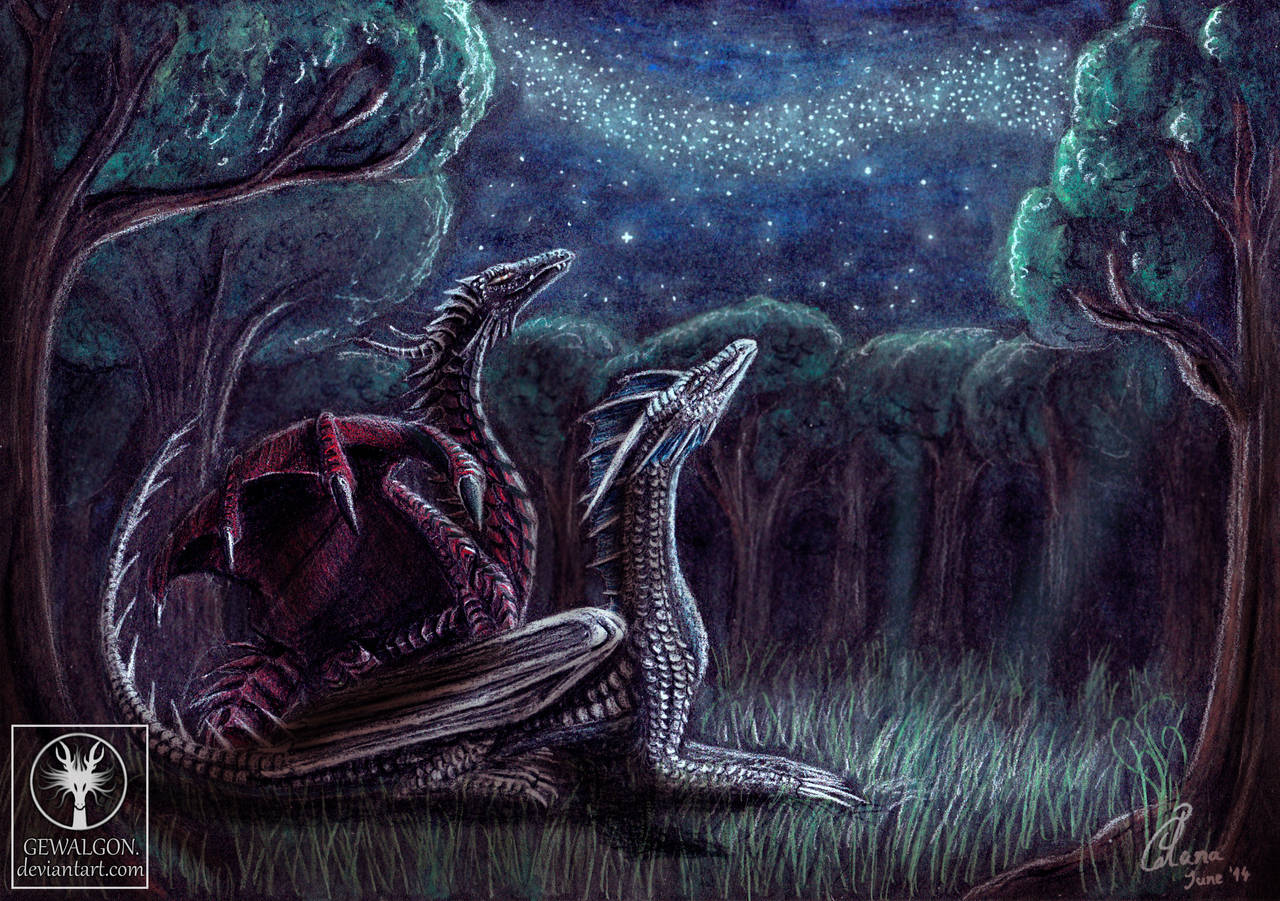 "It's a gift to enjoy this moment,
this beautiful nightsky.
It's a gift to be together with you,
sharing a deep bond of love.
It's a gift to be here,
being what I am...

It's the precious gift of life! ♥"
So... it seems I did my first commission!

Well... it was a weird feeling drawing for money... I'll make sure to use the money for good things!

It's a blackpaper drawing for
Rykaran
who commissioned me to draw his two characters Rykaran and Dorak together in a forest-glade under the nightsky where the stars should look like a "belt".
I really really hope you like it, I enjoyed to draw this one a lot!

Thank you for your support!


Reference used:
~._______________________.~

Medias used:
- Coloured pencils
- Pastel chalks
- White Edding
- Some edits with "Gimp" & PS6
-> Drawn on blackpaper
~._______________________.~
More Art from me:
---
© Copyright by me, Gewalgon - Bettina Catana


Characters Rykaran and Dorak belong to Rykaran
Please don't take, use, reupload, etc. my work without my written permission. Thank you!

---
---
The details on this drawing are amazing, the shading is done perfectly, the stars look real. My first thought when I saw this drawing was "wow, this is amazing!" The trees look so real. The grass looks neat Because the way you drew it look like it is thicker at the bottom and thinner at the top. The dragons look so realistic that at first i thought they were from a hd movie! The band of stars in the sky looks amazing. I also like the way that you colored the night sky to make the space around the stars look brighter than the surrounding areas of space. The only two issues that I find in this drawing are that the grey dragon's eye is hard to see, and that one of the stars looks like a plus sign. Other than that, this drawing looks great.
The Artist thought this was FAIR
10 out of 10 deviants thought this was fair.