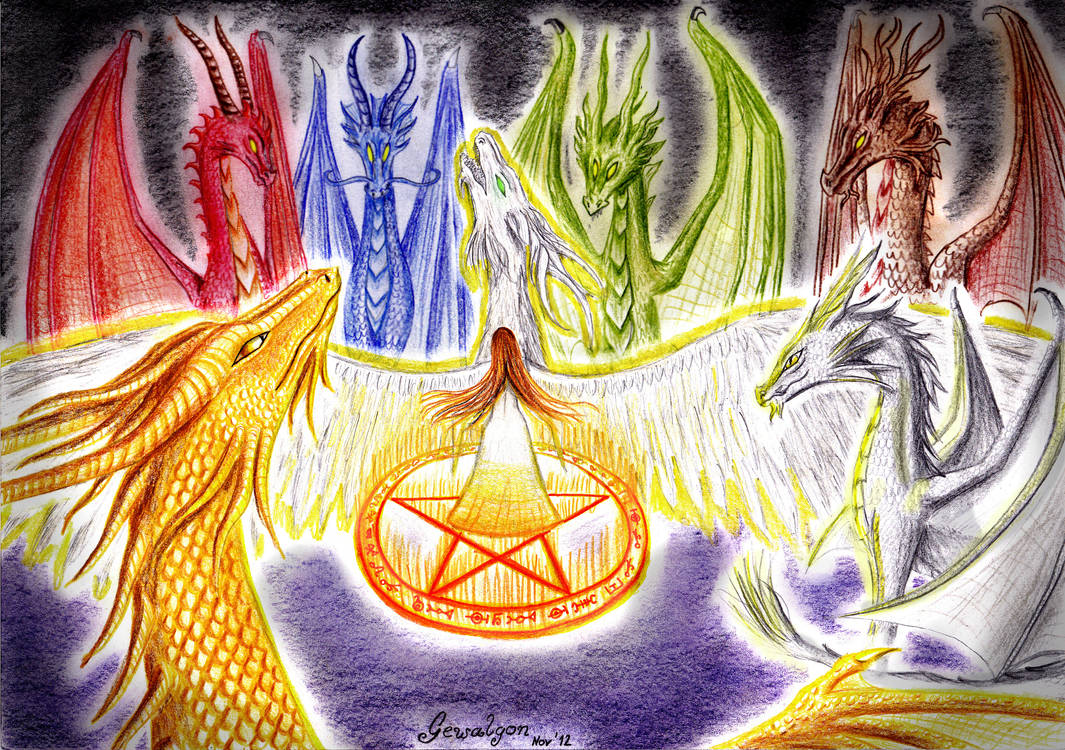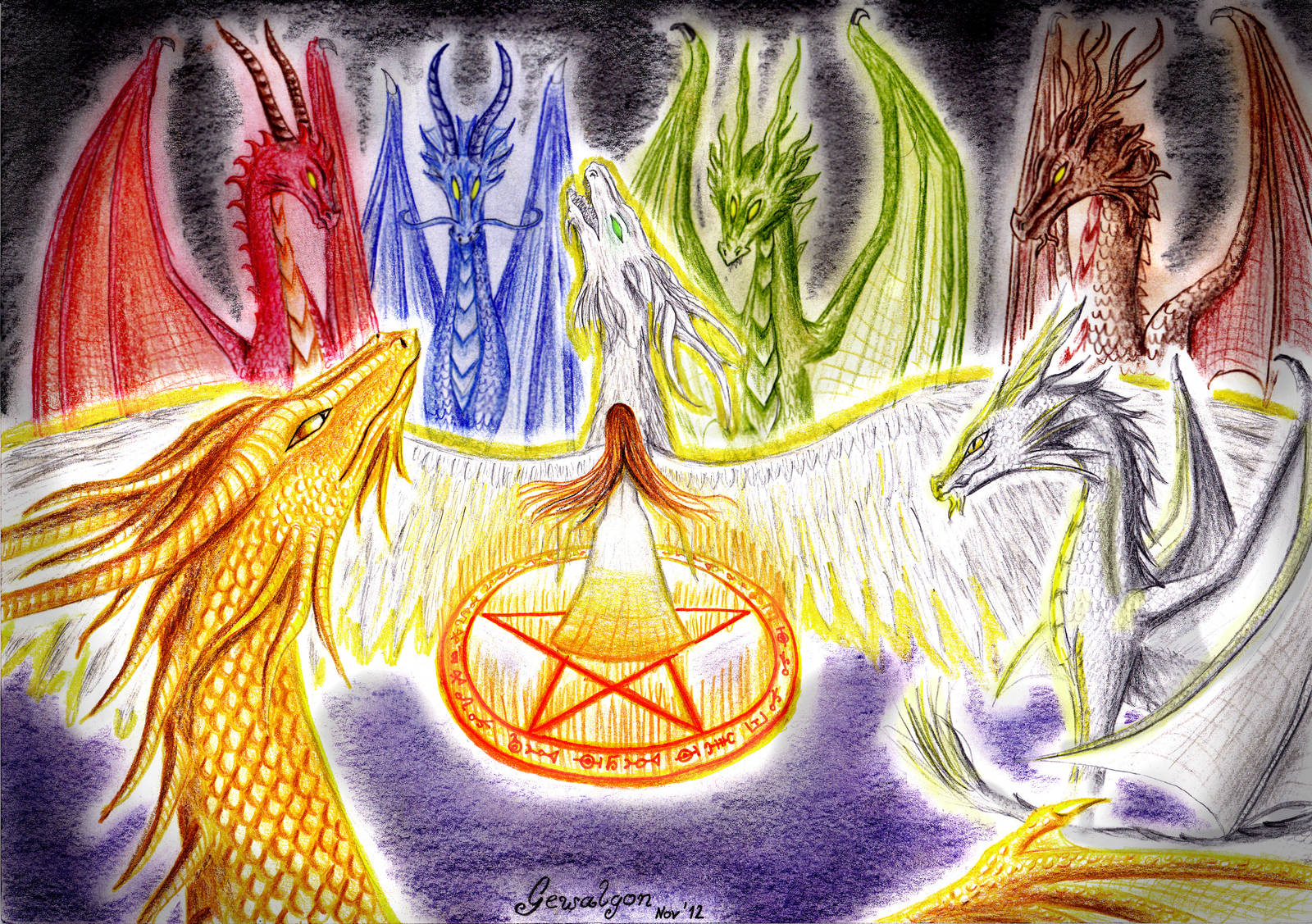 "Be one of us" shows a dragon ritual based on a dream I had.
A red dragon visited me in my room and asked me to come with him.
I followed him to a "dragon land", a certain place where the dragon clans hold their meetings, which I visit in my dreams often.
When I arrived, in the "room" was a big magical circle in that I should join.
Around that circle were a lot of dragons from different elements, in different colours, much more than on this picture here.
The moment when I joined into the circle I felt a lot of energy flowing through my whole body and I changed my humanbody into my dragon form.
Then the golden dragon told me that from now on the dragons will appreciate me as one of them, as part of their family, as part of their clan, as a true dragon.

It took me a lot of time to draw the picture... I hope you like it!


The dragons in front in the picture (from left to right):

Golden dragon: Dragon of Spirit

White dragon:
Alvrericjas
the heaven-spheres dragon, my inner dragon

Silver dragon: Moondragon
Krysalis
, my Totem
The dragons in the background (from let to right):

Red dragon: Dragon of Fire

Blue dragon: Dragon of Water

Green dragon: Dragon of Air/Wind

Brown dragon: Dragon of Earth
---

© Copyright by me, Gewalgon - Bettina Catana
Please don't take, use, reupload, etc. my work without my wirtten permission. Thank you! ♥
Dragons of fire, water, metal, wood, earth, air, and spirit, An oldie but goody as shown in this picture (though which dragon is which i leave up to you). Anyway, i like the girl in the center. A simple robe, the energies emitting from the dragons themselves, and a magic circle emitting a fiery glow such a feature of magic i don't think I've seen these features for quite some time. I see texture in the scales and floor too. Texture can also be seen in the wings, especially the feathery wings. Overall this picture is a frabtabjulous piece of work!
The Artist thought this was FAIR
22 out of 22 deviants thought this was fair.
I am still amazed with all of your artwork, but some really special ones, like this one, really take the breath from me!
I always love to see many dragons on one picture, expecially so I can see them all clearly, like in this picture.But look it all! Details, shading, dragons! Breathtaking...
The visions that I see... the idea that it gives... hard to describe, but beautiful.
Very original! I see such a ritual with so many dragons the first time!
Technique... flawless.

Impact... indescribable.
What else to say? It takes out words from me, but I still managed to describe it as well as I could. Excellent!
The Artist thought this was FAIR
10 out of 10 deviants thought this was fair.