Win a 3-Month Core Membership (or 1,200

) by taking part in this contest! The deadline is in 10 days, so take part now, or forever miss out!
Here's how to take part in this contest...
1. Post one (or as many as you like) new constructive comment on a piece featured below. (
What is a Constructive Comment?
)
2. Reply to this journal with the link(s) of the piece(s) you commented on.
That's it!
Deadline: Wednesday, November 20th, Noon Pacific Time.
We will give a 3-Month Core Membership (or 1,200

) to one winner, based on quality/quantity. And those who put in great effort will find themselves the recipients of

as well!


Comments made on behalf of this contest can't be used for group gallery submission.
Make a 200+ Word Constructive Comment (of Deviation-Related Content) Below!

21st scent you read W.I.P. English

English description

Iambic HeptameterA love couple glancing at the 21st Century.The woman talks in sections with " "-signs.The man talks in >> << signs.The third-person perspective narrates in

italic passages.

>>The shadow, cast by your own childhood is made out to love.<<: to be made out to love: To answer to the name of loveIt is a Work in Progress and ask for reporting errors and sections, easy to be misunderstood. "Oh, 'Thanky-you's' feel like of resembling thy abashment".>>So, I claim you for alarms, that should have been happening,as Ragnarök, as fire, in whichby we hugged each other<<

What unawareness disseminates, meets lovelessness.

"The machine, agreed, see?" >>this machine's mind, will unaccept,is unaccepting mine, diving in jealousy of thine<<>>No face, no mouth,<< "from which its work purrs loudly, pretends trust.It's jealousy from misjudgment that gnarls out 'cause of must.She hands out dessert, old, as alike mud and caffeine."

Oh jealousy as of bad enterprise with offering.

<br>

Earth, its suffer does originate from uncertainty

Since man did exchange practice against routine, machine wan.

The repetition using consciousness is, what does change

,

now,

does he know?

No, doesn't know where to with miscarriage.

>>All what you're wrong, you press since ever along into wine.<<"Thou hast stress, though you're allowed?!. Self-righteous, you arrogant." >>The shadow, cast by your own childhood is made out to love.<<

In this world, you'd have been born due to Gene-Engineering.

<br>

Man

senses, and if facts are

outside

knowledge,

man

does

ask.

...the

early machine, causing you to believe its

blind spots.

In times of egoists 'n'

opportunists, headbutt all,

where's

lack of responsibility, there's no glue for society,

there's too much Fanta to have fun with.

To smell the scent of Holy Humor, instead reading that

."A child should have been loved, instead having cut its gene.We are the space's Tourette-Syndrome, creation of God.We're doing L'art-pour-l'art, hence we are L'art-pour-l'art of God. We're doing the same like him, equally, as salt of all."

When will we smell?

<br>

"A pregnant woman's inner wall; it's beating against heras that one beat of universe in bulge of cathedralsThe metaphysics, radiate luminous like all lights.">>In term of trinity, if Islam, Christianity wereboth helped with additional category, I would risewith the moon again.<<<br>

You're not

the hell, not what you do, nor

what the others say.

Lets live this life with no haste, don't let this be happening.

There's not any control – instead: acceptance of restlessness.

Your house, you'd burn it down, its interior, to rid – each day.

Be sure, that you are loved. Be transient. Keep being calm.

>>I can smell this scent, you read.<<...

Chapter 4 Bad luck"I know that this isn't the same as your world but once you see how Beach City is like, I think you'll like it here," Steven says as he and Connie were walking with Crona along the beach. As Crona follows them he stops and looks at the ocean. He stops and decides to take a good look at the whole scene.
"I-it's so c-calm," he though as the waves hit and just listens to the sound of the waves splashing the shore. The more he looks at the beach it reminded him of something but he couldn't remember what it was. As Crona continues to just stare at the beach until Ragnarok starts to pull on his lips and pokes his head hard.
"Crona? Crona! Quit staring staring into space and get your mind back on earth you wimp," Ragnarok says aggressively as he continues to bully Crona
"Ow ow ok I'll stop." Crona whines as he tries to get Ragnarok to stop him from bullying him by pushing away his hands away
"Could you stop!"
"Huh?" Ragnarok stops what he's doing and turns his head and looks at Connie, who ha

1amn0ta10ne - Illustrierte Novelle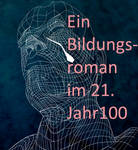 Alle Rechte vorbehalten, insbesondere das der Übersetzung, des öffentlichen Vortrags sowie der Übertragung durch Rundfunk und Fernsehen, auch einzelner Teile. Kein Teil des Werkes darf in irgendeiner Form (durch Fotografie, Mikrofilm oder andere Verfahren) ohne schriftliche Genehmigung des Urhebers - Christian Raimund Stosch - oder unter Verwendung elektronischer Systeme verarbeitet, vervielfältigt oder verbreitet werden.

In der Küche ist sein Frühstück; ein Zettel sagt, sie sei schon zur Arbeit und hat zum Schluss geschrieben "Kisses. I love you". Er schlief doch bei den Cyberpunks ein, oder nicht? Mareille ist wieder da? Irgendwas Vages sagt ihm, er solle Acht geben, vor dem Risiko seiner Arbeit. Er isst seine Spiegeleier mit Schinkenspeck. Seine Skepsis sieht im Moment keinen Bedarf für weiteres Vorgehen. Aber dann: In seinem linken Blickfeld ist eine kleine Irritation, er schlingt lieber sein Essen schnell runter – er scha

Webs N' ShotgunsMás de una vez, viendo el crepitar del fuego, mientras Waylon y Cordie dormían, sus pensamientos no paraban de fastidiarle, uno de los muchos motivos por los que prefería vigilar, al menos mantenía su mente ocupada en el pensamiento de dispararle a cualquier criatura que se cruzase en su línea de visión.
Pero hoy, como si de un milagro (o una maldición) se tratase, esta excursión a los bosques no había despertado la ira de las criaturas que lo habitaban, de hecho, no se habían gastado ni una sola bala en todo lo que llevaban en aquel bosque, su escopeta (y revolver) no solían pasar tanto tiempo sin ser disparados, y la falta del peligro al que estaba tan acostumbrada, solo ayudaba a que su mente comenzase a regresar a esos pensamientos tan fastidiosos.
No paraba de pensar en Cordie, simplemente no había podido sacar a la Arácnida de sus pensamientos, en el momento en que el nombre de ella pasaba por su mente, su mente no

XenoFilia - IIEl motor era sumamente ruidoso, lo cual anulaba los sonidos externos de la naturaleza, el ulular del viento era ahora sentido como una brisa meramente, el viejo vehículo avanzaba lentamente por la carretera oculta por la vegetación boscosa, mientras los animales que se paseaban entre los árboles, o que habitaban en ellos observaban momentáneamente aquel objeto ruidoso que se movia a una velocidad constante, pero lenta.
Dentro del vehículo, el conductor llevaba un buen rato silente, fijándose siempre en el camino, con un aspecto algo desaliñado, además de una chaqueta que había visto días mejores, decidió fijarse momentáneamente en su acompañante, el cual se encontraba igualmente silencioso en el asiento de atrás.
El destino había decidido que aquel joven le pidiese un aventón a la mitad de la nada, no es que fuese un gran problema, dado que ambos se dirigían hacia aquel pueblo ubicado dentro de aquel g

Ranger's Adventures APM - Chapter 1 (Part 2) <- Back to Part 1 (for comments)

'Koopa Khaos'
Unknown Date – 04:45:35
Koopa Bros. Fortress, Mushroom Kingdom
Ranger Lawson
Independent Mercenary

"RADAR SCAN UPDATE. UNKNOWN ENERGY SIGNATURE DETECTED. SIGNIFICANT PRESENCE LOCATED OUTSIDE KOOPA BROS. FORTRESS."

Could it be…?
I left the Koopa Bros. Personal Room and Retreated back to the Entrance, using the Recharge Block on the Fortress Wall along the way. Since I had already cleaned house, there weren't any hostile forces anywhere to be found.
I reached the door to the outside and took a deep breath. Whatever this 'Significant Presence' was, it was waiting for me. I could only hope that it was not a hostile presence. I carefully opened the door, my RX-Cannon at the ready.
To my astonishment, I

Seekers The Elvin War Chapter 3 (Rough Draft)Seekers: The Elvin War Volume I
Written By Andrew McMahan
Chapter III: The Burning Ace, a Windy Spade & a Conflicted Show
Oregon, Corvallis, Willamette River, May 16, 2022, 9:40pm
Back then I, Ace Sumato, didn't care much about anything. I didn't care about where I lived, where I was raised, or how people thought of me. All I cared about in those days was to be alone, watching the gentle currents, as well as the cloudy night sky, and smoking my cigar while I sat on the pebble surface near a calm fire that I ignited. That time, even if it was boring at times... was nice.
Of course that time wouldn't last forever. I heard some footsteps from behind me, so I turned my head to see who made them. It didn't take long for the person to come near the fire's light source and helped me identify his face in the process.
The person who approached me was Spade Sumato, my older step brother. How did I know this? It's because I unfortunately saw his face every damn day ,and I knew that face for t

Seekers The Elvin War Chapter 4 (rough draft)Seekers: The Elvin War Volume I
Written By Andrew McMahan
Chapter IV: Lighthearted Curry Before The Fog
China, Blue Moon Valley, August 23, 2025, 10:00am
It was the middle of the morning where I, Ace Sumato, was still groggy because of what Zakon said to me last night. What Zakon said to me brought a lot of questions in my mind. Why was I brought here? Why didn't I get in trouble for punching a superior officer? What was Zakon's goals? Most importantly, what was General Ginrob hiding? All of those questions had kept me up until 1:00am, which was a time I made sure I never slept at during College. For that, I secretly cursed Zakon in my dreams.
Anyways, I stayed in my uncomfortable bed for a few minutes; until, someone enter the tent and pressed a loud horn. That in turn, made me and the rest of the eight soldiers, which included Zakon who slept across from me, quickly get out of our beds and solute in unison.
It didn't take me long to take a good look at the person who sounded the horn

M.E.: The Lady Defender Chapter 5 PreviewThe Monster Empire:
The Lady Defender Chapter 5:
Ball and Chain
By
Norris Vaughn III
Aboard the Father-Ship, Dynamite Soldier was in the training room he and some of the other high ranking officers used. He was practicing his high kicks on a punching bag when he got a visiter. Soldier stopped mid-kick before he stood up straight and saluted the official, recognizing him instantly as the figure . Isaac stopped at the edge of the mat. It was Isaac the Heart Monster, Prime Minister of the Monster Empire. "The King wishes to see you about the other day's events." Isaac then explained. Dynamite knew what precisely he was talking about: being captured by the Dark Alliance and having to work with The Lady Defender to get out. He had been dreading this for days, and now it looked like he was about to suffer the consequences of failure. After all, these events took place after a second defeat at the hands of the Lady Defender. Surely, he thought, the King was upset with him.
D

The Lady Defender Chapter 6 PreviewThe Monster Empire:
The Lady Defender Chapter 6:
Diary Entries
By
Norris Vaughn III
"Dear Diary,
Sometimes, I just hate my life…"
Aboard the Father-Ship, Dynamite Soldier was being briefed about his next mission against Alladornia and the Lady Defender. He stood tall and proud before the stairs which led up to the King's throne. That idiot Woody's plan failed miserably so of course the King and Prime Minister had to assign him to the job once more. He couldn't help but have that smug smirk on his face, his triangular eyes gleaming with pride, as he knew he was the right monster for the job. Perhaps now he could finally have his fight against the Lady Defender with no interruptions, or so he thought. This mission, however, was not going to be like those he had been apart of before, he just didn't know it yet.
Prime Minister Isaac stood at the foot of the stairs as per usual, a holographic notepad in hand, looking over his notes overly profession

EscapismEscapism
By
Norris Vaughn III
People often tell me that I have my head up in the clouds
To them I say that they might have their heads too close to the ground
When people tell me to face reality, do they mean that I am a knight?
Do they mean that reality is a huge, snarling beast or dragon?
Yet when I hear someone tell me to face reality, I do not, must not, think of reality asa a beast or a dragon to be defeated or slain
No
Reality is something to be tamed, to be made your ally in life
So, the next time someone tells me that I have my head up in the clouds, I'll agree with them
But I'll be saddled in, riding high on the wings of a dragon name Reality while I soar through the sky

The Lady Defender: Enemies and Rivals: part 1The Monster Empire:
The Lady Defender Chapter 3:
Enemies and Rivals: Part 1
By
Norris Vaughn III
Dynamite Soldier slowly opened his eyes to find that his world had been turned upside-down…LITERALLY. As he came too, he discovered he was suspended in the air above a river of molten lava, upside-down, and tied tightly against, who else, the Lady Defender. She had been calling out to him while he was unconscious, jostling him awake with her tugging against the binds.
"W-what the…?" Dynamite exclaimed, "What happened!"
"It's about time you woke up, Sleeping Beauty!" Cassie yelled at him while facing away from him.
"Oh, just skip the pleasantries and answer my question!"
"Isn't it obvious, Termite-For-Brains?" she replied, "We were ambushed and captured."
"I can see that, but by who?"
"The Dark Alliance," Cassie said coldly.
"The who?"
"Don't you rem

The Lady Defender: Enemies and Rivals Part 2The Monster Empire Vs. The Lady Defender:
Chapter 4:
Enemies and Rivals: Part 2
By
Norris Vaughn III
In the dimly lit caverns of the Dark Alliance's lair, the molten lava and torches as the only light source, Brutus and the Elven Princess were on the warpath, as they chased Dynamite Soldier and the Lady Defender. As they ran down the darkened passageway, they could see the light of the Defender's torch getting smaller and smaller in the distance. Brutus' rage-filled eyes narrowed, as he and the Princess followed the light down deeper into the labyrinth which made out the cavern system. As they ran off into the darkness, little did they know, they had actually just ran passed Dynamite and Cassie who hid behind a wall of stalactites. They peered from their hiding place, watching Brutus and the Elven Princess disappear down the tunnel and away from them.
Dynamite sighed in relief, relaxing a bit as he sat back down, as he turned to the Lady Defender and said, "I ca

Genji's New Puppy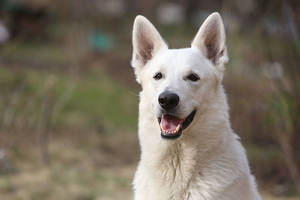 Genji's new puppy
The train tracks stretched on for as far as the eyes could see. The tracks rode between the patches of farm fields in the open countryside until the green grass touched the horizon. In the center of the farmland was a raised concrete platform with a roof, a long bench, and small enclosed area which housed a single toilet.
A man stood in the center of the station, hat, scarf, bandages, glasses, heavy coat and an earthy brown colored pair of trousers covering the man from head to toe, hiding his true form from the world. The only hint of Genji Shimada's identity was his left hand, down at his side holding a leather suitcase nearby as he waited for his train.
He waited for hours, almost like a statue against the cold spring winds that rushed through the open shelter, but even with his ninja discipline he could only stare out into the vacant budding fields for so long. Even he had a finite amount of attention to use until h
Make a 300+ Word Constructive Comment (of Deviation-Related Content) Below!

Family ties - Chapter 5Home. She was home now, sitting on her bed, in her room. The same room she had always slept in from as far as she could remember and as clean as ever. The sheets were fresh, the blanket was neatly spread on her bed, light blue to match the sheets and pillowcase, with a blue feline embroidered on it. The same blue feline she had a plushy of on the shelf near her desk. It was so old, but she couldn't just imagine getting rid of it. This stuffed Pokemon was the only thing she had kept from her childhood. Now, everything she looked at was simply efficient and useful. Just as the Pokegear she had in her hand and couldn't get herself to use.
The mountain air had been fresh and invigorating. The evening promised to be bright and agreeable. And it was as good a moment as any to make up for lost time between a mother and her daughter.
"So, how is Professor Oak? Is he as knowledgeable as people claim he is? And how did you find yourself working for him?"
"Well...

Heartache by the Numbers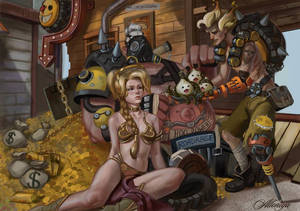 Heartache by the Numbers

One foot in front of the other. That was all that Angela could keep her mind on. In the dying cool of the morning, the only thing she was thinking of was her foolishness for not taking a rest before making the final haul to Junkertown.

Her stomach was empty, eyes were burning, and judging from the distance, Junkertown looked to be two miles away. Why didn't she stay with those two for another day, find a meal in that stash, or at least close her eyes for an hour or two? Of course she had to overestimate her strength, after all, having a successful procedure always made her feel like she was on top of the world. It was only a few minutes of travel later that the fatigue of it all set in.

Seeing the long shadow of a boulder on the side of the road, Angela approached it and lowered herself to the ground, letting her legs rest. Leaving so soon this morning wasn't the only thing she regretted

Mercy Experiments on Herself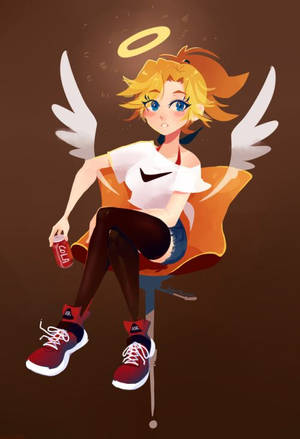 Mercy "Experiments" on Herself
The locker room was quiet, the white and occasionally red tiles lined the floor in a repeated pattern from one end of the locker bank to the other. The green lockers of the changing room combined with the tiles in what looked to be an attempt at continuing the motif of the College's school colors. Such a sparse layout of a room would normally be quite loud, be it from the mass of people using it, or even so much as one person causing enough noise that the echoes would make it seem like ten, but that was not the case for today. There was no special reason for the absence of pedestrians in the Locker room at this hour. It was mid-day in the middle of the week. Sports teams and other casual patrons of the facility were simply too busy to use it at this time of day, but that didn't mean it was empty.
Sitting on the bench that lined the center of the hall, a young, blonde woman was waiting in silence
Don't forget to link us to the deviations you've commented on in a reply to this journal!
Good luck!