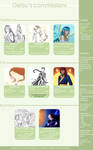 Commission gallery
I don't take requests and Art Trades are for friends only : I draw for living.
Name
: Getsu
Occupation
: Freelance illustrator
Current Residence
: France
Drawings
I love putting a lot of colors in my drawings. I love "hot" colors (red, orange, yellow, gold). Colors are life for me.
I tend to draw men, women, but also creatures. I also work on a webcomic.
I work with Photoshop CS4 and mechanical pencils. I can use also watercolours, colored inks, indian ink and posca.
Personnal Project
I have a webcomic called Echo you can find here :
English
:
Read it !
French
:
Site officiel
My other project that will come after Echo is
Genealogy
.
Amazing stamp done by

, thank you so much


Favourite Visual Artist
Aleksi Briclot, Senri Kita, Mucha, Turner, Margaux Mottin
Favourite Movies
Indiana Jones, Pirates of Caribbean, The Mask of Zorro, Matrix, Disney films, Ghibli films
Favourite TV Shows
Kaamelott, Dr House
Favourite Bands / Musical Artists
Queen, Scorpions, Sonata Artica, X Japan, Lindsey Stirling, Hans Zimmer, Yuki Kajiura, Motoi Sakuraba
Favourite Games
Tales of, Baten Kaitos, Fire Emblem, Zelda, Ragnarok Online, Ace Attorney, Professor Layton, Angry Birds
Favourite Gaming Platform
Playstation, Wii, DS, 3DS
Other Interests
Drawing, music, video games, comics