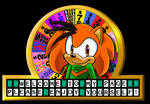 Request/Trade/Point Commission Information
Wheel of Fortune layouts (ALWAYS OPEN AND CHEAP!): germanname.deviantart.com/jour…
Sonic drawings (CLOSED!): germanname.deviantart.com/jour…

Name: Bill Gename
Birth Time: March 2, 1990, 22:18 Chicago Time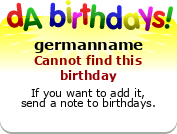 Hometown: Chicago, Illinois, USA
Member Since: December 29, 2006
E-Mail Me
germanname@yahoo.com
Sites to Check Me Out
Fanart Central
www.fanart-central.net/profile…
YouTube
www.youtube.com/user/germannam…
Facebook
www.facebook.com/william.genam…
Wikipedia
en.wikipedia.org/wiki/Wheel_of…
Wikimedia Commons
toolserver.org/~daniel/WikiSen…
Buy A Vowel Boards
buyavowel.boards.net/
Instagram
www.instagram.com/germanname19…
(You can see part of my SEGA collection over at Instagram.)
Hobbies:
Game Shows (esp. Wheel of Fortune)
Video Games (esp. Sonic The Hedgehog)
True Stories (Truth really is stranger than fiction, which is why I find it compelling)
Cars (esp. early 1990s Dodge Viper RT-10 and Saturn Sky)
Airplanes (esp. Commercial Jetliners)
Ships (esp. Ocean Liners and Cruise Ships)
Classic Rock (esp. Boston and Bon Jovi, the latter who by the way is
exactly
28 years older than I am)
Marital Status: Single (and I'm keeping it that way)
Love Life: Despite my marital status preference, my love life consists of Sonia, Amy, Cosmo, Zooey, Tikal, Jani-Ca, and the other heroines from the Sonic series as well as my Sonic OC gals (They all feel like family to me).
What I don't like: Racism, misogyny, misandry (seriously, there's WAY too much of that), or bias. I will not tolerate sayings or actions that state that there are such things as superior/better/weaker races or gender. They're not fair! Everyone's equal, plain and simple. Now if you feel like you're on the minority side (or have even been victimized) when it comes to stuff like this, I'll be more than happy to do what I can to help you out with that. Besides, I like sticking up for the underdog.
Current Residence: Southwest Side of Chicago (Go Blackhawks! Go White Sox!)
Favourite genre of music: 70s & 80s Rock
Operating System: Windows 7 and 10
MP3 player of choice: 64GB iPod Touch
Favourite cartoon characters: Ladies from most Sonic, Disney, and Warner Bros. series
How I feel about others: I feel like all else's lives matter more than mine, but that's one reason why I help them.
How I feel about Sonic: If others hate Sonic, fine, yeah, whatever the [BLEEP], but if they try to make me hate Sonic,

.
SEGA Systems I currently own (in order of release)
SG-1000 II
Mark III (Two units)
Master System (US version modded with Region Switch and FM Chip)
Genesis (Model 1) complete with Power Base Converter (for Master System games)
Game Gear (Regular Black, currently not working, and Limited Edition Blue, currently working)
Victor Wondermega M1 (Yes, you read that right! The M1!)
CDX
JVC X'Eye
Pico (Japanese and North American)
32X (currently atop my CDX)
Saturn (Japanese and North American)
Dreamcast (Japanese Pearl Blue and US SEGA Sports Edition)
Favorite Real-Life Quote:
"You know what pressure is? When you have seven kids and you make only one dollar a month!"
- Ozzie Guillen comparing pressure to baseball during the 2005 White Sox season.
Favorite Movie Quote:
"So shines a good deed in a weary world."
- Gene Wilder as Willy Wonka quoting William Shakespeare
Willy Wonka and the Chocolate Factory
Favorite Documentary Quote:
"Occasionally, life sits on your head. But hey, I've been knocked down before. We all have. We get up. We go on. I think that's what makes us great."
- Lewis Abernathy upon hearing the news of the September 11th Attacks
Ghosts of the Abyss
Favourite Visual Artist
Ken Marschall
Favourite Movies
Wreck-It Ralph, any disaster films
Favourite TV Shows
Wheel of Fortune, The Price is Right, Sonic X, Sonic Boom, Seconds From Disaster, various shows on Investigation Discovery
Favourite Bands / Musical Artists
Boston (God Bless Brad Delp), Bon Jovi (We have the same birthday!), Bentley Jones, Crush 40, Amy Hannam
Favourite Books
Books about whatever I like, I guess, but my childhood favorite is the Railway Series.
Favourite Writers
Dave Pelzer (He's inspirational)
Favourite Games
Sonic Series: All with Amy, WOF Series: Especially PS3, Wii and Sega CD, Guitar Hero and Rock Band
Favourite Gaming Platform
New Nintendo 3DS, Switch, and all SEGA platforms
Tools of the Trade
Colored Pencils, Paint, PowerPoint, and Publisher
Other Interests
Ships (Especially the Titanic, the Normandie, and the SS United States), Gaming, Narrating, Acting