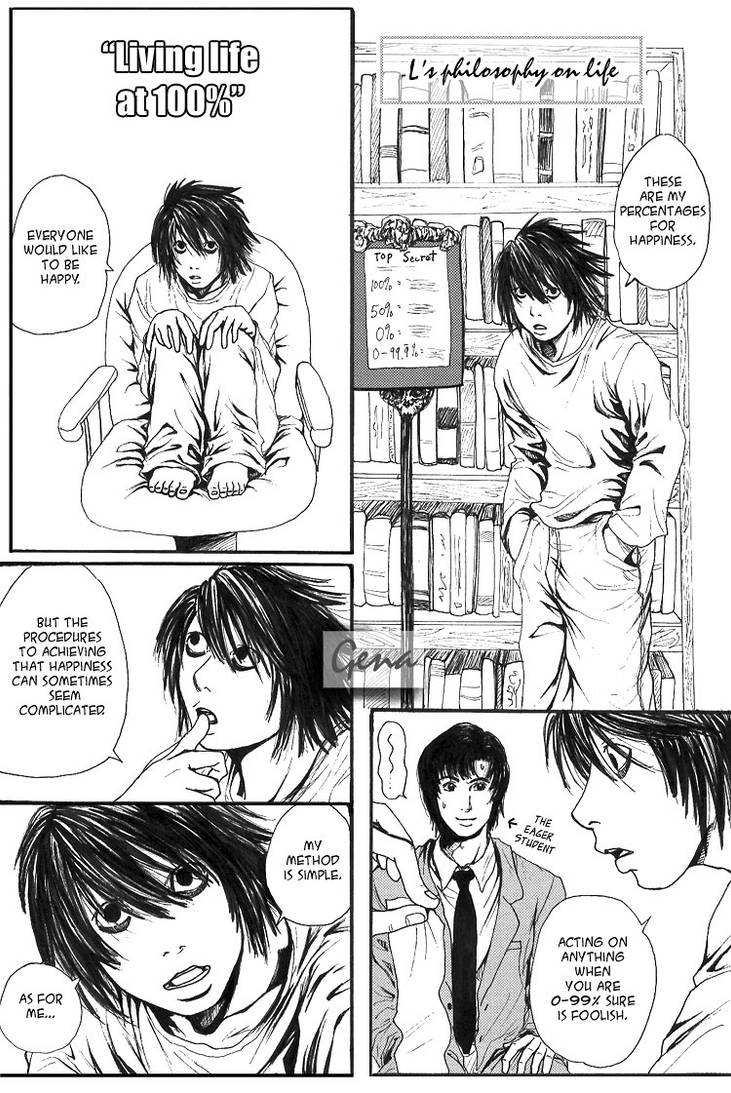 Watch
Next Page
Read "L's Philosophy: Living Life at 100%" at my site!
I tried to make this understandable/readable, even if you haven't read the Death Note manga.
Basically, all you need to know are these few things:
1. Kira is a mass-murderer
2. The three guys in the comic are part of an investigation team to catch Kira.
3. Kira is Raito XD <--that's not a spoiler, lol.
4. "Ryuzaki" is a nickname for L.
I attempted the DN art style but it's way too blocky and different from my own (I'm more 'flowy', I think), but it was a nice challenge. As long as the characters are recognizable.

lol
Urr, and I think that's all.

I hope you enjoy it!
I didn't focus too much on making the art look extra sweet, so there's a massive lack of backgrounds, but I don't really care. I wanted the focus to be more on the 'story'/dialogue than the art. But, if you'd like to talk about the art, then that's fine too.

I called it 'L's philosophy' but it's actually my philosophy on life. I just think L is the perfect character to show how I feel about it. He seems to 'believe' in the same things as me, from observing his behavior and such from the manga. I only realized this AFTER I had my personal realization of my own too. Plus, L's fun to use for this, since he always speaks in percentages about how sure he is. XD
If there's something you don't understand about what they're talking about, feel free to ask. I think it's really important... so, please, don't dismiss it easily. Even though there are little comedic bits inside it, the message behind what they're saying is serious to me. I really think everyone can be a lot happier if they discover that this 'advice' is 'right' on their own.
Don't feel obligated to comment on every page. If you just *want* to though, I'm totally fine with that, too.

You won't hurt my feelings either way. As long as you read it and it makes you think a little...just a little...


I feel the message is just so important, and since discovering it for myself a couple of weeks ago, the whole world just makes sense now. It's like a...practical joke from God, or something.

(No, like, seriously. I just went...'wow'...) That's why I think the world is a beautiful place. You should all enjoy your time you have on here before it is too late. It's so hard to convey this... even through comics and art, which I am so used to expressing myself in, already. I think the message is all around us, already though. It's just how much attention you're paying it to notice.
I made this all for you guys, you know. I want to give out my recent 'secret' to happiness to everyone.
To tell you the truth, I've been stuck in a rut and have been depressed for quite a number of years, actually. I never knew that I would have suicidal thoughts, but it has happened. But, now I will live my own life, under my terms, under my conditions, with no regrets, self-pity or lingering sorrow. Because that is just wasting my life away. We've all been put on this Earth for a reason-- to live! What is the meaning of life, you say? To live! To live and experience, and learn any and everything, while you still can. You could all die tomorrow. You never know. Live like it's your last day on Earth. You don't want to die full of regret, do you? If there's something you know should be done today, don't wait till tomorrow to do it. Tomorrow might never come. If you knew you were going to die tomorrow, and you knew you would feel regretful not saying 'I love you' enough to your family, your friends, your significant others, then, you shouldn't waste another second NOT doing it. Say what you wanna say; be what you wanna be. Listen to your heart, and follow your intuition-- I feel it has a much greater intelligence than any book can teach you.
This is why I'm doing so many giftarts for people. This is why, no matter what, I must become a comic book artist. Even if I never ever become a professional comic book artist, even if I die tomorrow, never have graduated from college, and never becoming as 'successful' as I wanna be, I still won't feel any regrets. I'm going full steam ahead, and living my life at 100% all day, everyday, and much as God's willing to let me. As long as my comics make people happy, that's all I could ever ask for. If my art makes you happy, then I must continue drawing! Your happiness makes me happy.

If only the rest of the world's goal was to make others happy and teach them how to really LIVE, it would be such a more beautiful place to live in. What's up with all this selfishness? Where is that going to get you? Are you *really* happy living that way? That's why I find it hard to do requests when people ask first. I don't like any hints of selfishness. Even commissions are hard to do, but at least they aren't asking for it for free, you know? Please don't ask me for a drawing. You will probably never get it. If I don't take the initiative to want to draw it for you, then it just won't be in my heart to make it. I'm sorry, but I don't like to half-ass my art. That's just wasting my life away.
All my 'real life' friends (and even my internet friends) know I don't talk about myself much. I find observing people more fun than interacting with them sometimes. It's just how I am. But, I think I have reserved myself for too many a wrong reason. I feel I can finally breathe...


....that was a long description, lol.

(I wonder how many of you skipped over it, haha

Oh, well~) XD Anyway >_> um... hope you like the comic XDDD rofl