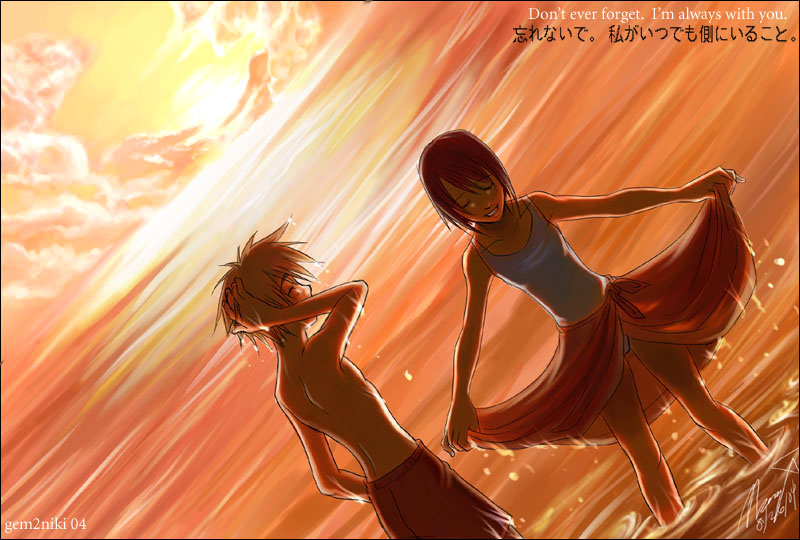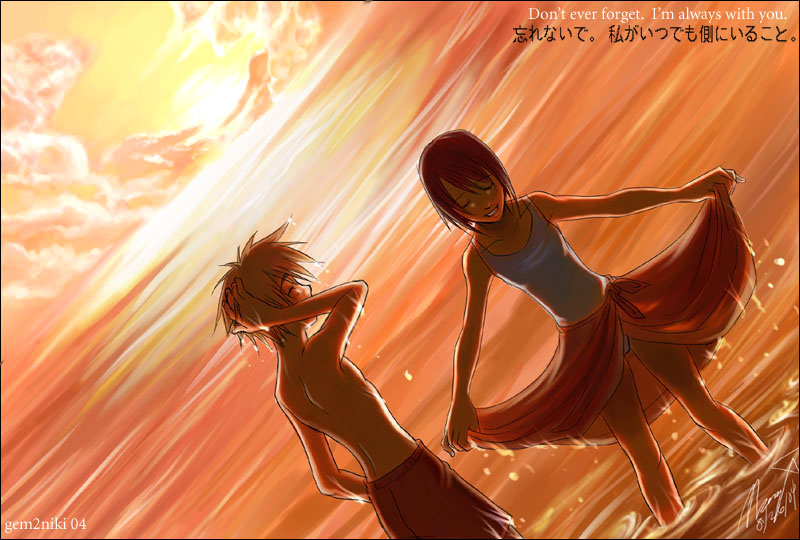 Watch
Art Trade fer
Kairi and Sora from Kingdom Hearts playing in the water~!!! Fun~~~ (Yah they dun look like them either---their hair is wet that is all!!!) Kairi is like playing princess or something and Sora is all blushing

Quote from the Kingdom Hearts Visual Collection book~~
Bwahahaha the orangeness XD

My favorite color. Yes too much orange, but bleh~~ things get oversaturated in the sunset anyways~~~ (or wutever color environment you are in) Okay~~ yah I dunno anything about how to color people when their back is on the sunset. So like I care

Sorta reference on that scene where Sora runs up to Kairi in the opening sequence but other than that, the ocean and cloud and chara coloring are imaginary. I wanted to get a different composition in my work. Which is to expand the scenery more than the characters. So now you get a big fat view of the pretty sky and ocean~~~ I tried to make it a bit interesting by tilting the image on an angle~~ (It was colored that way as well) Oh clouds are fun~~ I found a way to get some neat texture just by simpling using the watercolor brush in opencanvas and the pressure you apply on your tablet.
Man it is soo hard to work on a canvas as large as 2000x2000 (more/less) cuz my comp is soooo freakin slow~~~!!!

But yah~~ I got lazy in the end of coloring the rest of the ocean cuz I have to work quick since my comp keeps dying on me.
*EDIT*
I understand that whole horizon thingy that a few peeps has mention. But seriously, wut can I do about it? I've already added the text and edited the image a bit when I submitted at first. So really what's the point of pointing it out if I won't or it would be a hassle to change it. It's only going to irratate me more in my mind fer the rest of my life because I made some tiny flaw. And usually I never make the same artworks.. So there won't be any improvement from any future artworks. Not mad, just now I'm haunted in my dreams from that darn horizon thing. Maybe everything is weightless and the clouds are settling on the ocean @_@ Ouu that can be it....
Kingdom Hearts (c) Square Enix/Disney
Illust (c) Gem2niki

Colored in Opencanvas 3.03EPlus
Edited (placing layers together) in Photoshop 7.0