Hi! Just a gal who likes to draw and write!

Buds for evah~


My account where I post all my hypnosis-related artwork:

Also if you enjoy my character Naga!Kenny, check out these other sites for content!
Kenny's Tumblr:
ask-nagakenny.tumblr.com/
Kenny's Twitter:
twitter.com/KennyNaga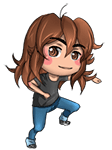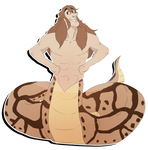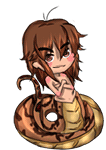 Get a FREE visitor map for your site!
Favourite Visual Artist
Don Bluth, Brad Bird, Glen Keane
Favourite Movies
The Muppet Movie, Batman: Mask of the Phantasm, The Evil Dead, Scott Pilgrim vs. The World, The Big Lebowski, Ghostbusters, Die Hard, The Nightmare Before Christmas, Zombieland, The Mummy, Edward Scissorhands, Darkman, Duel to the Death, Aladdin
Favourite TV Shows
Arrested Development, News Radio, Frasier, Invader ZIM, Samurai Jack, Harvey Birdman: Attorney at Law, Transformers: Beast Wars, Count Duckula, The Real Ghostbusters, Modern Family
Favourite Bands / Musical Artists
Depeche Mode, Pink Floyd, Genesis, Thomas Dolby, Oingo Boingo, Rammstein, And One, Shuky Levi
Favourite Books
Redwall, The Black Cauldron, The Hitchhiker's Guide to the Galaxy, Alic'es Adventures in Wonderland
Favourite Writers
Douglas Adams, Brian Jacques, H.P. Lovecraft, Edgar Allan Poe, J.K. Rowling
Favourite Games
God of War II, Super Mario World, Castlevania: Symphony of the Night, Oddworld: Abe's Oddysee, Portal (1 and 2), The Legend of Zelda: A Link to the Past, ZeroWing, Sonic the Hedgehog 2
Favourite Gaming Platform
Super Nintendo
Tools of the Trade
Paper, Mechanical pencil, Wacom Intuos5 Medium tablet, Paint Tool Sai, and Photoshop CS5