Deviant since January 30, 2013 (
mrcoolwhip1
)
D.O.B: February 14th
About me: I'm just a college student that loves to look at art. I like to draw sometimes as well, but not very often... I also love other types of fine arts, such as acting and singing. Community is my thing – comment below or note me and let's chat!
I'm a proud member of the
birthdays
team and the DeviantART Advisory Board.
Operating System:
MacBook Pro w/ macOS Mojave
Music Player of Choice:
iPhone X
Camera of Choice:
Canon EOS Rebel T5i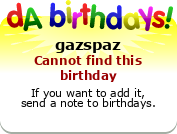 Back Up Account: