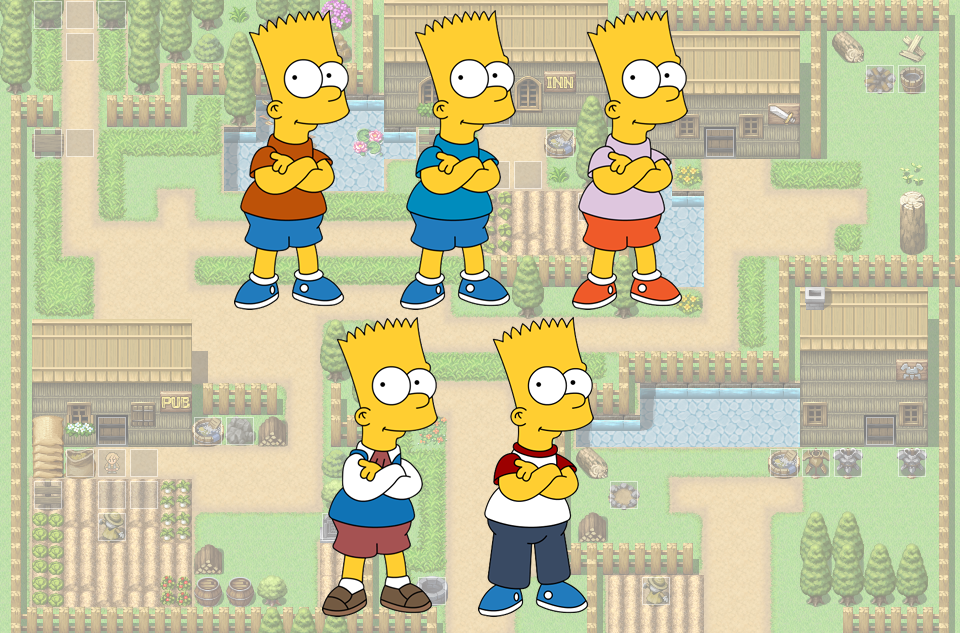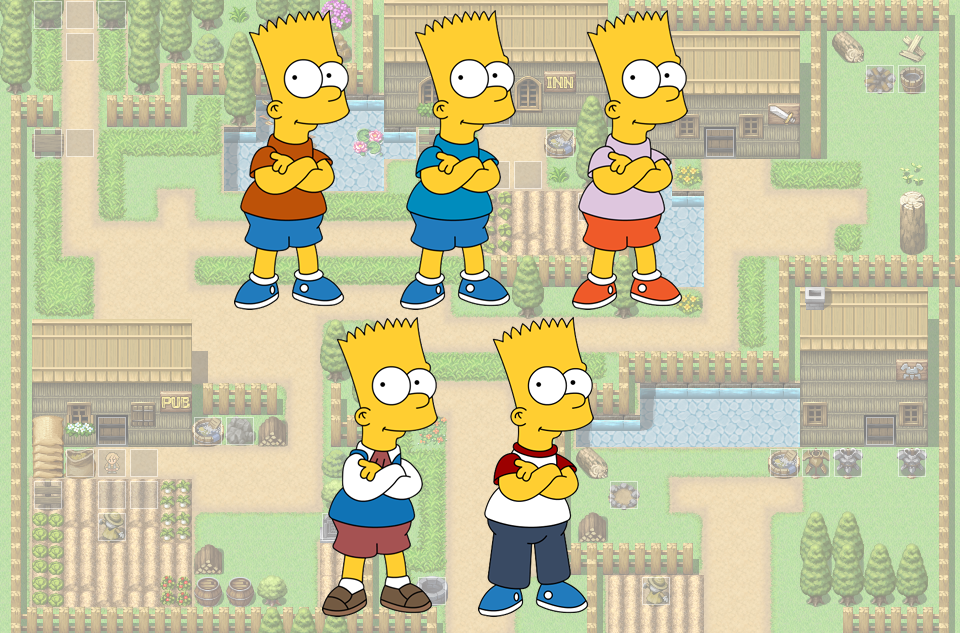 Watch
Well, some of Bart's outfits at least. These were the only five that ever got drawn.
Like with Lisa and Maggie's, these outfits would've been unlocked after certain side quests. In total, Bart, Lisa and Maggie would each have gotten nine outfits, eight were showcased in my DA gallery, the ninth was kept secret, so much so that only ~
leif-j
and ~
ContraEagle
ever knew about them, even then only Maggie's ninth was ever drawn.
For Maggie, it was going to be the design drawn by =
Quacksquared
while for Lisa, it was a toss up between the Li'l Starmaker outfit she wore in GABF13, or cosplaying as Tidus from
Final Fantasy X
, I drew Maggie's outfit, so I may post it to DA someday, Leif did start to draw Lisa and it seemed that he decided to the way of going with Tidus.
Anyway, onto Bart.
- Normal. Duh.
- Merchandising. His merchandise shirt. I still dunno why they gave him a blue shirt for merch.
- Milhouse colours. Taken from Simpsons Comics #33.
- Simon Woosterfield outfit.
- Jake Boyman outfit. We dunno where Marge got those clothes. I like to think that they were originally Bart's. This was going to be Bart's ninth secret outfit.
Other outfits that would've appeared would be:
- Maggie and Eric. Bart would dress up as Eric from ~
simpspin
's Maggie and Eric series.
- =
SuperKoopaTroopa
's outfit would also have appeared. Much like Lisa and Maggie's did.
- Biff Westwood from Simpsons Comics #20
- Burt Samson from Simpsons Comics #23

I really like the last one.

Reply

this is fab, though with the Jake costume and the Simon outfit and the Milhouse clothes, those would be complete with specs, with that part of the outfit missing i don't think they would look like what they should, sorry to say.
hope you understand and can't quibble my p.o.v., okay?
Reply