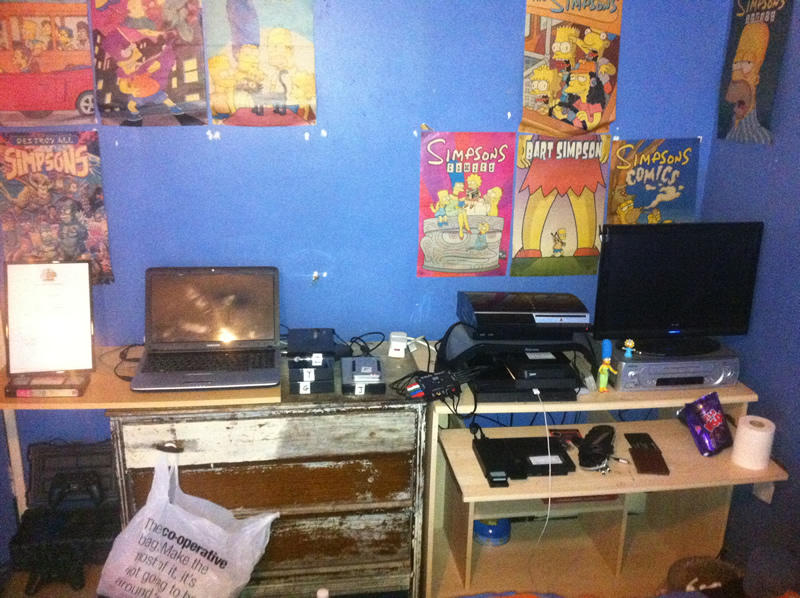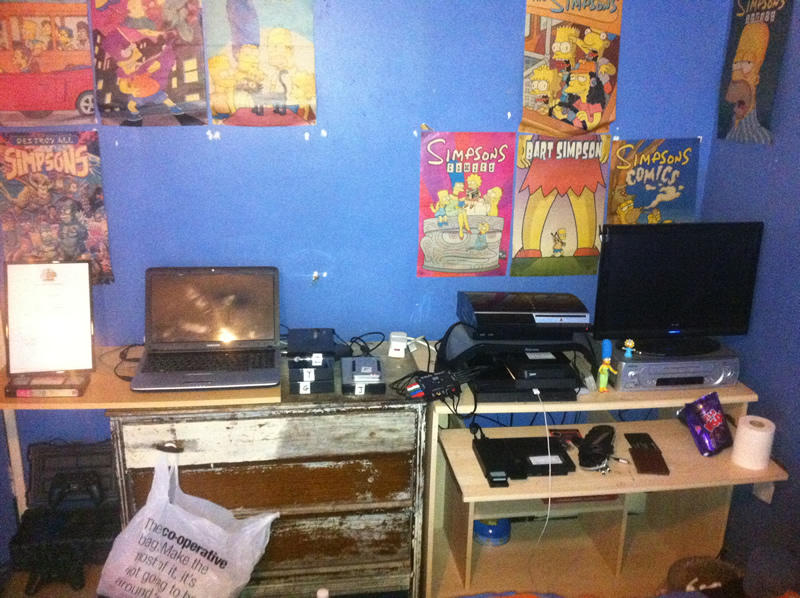 Watch
This is my personal computer setup. I figure folks might be interested in seeing it.
From Left to Right:
1. My diploma. It's a First Class Honours.
2. Controller storage and Charging station - All my controllers are stored here. It contains 1x DualShock 2, 2x DualShock 3 and 1x DualShock 4. The DualShock 4 charges directly from the PS4, even from down there. One of the DualShock 3 controllers is blue, which actually connects to Laptop 5 and is how I play emulated console games, and make Framegrabs.
3. Laptop 4. My side computer. It serves as the host for much of my storage. Connected to Laptop 4 is a 4-way USB hub and a 7-way USB hub. With 5x HDDs and 4x Memory Sticks.
4. The Harddrives.
5. 2-Way Mains adapter, coming of that are two more six-way adapters.
6. Component YPbPr switchbox, connects my PS2, PS3, PSP and VCR to the Hauppauge HD PVR. It looks ugly and I don't like it, so I'm looking into a replacement once I get the money.
7. PS3. Original Fat Model, originally with an 80GB HDD, now been upgraded to 500GB.
8. Hauppauge HD PVR, how I record my Lets Plays from consoles and convert VHS tapes.
9. PS4, also charges my iPhone, is connected to the HD PVR by HDMI.
10. PS2 slim model
11. PSP, not currently connected to the switchbox.
12. HDTV, 19 inch.
13. VCR connected to the switchbox using Composite cables rather than Component, but still works. (So long as you plug the yellow video connector into the blue RCA port)
The PS3, PS4 and Laptop 4 are all connected to the internet using ethernet connections which draw their connections to the modem from powerline adapters that are plugged into the wall.
As the posters fall down on their own, I never put them back up because I don't want them up there anymore, but I'm too lazy to take them down manually.


Just wonder what it's diploma about or what?
Reply

Definitely interested in seeing it!
Especially that role of toiletpaper which seems to be part of your whole set-up

Don't worry....you`re only human

Reply

It's merely there in case I get a cold or some such.

There's about a foot between the set up and my bed...
The set up has since been updated, the laptop is now raised up on a plastic tray with a built in cooler, one of the hard drives has died and the 3-way component switchbox has been replaced with a 4-way component switch box which is stored in the lower part of the desk.
I'm probably going to do a tour for a 500 subscriber video on YouTube.
Reply

Nice Setup

, yeah that's the problem with posters, they never like to stay up for very long

Reply

And what's in that photo isn't everything I have, Laptop 5 is not pictured, but it's not really that special, it's just a laptop.

As for the posters, some of them have stayed up since they went up in the first place and never fell down on their own, and that has to be approaching on 10 years now.

Reply