well, not much to say. i love to walk, to feel the cold air on my cheeks, my cats, and black. i am a black and purple goth girl who tries to like herself, and isn't really good at it. i just love to cosplay because i can be whoever i want, and i usually cheer for the villains. please gift a llama.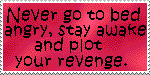 Current Residence: Rome, Italy
Favourite genre of music: goth, industrial, new wave, postpunk
Favourite style of art: i love goth, retro, vintage, b/n photography and whatever hits my eyes
Operating System: windows Vista
MP3 player of choice: Ipod 80Gb
Wallpaper of choice: my cats
Favourite cartoon character: oh, so many!