0 Favourites
29 Comments
97K Views
That is what happens when you do not login to Deviant Art often enough. When I logged in today I realized I had a Daily Deviation on March 24th! Wow!!!

And I missed it....
Well, now I know and that really made my day! Thank you so much
RizarLogic
for suggesting it and to
casperium
for the feature

!!
Colors of the Storm is the lucky image. It shows an alien biosphere which is my favorite subject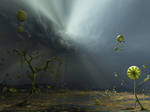 I haven't uploaded anything in a long time but hope to have something new to upload this week or next week which has something to do with an alien world and alien plants! It is "sunsetty" red and looks a lot different from Colors of the Storm. I wish it would be finished already... I really need to work on this patience thing, or finally find a good imagination to image converter!

Thank you everyone for your wonderful comments, for the favs and features!!!!