I hate breaks when it comes to creativity

I took a little break in painting the last weeks as I had to learn for my Physics Diploma. Well I still have to but I want to end this brake

Thank you for your patience! I really expected notes from other deviants, asking if I'm still alive

I'm so glad there weren't any because that gave me the impression I did not drift away to far from it all!
Today I uploaded an image which I worked on for about 2 months. I painted on it every now and then but because the details needed a lot of patience from my side it took much longer than expected.
Well what is left to be said? I'm glad of being back and it felt like a very long time

My newest...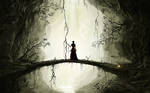 Ah, I am familiar with those breaks.

Anyway, you have a new watcher in me, so thanks for an inspiering gallery!

You are truly talented and I hope you know it by now.