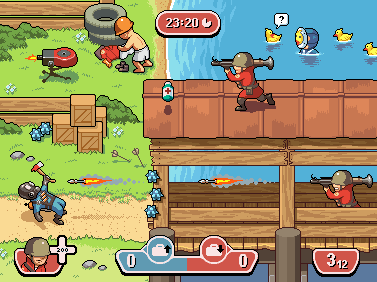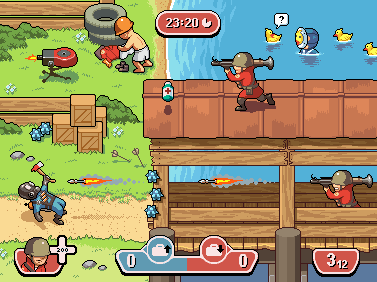 Watch
This artwork was approved by Valve to be distributed as merchandise so you could buy
t-shirt
,
mousepad
or
print
from welovefine.com if you like it.
2D edition of my favourite game. Took me 5 days off and on. Had a lot of fun working on this one, thanks a lot to Emlan for inspiration and sharing her process of pixel pushing.
It's always good to see more pixel art from you.

This time, it's interesting to see such a popular video game as the subject of your work!
I've given a 5 for impact here because I would never have thought about how Team Fortress 2 would look in a 2D platform-like format. Playable? I don't know... But that doesn't matter. The fact that TF2 is rendered in a cartoon style probably helps make this scene look authentic, with obvious factors like outlines and flat colours.
For the size of the battleground you've made, you managed to put a lot of great and subtle hints in there, including the sticky bombs and the Sniper's bow and arrow. Even the fact that the Soldier has 3 rockets remaining in his clip suggests how he blasted himself onto the bridge rooftop, as any 2Fort player should pick up on. The pyro's matrix dive also makes me laugh, as did the laid-back Engineer. But most of all... And before anyone else can say it...
The duck is a spy!
All I can criticise on this are a few instances of copy-paste for things like the boxes, rockets and sticky bombs, but that doesn't detract from the storytelling. Good work!
The Artist thought this was FAIR
136 out of 142 deviants thought this was fair.
What can be said that hasnt been said about this piece? just like you did with your wonderful Mockup-Parody of
Advance Wars
, this is really wonderfull and so lively its about to pop out of the screen. Wondering how many programers out there are willing to make a game out of this eh?.
I'm really trying to find a detail to criticize so this wouldnt sound so fanboy-ish, butthere us hardly any detail to be mentioned(maybe the lack of the outline in the smoke of the rocket). i'm sure me and almost all the TF2 Fans out there would love this to death -just like me.
The Artist thought this was FAIR
272 out of 290 deviants thought this was fair.