This is a Nova (from Starcraft) commission i did some years ago and i used as interior art in the "Ladies of Blades"!
Enjoy!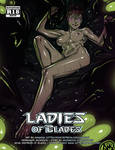 And this is the cover of Ladies of Blades. What is it? A compilation of both Starcraft Comic commission i did ("Mistress of Blades" and "Kerrigan's Destiny" - here renamed "Kerrigan's Ascension"). In one single pdf.
If you want to download the pdf, send me a note here on DA!
Enjoy!
Image details
Image size
927x1200px 471.66 KB