1K Favourites
49 Comments
19K Views
Commissioned by

here comes this K/DA group shot!
The K/DA fiction Pop group is composed by: Ahri, Akali, Kai'sa and Evelynn.
The "Pop/star" music video (watch it here->
youtu.be/UOxkGD8qRB4
) is a successful marketing campaign like the Vi Splash Screen song (do you remember it? Check it here ->
youtu.be/18yK0G9hHts
), but the mix of K/Pop and Western Pop is so well made (not to mention the Live/AR K/DA live exhibition at LOL finals) that Youtube video views skyrocket to over 160 million views.
Not to mention the quality of animation and direction of the animation, made by Fortiche french studio.
I hope you will enjoy this piece. Variation will follow.
Also already available on INPRNT store:
www.inprnt.com/gallery/ganassa…
I'm also thinking about doing a wallpaper version for your desktops.
Check out the "base" and "nude" version of this commission!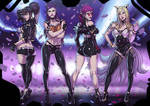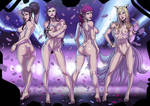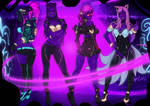 Enjoy!
IMAGE DETAILS
Image size
1200x848px 812.3 KB