NINJA VS MAGICAL GIRL!!!
Outside Norrisville High...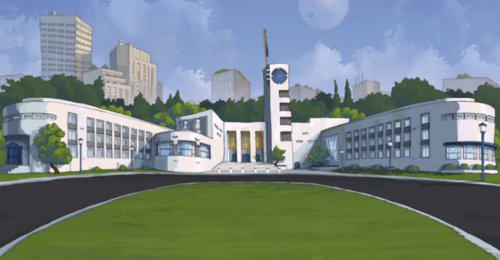 "Ninja Battle Ending SLICE!" Cried The Ninja as he cleaved a robot ape in two, the last verb said with a lower octave. The crowd of students cheered as he triumphantly stood over the defeated bot, but his audience quickly dispersed as the bell rang—signifying the start of fourth period.
"Aw man! Forgot we gotta share projects today! SMOKE BOMB!" With that the red and black ninja hurriedly slammed a ball beneath him and seemingly teleport as the red smoke cloud dissipated. The school yard was bare besides the destroyed robot, sparks popping from it's sliced circuits.
Suddenly, a magical portal opened up. Withdrawing from the entrance was a purple skinned teenage girl with heart shaped eyes, six arms, and butterfly wings. The strange creature hovered in the air and looked around, as if searching for something. Finally, after looking towards the school she spotted a male student hurrying into the building. A smile formed on her face before she whispered eerily under her breath, "booooooooys~"


Out popped from the portal before it closed behind him was Macro Diaz. A Mexican boy with a red hoodie and best friend to the creature currently predatoring towards the school.
"This was not where we're supposed to end up!" The body paced around worriedly, talking to particularly no one. "She's kidnapping the men, Kelly says. Take her to a different dimension, Ponyhead says! Well thanks a lot guys, cause we're at
another
high school!" Hearing screams coming from the building, Marco concernedly ran in...
...before going into the front office and attaching a visitor's sticker to his chest.
----------------------------------------------------------------------------------------------------------
Mrs. Driscoll's Science Class...
Howard Wienerman, best friend of Randy Cunningham—Aka: The Ninja—currently bit anxiously on his pencil. Four projects had already finished presenting yet his project partner had not appeared. Quickly his turn was coming up and he had nothing to show.
"C'mon Cunningham! You're taking so long even talky flute girl got through her presentation-"
"Next, Howard and Randy."
"Ah WONK!" Howard banged his head on his desk.
"I'm here!" Randy exclaimed as he kicked the door open. In his hands set a papier-mâché volcano, the most basic of science projects.
Howard ran up to his buddy, "Dude, you're late! One more second and-!"
"Chillax, nothing wrong with being fashionably late, mm hmm." Randy assured his irritated friend before placing their project on the front desk. The class looked unimpressed at their mundane project—but not surprised.
As they rehearsed beforehand, the two began their presentation, "What seems like an ordinary papier-mâché volcano actually holds a secret inside!" Howard explained forbiddingly, though it
did little to impress the class.
Mrs. Driscoll spotted Randy mixing something under the table as Howard continued talking. Whatever it was had a lurking smell of motor oil;
this worried her greatly.
"A secret that once it makes contact with my special Wienerman Sauce (trademarked), it'll-!"
"EMERGENCY EMERGENCY!"
Red lights blared from the class's television before the image changed to Heidi Weinerman, the host of Norrisville High's '
Heidi
@
School'
, where she updates everyone on any happenings at school. The normally sassy gossiper looked incredibly distraught as absolute chaos reined in the background of her shaky face cam, "Monster alert! This weird bug lady appeared and started kidnapping the male students! Currently she has the glued to the lockers together with this gross purple glue!" Turning the camera around revealed Star Butterfly wrapping the school bully in purple webs and sticking him to a locker for safe keeping before floating off to find more. Suddenly the camera swifted to Heidi's face, "Where is The Ninja!?"
There was complete silence before Howard busted out laughing, "This is great! Maybe she'll lay eggs in Bash's stomach, right Cunningham?" Hearing no response, he looked around for his vanished friend, "Cunningham?"
----------------------------------------------------------------------------------------------------------
The Entryway...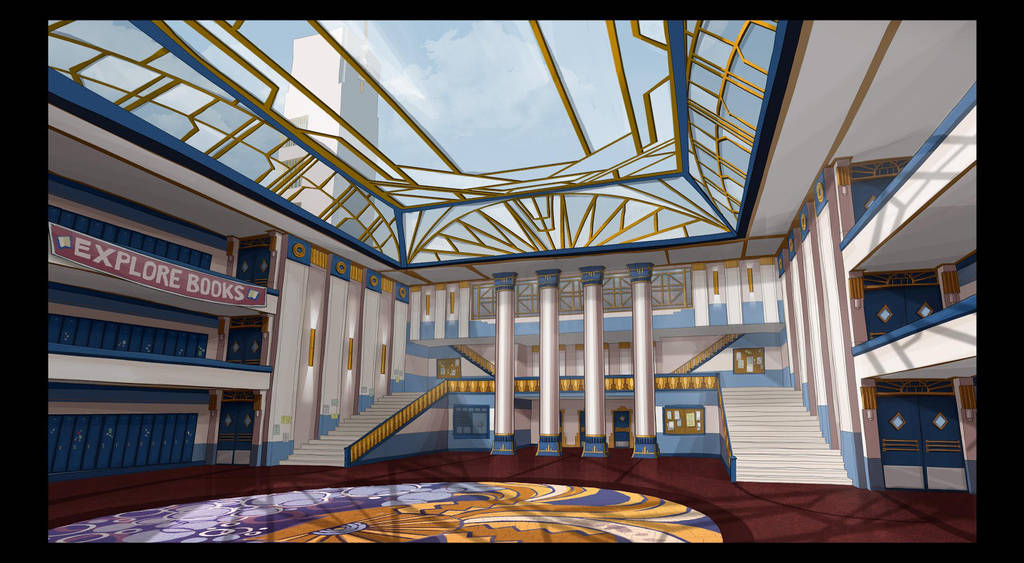 "Star, STOP!" Having finally caught up to his friend, Marco just pushed a band geek away from getting webbed. Having been saved, the geek dashed to safety as Star watched the meek prey escape indifferently.
The Mewberty Mewman instead seized this new boy, webbing his body to a classroom door. Marco strained, but his body didn't budge. Sadly he looked into Star's entranced eyes, "Star, please. Look at me, this isn't you." His words seemed to have an affect as her facial features began to-
An abrupt concussive air pressure smacked Star down the hall, saving Marco. "Sorry, is it lunch time yet? I'm sure it's... wait hold on..." Marco freed his head and turned around to spot a red and black ninja fake checking his wrist, "Mm hmm, yup, it's currently NINJA'O CLOCK!" He yelled rushing and jumping on the downed Mewman, using her buddy to surf down the stairs. "Ninja Kick!" The ride ended with Randy kicking Star through some double doors.
"Stop hurting her!" Marco yelled, The Ninja turned around to see the freed boy attempting a karate chop.
"What the juice man, I saved you!" Randy explained, but the assault wouldn't stop. Tired of dodging his continuous strikes, The Ninja grappled Marco's low-kick and threw him into a locker before shutting it. "It's okay man, you're probably under mind control. I'll destank bug girl and you'll return to norm-AUGH!" A rainbow blast to the gut dropped Randy on his butt.
----------------------------------------------------------------------------------------------------------
Star Butterfly slowly came to her senses, her form back to normal. The last thing she remembered was locking herself in the girl's locker room after discovering she was on Mewberty again, hoping it would keep everyone around safe. But, what stuck in her head was Marco's voice calling to her.
"MARCO!" The princess sprung to her feet, if she just woke from Mewberty there's no telling what damage was done. Looking around a dark unfamiliar room Star's attention was drawn to grunts coming behind the double doors. Quickly she pushed through them and witnessed what looked like an red and black assassin throwing her best friend into a locker. Her highness didn't understand what's going on, but nobody hurts her man (except her)!
Princess Butterfly took aim with her magical wand, "
Rainbow Fist Punch!" and nailed him.
"AUGH" Randy fell to the floor clinching his gut, it hurt, but The Ninja of
Norrisville got up and accessed the situation. "A cute girl who's actually a monster, where have I seen this before?" Assuming the monster turn girl was aligned to his arch nemesis
—
The Sorcerer
—
The Ninja armed himself with n
unchaku
, magically formed from his suit.
Seeing how he just threatened her, Princess Butterfly glared Randy down assuming this was another assassin ordered to steal her wand or kill her. "Let's go, ninja boy!"
"Bunny Rabbit Blast!"
"Ninja Floor Elevation Leap!" The Ninja dodged her bunny blast by back flipping onto the second floor's railing.
The boy ran along the railing as Star laid rapid fired upon him. The poorly aimed consecutive pink lasers did more property damage than hit their target while Randy knocked a few away with a spin of his Ninja Chucks. Getting frustrated missing, the blonde decided to close the distance. "Glitter Dragon Transformation!"
Randy witness many things after becoming The Ninja. But, a girl summoning and riding upon what looked like a giant shimmering dragon designed by a toddler made him halt. "What the juice!?"
"That's so Bruce! But, so girly! But, so Bruce! But, so girly-!" The dragon roared before attempting to consume The Ninja. Quickly, Randy pulled out three small spherical black bombs and heaved them into it's mouth.
"Ninja Boom Balls!" Unexpectedly for the two, Glitter Dragon accepted the gift and happily chewed them like candy.
"Hey! Bad dragon, spit those ou-!" Star couldn't finish as the bombs detonated, imploding the dragon's head she perched upon in a glittery explosion. The blast catapulted the princess straight through the glass ceiling and twenty feet above the school's roof.
"Ninja!" Nimbly jumping through the ceiling hole and onto the roof, Randy threw his scarf at the mid-air Mewman. It's fabric extended magically and tightly wrapped her boot leg.
"Scarf!" Cunningham tugged the scarf hard, further accelerating the screaming princess back to Earth.
"Slam!" Randy boisterously finished as Star came careening through yet another glass ceiling. Her destination was a busy cafeteria room, it's occupants stopped their various conversations to witness the princess land—destroying a table in the process.


It was quiet until a familiar band geek said something to drive everyone into panic. "Run! It's the purple monster!"

"She'll lay eggs in our stomachs!" Someone else cried.

Star groaned as she picked herself up, what she saw were students screaming and running in circles while few crammed unfinished lunches into their mouths before escaping. Not knowing they're scared of her previous actions, the princess assumed it was general panic. "Everybody evacuate, there's an assassin here!" She warned.

"Smoke bomb!" Said assassin appeared from a cloud of red smoke standing atop a Froyo machine.
The princess readied to defend herself and the students, but the spontaneous cheers of joy caught her off guard. She didn't have time to question the sudden acclamation as her assailant brandished a crazy looking weapon with two blades on each end. "Ninja Whatever This Is!" Ninja yelled. Randy didn't want to shred this girl, so he offered her a alternative, "Seriously, let me smash your wand so I can destank you. Don't know how you got stanked with the sorcery gone, but whatever. Deal?"

[stop music]

With a determined glare, Star rose her wand as her body brightly illuminated. When the glow faded, the girl now donned heavy battle armor, complete with her wand transforming into a large spiked mace. Seeing the turn of events, the bystanders took out their phones to record the upcoming battle.
"Never!" Star shouted before unleashing a war cry.


"Ninja Sword Spin!"
The Ninja spun his weapon like a power saw and brought it upon Star. Sparks flew as she blocked the grinding attack with the ball of her mace. Numerous times Randy tried getting around her defense, but each sword strike was parried by the mace whose wielder maneuvered it around weightlessly. Smirking, Star feinted an opening which Randy took, attempting to slice her. Instead, the princess elegantly whacked his ridiculous weapon aside and thrusted her spiked mace into The Ninja's stomach, using it to carry him overhead, then slamming the teen onto a table behind her.
"Ooooww- WAH!" Randy spread his legs and scooted back barely in time for Star's mace to slam centimeters from his family jewels. Seemingly disappointed she missed, the princess tried again only for Randy to scoot back away. This led to her slamming her mace repeatedly, advancing on The Ninja as he quickly crawled backwards to escape gruesome agony.
"Mace Slam! Mace Slam! Mace Slam!" Star Butterfly mocked angrily.
"Nononono stop! NINJASAIS!" Pulling out two sais, The Ninja used them to staple the mace's handle into the ground, locking the weapon to the floor. Star was too transfixed on freeing her weapon that she didn't detect the incoming roundhouse to her head. The kick knocked the princess's helmet off and sent her crashing through the cafeteria food, covering the Mewman in cheap school food.

Groggily, Star slowly picked herself up while shaking off what felt like moldy food. The first thing she noticed was her eyesight being completely blackened. "I'm blind! He knocked my eyeballs out!" The princess wailed, flailing her arms.

"Uh, actually, you got a banana peel on your face," A nearby Howad Weinerman nonchalantly pointed out. After hearing the fight transitioned to the lunch room, Howard didn't hesitate to run down and steal any unguarded lunch; which he happily returned to after assisting Star.

"Oh," Simply tossing the peel off her face revealed the assassin holding a sai over her discarded wand (in its original form), ready to destroy her family heirloom. Gasping, the princess of Mewmans grasped a large soup pot and heaved it at the red and black foe's hand, knocking his weapon away. Star quickly bolt towards the ninja, simultaneously reeling her arm back for a punch.

Randy pulled out a bunch of small black balls, tossing them at the feet of his approaching foe, "Ninja Tripping Balls!" Despite the warning, Star still fumbled and stumbled as the tiny balls carried her discombobulated body towards The Ninja who winded his arm like a helicopter's blade before delivering a powerful uppercut to the defenseless princess, knocking her out. The remainder crowd cheered as Star's body limply fell. Pulling out another sai, Randy stood over the wand; ready to end this fight.

[stop music]
An abrupt grip on Randy's shoulders made him turn around to witness an angry Macro Diaz standing next to a human sized portal. With a mighty pull, Marco flipped the assailant over his back and into the portal, "YAAAAAAH-!" The Ninja yelled before the gateway cut him off.

Marco ran over to his best friend, carefully checking her condition, "Star! Are you alright? Where'd he hurt you? How many fingers am I holding up?" Marco shook his friend till she finally came to. Immediately, the princess went into a battle stance but calmed down since her opponent was nowhere to be found. After questioning Macro, he explained that he used the scissors to escape the locker and went to aid her.

Suddenly, a red scarf lunged from the open portal, wrapped around Macro's head and quickly dragged the boy in. "Marco!" The princess yelled in horror. Grabbing her wand, Star didn't waste a second more before jumping into the gateway as it vanished behind her. The remaining students looked on in confusion before calmly returning to their activities as if this were a normal occurrence.

----------------------------------------------------------------------------------------------------------

Amethyst Arcade...




"-Scarf Slam!" Randy yelled as he flung Marco high into the air before slamming him down into a token machine, upon impact a torrent of coins sprouted into the air as an unconscious karate boy was surrounded by strange rectangular aliens collecting the currency.

"Oooooo, scarfed the wrong person. Sorry bout that, karate guy!" The Ninja began to walk over to help the boy, but something else caught his attention. Something so important that helping an injured teenager was obsolete.

"No honking way! Is that Grave Puncher XV Final Mix Arcade Edition!? This place is amazing (besides the weird aliens), I gotta show Howard!" Randy gushed zealously staring at the 182 inch monitor located at the arcade's center.

"I got your grave and punch right here, pajama boy!"

"Whuuzat huh-?" As The Ninja turned around towards the furious voice, Star nailed his chin so hard it sent him a couple yards back. As Randy began to lift himself, she gave him a drop kick to the head, swiftly followed up with a Canadian Destroyer, and ruthlessly threw the disoriented ninja into an arcade machine by the legs.


Struggling to regain his bearings after the beat down, Randy nursed his head, "Ooooooow.. Y-you watch wrestling too-? Oh boy!" When everything stopped looking blurry, Randy noticed Star was charging up another magical spell. Thinking quickly, he pulled out a few black balls with yellow stripes.

"Honeybee Tornado Swarm!"

"Ninja Bee Balls!"


Both attacks unleash a torrent of bees which began furiously stinging both fighters. The two ran away hollering and swung their arms about. Fortunately for Star, the bees fled as she took cover behind an arcade machine. The future queen used this time to do something foreign; think of a plan. Suddenly a non-metaphorical light bulb popped from her cranium as she got an idea; wait for the assassin to shout an attack.
"Ninja-"
"RAINBOW FLYTRAP!" Star yelled, popping from cover to stick the airborne ninja to a transparent sticky rainbow. Smirking at her successful trap, Star transformed her wand yet again—this time into a bazooka equipped with machine guns and smaller rockets, "Shimmering Destructo Cannon!"
The two mini rockets exploded upon impacting the flytrap, blowing the smoldering ninja into an arcade machine. Randy dazzlingly got up just in time to hear the whirl of Star's minigun before running behind multiple arcade games. Star's minigun demolished any machine Randy previously occupied as she followed his form around the game area; bullets shells littering the floor below. As more and more potential cover was destroyed, the princess noticed The Ninja was circling her the whole time, his speed ever increasing and being more difficult to lock onto. Once he was in her blind spot, he immediately leapt for her back.
"Ninja-!"

"Winderstorm Hyperblow!" Star turned her bazooka into wand form and shot out a strong blizzard, instantly freezing the mid-air ninja and a few bystanders peeping on the action from their respective covers. His frozen body fell to the floor—still in attack pose within the ice block. Casually, Star approached her prone adversary while transforming her wand back to a bazooka, "You know, you reeeaaally shouldn't yell out your attacks. Ninja 101." Star stated, condescendingly.
'Come on, you do the same thing!' Randy would've retorted, but being bounded in ice wouldn't allow. Randy was forced to watch the princess shoot a large rocket at his head, unable to move as the explosive projectile got closer. Thinking quickly, he activated the Ninja Rage to set his suit ablaze with roaring fire—instantly evaporating his confines and the surrounding ice.


Randy immediately bent his body back, playing a dangerous game of limbo with the rocket as it past overhead, leaving pink exhaust fumes behind. This surprised the princess, but she quickly transformed her wand into a bow and took aim at her fleeing foe. Following the rocket, The Ninja threw his scarf, tightly wrapping the projectile and pulled back hard—trying to change the it's trajectory towards Star.
"HNNG, N-ninja-!"
"Ninja Nothing!" Star interrupted, firing her magical arrow at the vulnerable flaming Ninja restraining the rocket. The painful shot to his back blasted the Ninja in the air, letting the rocket carry the screaming boy by his scarf. The princess merrily watched the rocket disappear into the endless arcade's and pumped her fist as a rainbow explosion went off in the distance.

*BOOM!*
[stop music]

Star kept her gaze on the colorful smoke, not underestimating this opponent. Once it finally dissipated, the Mewman ran over to her friend and pulled him out the token machine. "Marco, wake up! I need your scissors since I'm 20% sure he's not dead," Star spoke fast and searched through the half unconscious boy's hoodie.
"Wha- huh?" Marco fully awoke to Star taking out his Dimensional Scissors. He jumped into a battle stance ready to defend his princess but found not threat around, "Star, what happened? Please tell me we're leaving because you won."
"No, Marco. You're leaving," Star stated seriously, "I can't truly let go while you're still around. I know you'll say, 'I'm not running away!'"
"I'm not running away!" Marco yelled back.
"So, don't run away. Get backup if you need- "
"Those scissors can cross dimensions?" A nearby voice questioned.
"UGH! Yes! Can you please not interrupt our conversation-!?" Star stopped as both her and Marco slowly turned their heads over to The Ninja (Ninja Rage deactivated) who somehow entered their little huddle with them noticing.
"Ninja Yoink!" Snatching the scissors while they were shocked, The Ninja ran with the two chasing behind. Using the tool to cut the air, a portal materialized ahead of the surprised ninja. Looking back, Randy spotted Star charging a spell and quickly escaped through the portal. Not wanting to lose his scissor, Marco was the first to blindly run in with Star not far behind.

----------------------------------------------------------------------------------------------------------

Land of Shadows...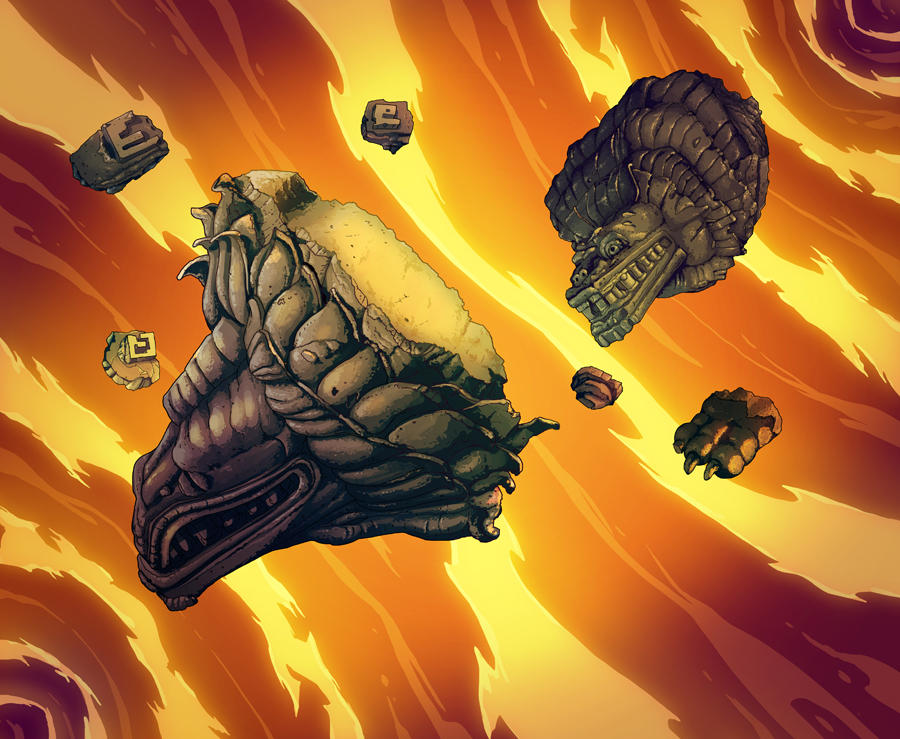 The Land of Shadows was a strange place with nothing seemingly around except floating platforms in the bright void. This was diffidently an eerie world the duo wanted to leave immediately, "Um, is this his home world or something?" Marco asked nervously.

"Actually," the two turned towards voice that belonged to The Ninja who causally lounged upon a small moving rocky platform floating by, "it's the Land or Shadows. This is where big bads and dark magic stuff come from or something, I dunno. But, point is; gonna keep you guys here. Thanks for the scissors, PEACE!" With that, the duo watched Randy eagle dive off the platform and into the abyss below. Cutting through the fabric of space with the scissors, Randy fell through the portal which closed shortly behind him.

Both Marco and Star looked stared over the edge where their assailant disappeared. Neither looked concerned, but instead confused that The Ninja assumed they couldn't escape this dimension, "Star" Marco began, putting a hand on her metal shoulder pad, "you were actually about to send me to Mewni during the fight?"
The princess sighed, took Marco's hand into her own and looked into his eyes, "It's not that you can't defend yourself, but some enemies we fight are too powerful," She stated carefully.
Marco felt insulted, "What are you saying?"

"Marco! You remember what happened with Toffee, if I hadn't destroyed my wand you would've been a pancake! Or that time Meteora stole your soul! Then there was with Tom-" she was about to continue but stopped as she saw the hurt in Marco's eyes. Calming down the princess sadly stared down at her boots, "it's fun fighting villains like Luddo with you, but not serious threats like Toffee. Every time you get hurt it's because I failed to protect you. If this assassin ends up killing you I don't think I can-"

"Star."

The queen in training looked up into Marco's eyes. He had that same expression on his face every time she vented her feelings; a mixture of reassurance and understanding. "It's not your fault, I put myself myself in danger to protect you. I may not have powers like you, but that won't stopping me from trying. And it's not just me. Moon, Tom, your dad, and everyone else would put our life down to help you." He hugged her, and slowly she returned it, "Besides you know that wouldn't have kept me from coming after you again," Star rolled her eyes and chuckled.

"Alright, let's get your scissors back!" Star yelled. But, a green twinkle coming a few feet away caught her attention. As if in a trance, Star slowly walked over to a small green orb and picked it up. She continued to stare at the orb with her mouth hung open, it shined again and she sore voices began to speak to her. The voices began getting louder and more aggressive as Star's eyes began to turn green-

"Star!" Marco yelled smacking the orb aside. It bounced along the ground before falling off the edge into the abyss below. "Are you okay? Come on, let's leave this place." He started shaking her and stopped as she finally came to.
"Huh? What? O-oh okay," She blinked her eyes a few times to regain her sense. 'What was that?' She internally questioned but began to focus on her magic. Slowly, the princess' body began to glow brightly...

----------------------------------------------------------------------------------------------------------

Norrisville High Track/Soccer Field...




The Ninja fell from his portal in the middle of a soccer game in a generic super hero landing pose. "Ow. That's really hard on the knees," He whined quietly.

"Ninja's back!" someone shouted as the crowd and players cheered.

"The monster is defeated, citizens! You're all safe!" Quickly, Randy changed his voice to sound deeper and more heroic. The Ninja basked in the cheers and coyly waved to the audience before pulling out a smoke bomb ball.

"SMOKE BOM- "The Ninja stopped once he spotted the crowd gasping in horror and players slowly began running off the field.
"What?" he questioned. All they did was point to whatever was behind him.
"…oooo booy… she's right behind me, isn't she?" They nodded, still stunned for whatever they're witnessing.




"What the juice!? How many forms do you have?" Randy yelled, taking out a sword. Despite her beautiful appearance the princess sheer presence radiated power as it shined like the sun. Her appearance was identical to her purple mewberty form besides the color change and larger wings. Randy noticed a portal behind her as her Mexican ally walked through it (which closed shortly behind him), 'So they can make portals without these scissors?'.

"Assassin! Give back what you stole and I might go easy on you!" Star demanded, floating a few yards in the air. Though, her offer didn't convince Randy.

"That's a very convincing offer! Ninja Toss!" Randy threw the scissors high into the air, catching the attention of both Star and Marco.

"I got it! I got it!" Star yelled moving around to where she hopped the scissors would land, keeping her eyes on the them.

"Ninja Distraction Sword Throw!"

"Star, watch out!" Marco tackled the blonde away from the projectile and instead stabbed his hoodie, sending him flying to a goal post which embedded his hoodie into the metal. Marco hanged there, struggling to free himself.

Star sighed in relief as Marco was unharmed before furiously turning towards Randy. "That guy has the worst luck..." The Ninja stated softly.



"Narwhal Blast!"

"Narwhal wha-?" The Ninja was then pummeled by a stream of magical flying narwhals. The horde carried the teen into the stands—which exploded into lumber on impact—and led to the remaining students to finally run away. Star continued unleashing the sea creatures until a large pile formed. Cautiously, the princess float around the squirming pile of mammals who loudly complained about their predicament. Abruptly, The Ninja burst from the bottom and made a mad dash towards her, holding a confused narwhal under his armpit like a football. This made Star fly backwards towards the field's end while simultaneously launching spells at The Ninja.

"Pile Driver Panda Explosion!"

"Ninja Animal Abuse!" Using the narwhal like a bat, Randy swatted the raining pandas aside that exploded on whatever they landed on—slowly, he was catching up.

"Syrup Tsunami Shockwave!" She yelled, a bit frustrated.

"Ninja Narwhal Vault Jump!" Randy used the narwhal's horn as a pole vault and safely traversed over the wave of golden goop before landing upon the field turf in a sprint—gaining even closer on Star.

"Rainbow Glitter Unicorn Gnome Hat Kitty Bacon Hawaiian Nightmare!" Star yelled, not hiding her agitation.

"Okay, now you're making these up! Ninja Air Fist!" Randy shot a blast of air below, launching him—and the screaming narwhal he held—into the air like a rocket. This not only allowed them to avoid the spell but positioned him infront of the sun after reaching the apex. Star watched his accent upwards but quickly covered her eyes from the blaring sun. Slowly her eyes adjusted and she moved her hand away just in time for a face full of slimy fish.

"Ninja Fish Slap" The force of the narwhal slapping Star created a small shockwave and knocked her straight into the ground, forming a small crater.

"Ninja Narwhal Pierce" The Ninja nosed dived after Star, holding the narwhal so it's pointer would run the prone princess through.
"Easy Peasy Time Freezy!"
[stop music]

The narwhal's horn was mere inches from her eye just as time fully stopped. Star slowly crawled out the crater as she observed her surroundings. Everything was frozen. The flying birds, fleeing students, and including The Ninja behind her; who froze in mid nose dive. "Alright", she turned around and pointed her wand at Randy's head, it began glowing brightly, "I didn't want to do this. Stopping time, I mean. But, blasting you in the face will be worth fixing all this later."
"Cataclysmic Total Extinction Death Blas-" Star stopped. A cold so chill went up her spine released her wand from her grip, tumbling to the ground. Star dropped to her knees and clutched her head as it felt like knives penetrated her skull.
"What's happenin- AAAH!" She screamed as the voices returned. The same voices who invaded the princess' head when she held the green orb earlier in The Land of Shadows.
Suddenly, she stopped screaming and her body went limp.
----------------------------------------------------------------------------------------------------------
Time resumes...


"YAAAAA- OW!" Having landed face first into the ground, Randy plucked his head from the ground like an ostrich.
"What the juice?! Did she teleport? She was right here!" Looking desperately around, Randy finally spotted her floating twenty feet in the air. Yet again, her form seemed to change. Instead of yellow, her mewberty form was dark blue with creepy smile and a creepier cackle too. A cackle familiar to The Ninja as her squinted at her,
'No honking way. It can't be...'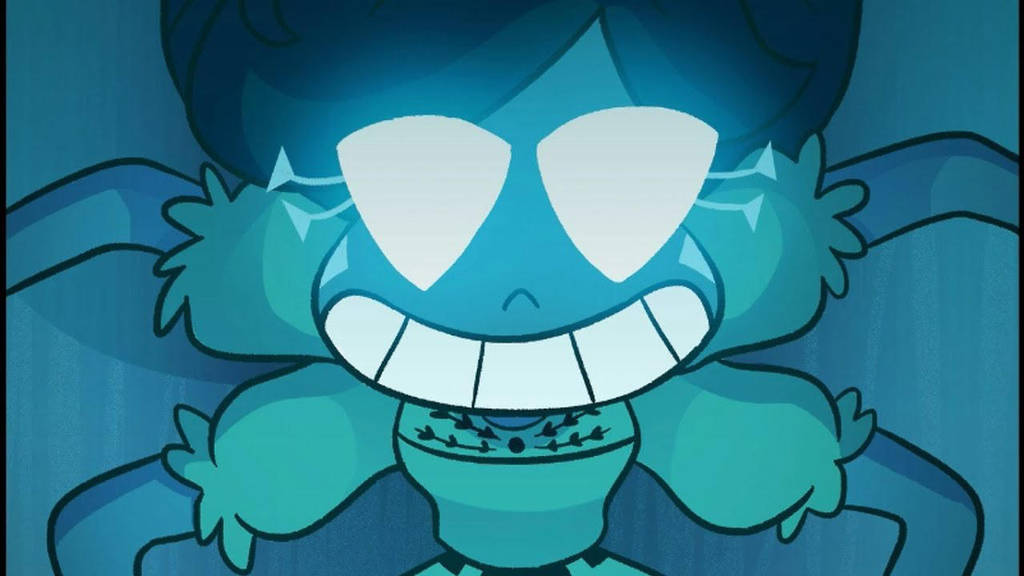 "I have returned, Ninja!" Those words confirmed it. That the same evil that possessed Julian was diffidently in that body right now.
"HOW THE JUICE ARE YOU BACK?" Randy yelled bewilderingly.
"It was a mistake bringing those two to the Land of Shadows. Especially a vessel this
powerful
! Though, I should thank you. With her powers I can reach across dimensions and add various monstrosities to my dark army!"
"Wait, time out. You lost me. Rewind back to-"
"Now, stand to witness as I finally bring this world to chaos!
Behold
!" The possessed Star spread her arms wide. Dozens of magical portals begun opening up around the field. It took a second, but, shadowy silhouettes of deferring sizes and shapes could be seen through the portals. A brave student walked up to one. This was a grave mistake as sharp black tail shot through his stomach and just as quickly retracted. Leaving the body to fall in a bloody puddle.
Xenomorphs, Predators, Head Crabs, Deathclaws, Regenrators, Creepers, Elites, and even Boos congregated through the portals. It was absolute chaos filled with screaming children, chaperons, and teachers who were either killed by the monsters and aliens or taken over by a head Crab. Any creature passing through the portal had it's eyes illuminated green; indicating it was under mind control.
"I... wha... I-ohmygod..." The Ninja stood there terrified, watching atrocious acts of violence committed. Being torn from helping the citizens or going after the main problem. Against his best wishes, he went with the latter.
"Yes, my army! Kill them all-!" The possessed princess yelled before her body was suddenly constrained. The Ninja had wrapped his scarf around her body and pulled hard, forcing the girl to careen down towards him. Randy quickly grabbed his package and put her into a headlock with one arm while his free hand to rummaged through his suit—seemingly searching for something.
"Fool! With this body I can control time, space, and create life at will! This cloth can't contain me." The possessed girl exclaimed.
"You're right," Randy finally pulled out what he needed; The Ninja Nomicon. A book that can transport someone's consciousness into its mental plane. "So, you won't be fight
in
that body!" The Ninja opened the book and it illuminated brightly, transporting both their minds into it. The book stopped shining and dropped from Randy's grip as both bodies limply fell to the ground like ragdolls. Chaos continued to ensue around the two—although—were about to have a battle of their own...
[stop music]

----------------------------------------------------------------------------------------------------------
Inside the Ninja Nomicon...
For the fifth time, the possessed girl tried opening a portal to free herself. "Why isn't this working? Where have you taken me, Ninja!? Or should I say... Randal!!" She screamed. Both were back to their original forms; Randy in his casual attire and Star in her usual outfit. The boy seemed unfazed that his identity was revealed as he casually leaned against a support pillar.
"The Nomicon. You might be unstoppable out there, but in here..." Flames then surrounded the cocky teen as he cracked his fingers, "I have the advantage. Time for round three...! Or four?" He scratched his head in confusion, unknowingly setting his hair on fire, "Wait, is it round four? Okay, let's go with
final round
- FIRE FIRE! Hair's on fire!"
Randy didn't have time to put it out as Possessed Star sucker punched him across the dojo,
'I may not have access to the princess' magic. But, her Mewman strength and battle expertise should be enough to kill him.'
Taking a boxing, she charged her opponent.
'She hits as hard as the bots I fight. I don't have the suit, so no weapons.'
He spat out some blood and took a fighting stance,
'You're the chosen Ninja. If she wins, everyone dies. You're the chosen Ninja! YOU. ARE. THE. NINJA!'
Randy ducked under a punch and uppercutted Star, followed up with stomach jabs, and a roundhouse kick. Star caught it, lifted him overhead, and slammed Randy down. Taking the opportunity, Possessed Star hopped and put all her strength into smashing his skull with her feet.
"Ninja Air Fist!" The concussive air blasted Star away before her boots connected with the downed teen mid-jump. Adjusting her body, Star hit the wall feet first, braced her legs, and launched herself towards Cunningham like a bullet. They collided into a tumble of flailing limbs—the teens finally came to a stop with Star ontop Randy's chest.
The blonde began pummeling his face with rapid slugs. This came to a stop with Randy gripping her shoulders and pulled in for a headbutt. She fell on her back, clutching a bleeding nose.
"Ooooow! That was like hitting a brick wall!" Star complained. Then, her eyes widened in sudden realization,
'Wait! I just lost control for a second! Dammit, I can't fight Randal
and
keep the princess under control!'
Jumping to her feet, the possessed princess noticed Randy stood with his eyes closed. He took the fighting stance passed down by his clan, waiting for his opponent to attack. Not taking a chance, she swung a leg—that he bent back to dodge. Star threw a punch, but the blind boy swatted it. Star leaped at him, but he crouched, sending her into a pillar.
Star dislodged her head from the wood. She glared at Randy, as if trying to set his head ablaze with her gaze and ran at him in primal rage.
"Ninja." He whispered, batting away multiple punches.
"Tengu." He rushed under a haymaker while gripping Star's hair with one hand—finally opening his eyes.
"Fireball!"
Randy pulled back an inflamed hand, jerked in Star's hair, and ended with a blazing knuckle that sent the princess crashing into a wall.
[stop music]
The possessed Mewman hit the wall hard and struggled to stand.
'Control... waning. I only have a few seconds left before I lose control.'
"Ninja Comet Sprint!" Randy's shoes glowed a bright orange before quickly grabbing Star and ran off down the hall at super speed. He held her over shoulder until reaching his destination; The Ultimate Lesson.
A door—when entered—erases any knowledge of The Ninja. The teen dropped Star and started messing with the door, seemingly deconstructing and reconstructing it. The princess grudgingly got up, clutching her head.
"Huh? Wh-where am I? Wait..." She looked down at her hands, slowly growing excited, "I'm... I'm back in control-"
Randy grabbed Star and threw her through the door.
"WAIT! NO! I'm back to norma-!" The door then shut behind Star—silencing the princess' protests, shrouding her in complete darkness. After an awkward second, the world around Randy began fading to white, signifying that he was being pulled back to his body.
"Ooooh boy, it feels like I messed up..." Randy said concernedly while staring at the door before everything went white.
----------------------------------------------------------------------------------------------------------
Back at the play field...
Randy gasped as he came to, "What happened?! Everyone okay?" He frantically looked around, but saw no monsters or portals. It's as if they vanished.
"They all disappeared when you and the bug girl went under." Howard casually stated, startling The Ninja by his sudden appearance, "By the way, is she dead?"
The Ninja finally looked at the girl laying next to him. She was breathing, but she in no way looked alright. Eyes pointed in different directions, mouth open, and drool running down her chin.
"I uh, mind wiped her. But, I messed with the Ultimate Lesson before I did it. I think it erased more than I wanted, but I was trying to get rid of Evil Julian!" The Ninja slapped a hand to his head.
Howard poked her eye. She didn't respond, "Yup, she's brain dead. I've seen more brain activity in those frogs we dissect." The Ninja took a moment. Technically she was trying to kill him, but he didn't know if she was under control the whole. Before he could ponder more, the familiar Mexican boy ran over. Randy took this as an opportunity to grab the Nomicon and smoke bombed away.
"Staaaar!" Howard backed away as Macro grabbed his limp friend and checked her condition, "What did he do to you....?" She didn't respond. Couldn't respond.
Her brain could do little more than beat her heart and breath.
Principal Slimovitz whistled a merry tone as he walked towards his car. As soon as he heard about bug women he left for an early return home. Nope, he wasn't dealing with giant bugs today.
A mini panda suddenly landed straight onto Slimovitz's car and exploded—destroying the vehicle. It was the same mini panda the The Ninja swatted into the distance in his fight with Star.
"MY CAR!!"
Epilogue.
"My queen, it's been months. I know it's hard, but we can't keep wasting resources. The princess' condition hasn't gotten any better since the day she came in. As horrible as it is, I think the best option for Princess Butterfly is-"
"SHUT UP!"
Queen Moon threw a spell book at the head doctor's head. This prompted the head nurse to
leave
the study room quickly. Normally, Queen Moon wouldn't have erupted like that, but a week's lack of sleep left her mind delirious. They tried every medicine imaginable. Every spell and dark arts they could find.

Nothing healed her mind. But, she wouldn't give up on her daughter. Though Star needed constant assistance in bathing, eating, and restroom use—she wouldn't give up on her.

Moon slogged over to her wheelchair bound daughter and rested her head on princess' lap. She didn't mind the drool dripping onto her as Moon whispered incoherently. Soon, her eyelids became too heavy and she drifted to sleep...