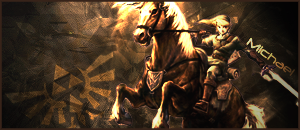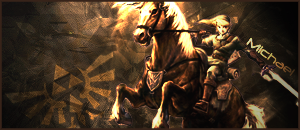 Is it to busy..? Those damn C4D's sometimes trick me into making something look incredibly busy and distracting....i need feedback!
in other news
Zelda game sigs are really hard to make because they dont really fit my style at all even though I love the games instead of kind of dark grundgyness which is what I find easy to do. Its like the image craves forests green stuff I don't know but i had a lot of trouble doing this and it took me about 2 hours....maybe more
so yeah

I cant believe this took so long and now I want to edit so much.....Im still waiting for some feedback or something from a variety of different sites and people...............I think there needs to be something on the left and it shouldent be the symbol but i dunno..........................-__- this annoys me
edit:
added a border and got rid of the annoying black behind the symbol on the left (hyrule family symbol i think..)
.......eponas reigns are incredibly sharp....agh
I've decided I will also try working on a majoras mask one...I'm really determined to make them come out the best I can make them

Too small, imo. Give yourself space to work with.

Go for a little while without text until you figure out what text fits what style

I'm glad you included the crest and made it flow; it helps the flow and is very helpful to the colorscheme and overall look.

Lighting is great, but the depth isn't too great. Work on establishing a focal in a foreground and a background, such as in photographs. Photographs have a blurred background, a sharp focus, and sometimes a blurred foreground, right?

Great sig though, loving the colors. And no, it's not too busy.
Reply

Wicked work dude. I dunno about it craving color, I love the sepia feel. I don't think it's too busy either, but my laptop's contrast settings mess with me sometimes.
Love that you added the crest.

Reply

it's good. But it is not original. You edited a pre-existing nintendo art.
Still it is great. I just think you should cite the material you used.
Reply

Umm I used a render.....................Its not original or anything but I would hardly call this editing unlike my other twilight princess signature. This signature was made entirely from scratch and who ever cites a render?
Reply

oohh awesome, but that may be my inner fan-boy speaking but really it is good
Reply