Greziel Sprite by
ScepterDPinoy
Logo by
KeebyZ
Art by
AssassinKnight-47
Welcome to my DeviantArt page! :3 Hope you enjoy your stay.

I've been doing Flash for 6 years on a website called Newgrounds. I live in Katy, TX with my big brother, my sister, my nephew, my parents and Mom's dog, Wicket. He's so cute. :3 Plus, I go to Cinco Ranch High School. This year's my last year though. My birthday is February 26. I love Zelda, Resident Evil and Mario. Favorite has to be Mario.
FAQ:
Conventions I've been to:
I've only been to one convention. That was the Houston Comic Con 2015. I might go to the 2016 one.
What did you get from the convention?
I got 2 posters from a DeviantArt artist I met and a rare Mario Amiibo.
Who is your favorite YouTuber?
PewDiePie. No question about that.
What is your favorite color?
Um. That's hard. Either blue or red.
Links
Who I'm like
Mental Age:
26
Birthday Countdown Timer: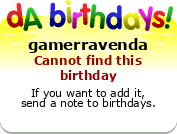 All-around Bros:














<3

All-around Sis:

Best Peepers





























Nice and Kind People




The whole Quartet. And yes, don't judge.:3




Flipnote Buddies




Real Life Friend

Thanks for the fav!
The A1 Quintet


MCQSquare

Ivan-the-Oshawott