I feel like I should use a better reference. I didn't fight anyone to the death.. yet.

lol Yet I find it oddly fitting. I'm sorry for all the spam tonight! I just uploaded a TON of work I've been doing over the past few months. I'm sure it was annoying

Since this is the place I get asked about patterns the most I decided to make a journal letting everyone know that the Tonberry pattern is up, with video help, and completely free.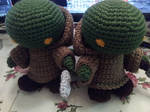 More patterns to come, I promise!

Etsy - ArtisticGaming (Crochet / Beaded Jewelry) -
www.etsy.com/shop/ArtisticGami…


ArtisticGaming -
www.facebook.com/ArtisticGamin…


GamerKirei -
www.twitter.com/GamerKirei

Youtube - ArtisticGaming -
www.youtube.com/gamerkirei

Support me on Patreon -
www.patreon.com/artisticgaming