I've made it no secret: I
love
the
Mistborn
series.
Ever since I came across the first book all those months ago, falling in love with Brandon Sanderson's characters, setting and magic, I've been devouring just about the entirety of Brandon Sanderson's bibliography. From
Mistborn
I moved on to
Warbreaker, Elantris
and
The Stormlight Archive,
as well as any short stories and novellas taking place in his "Cosmere" franchise.
Yeah, if he wasn't a new favourite by the end of the first
Mistborn
book, then he is to me by now. I love his styles, his themes, his unique esoteric magic systems that defy standard fantasy conventions, his amazing and richly constructed worlds... and most importantly, his characters. Vin, Elend, Kelsier, Vasher, Siri, Kaladin, Shallan, Wax, Wayne, Hoid, all of these and more? Damn, man. Through great storytelling I can't help but have fallen in love with these wonderful characters.
So, bearing all of this in mind, when I had finished the
Mistborn
trilogy you wouldn't be surprised to learn I had already begun formulating a plan to run a d20 game in the world of Scadriel. I was homebrewing unique classes for Mistings, Ferrings, Koloss, Feruchemists, Inquisitors, Kandra and Mistborn when it had come to my attention that Brandon Sanderson had already co-created an official
Mistborn RPG.
Ah.
Well, then, I thought, nevermind.
I bought the RPG and all its supplements on DriveThruRPG.com and bam! I was reading through the corebooks like mad. In the meantime, I had been trying for months to get some friends of mine into
Mistborn
, hyping it up, comparing it to series like
Avatar: The Last Airbender, Fullmetal Alchemist
and
Berserk
to get their attention... when, in reality, the series is really more along the lines of "Tolkien meets X-Men." But you have to understand, my usual D&D buddies on Deviantart and Skype? The good majority, barring two or three exceptions? They're, ahem, "weeb" inclined. Anime and manga, but mostly anime, are their thing. In some cases, their
only
thing.
When you have a "thing" long enough, it can get harder to step out of that comfort zone and try something new. So, bearing that in mind, I buttered up any and all comparisons to animu or animu-inspired media. And it worked. They started reading. Then they finished, told me they
loved
it and of course they'd try a hand at a
Mistborn RPG!
Ha! Call me slightly manipulative if you want, but I get
results.
If I can get some non-readers to read even
one
book, I call it a victory.
So we planned, we built sheets, we even had practice runs to get acquainted with the
Mistborn RPG'
s unique mechanics. We did everything we could have to prepare... except for timing. Yeah. The
Mistborn
game didn't pick up off the ground like I had planned, for God knows how many reasons. I had hit a funk and got into writing my novels, everyone else was either on vacation, had massive family obligations or they simply had computer problems. Or they too had some personal issues at the time that needed to be sorted out.
Real life, am I right? Ain't it just an inconvenience?
Well, eventually, by the time I had gotten out of my malaise and hit the internet again... to my pleasant surprise, I had found some of the lads had kept on reading, all the way of the
Wax and Wayne
sequel series (more on that in a bit). At that same time, I had finished it myself (what're the odds), and not to mention I was kind of in a real Western mood: watching
The Magnificent Seven, Fistful of Dollars, The Wild Bunch
and
Rio Bravo
will do that. Oh, and playing
Red Dead Redemption
again will also do that.
So I proposed to the gang, "Hey, while we're waiting for some of our friends to come back, let's put the first Mistborn game we had planned on hold and run a different one?"
"Different how?"

asked.
Well... here's the thing I also love about the
Mistborn
books. I love it when fantasy universes break out of the old "medieval stasis" so endemic to the genre. In Sir Terry Pratchett's
Discworld,
we gradually witnessed (over three decades) the growth of the Disc from a medieval society to an early Victorian-era European-ish one. In
Legend of Korra,
we saw the world leave behind
Last Airbender's
feudal dwellings, hot air balloons and giant drills for skyscraper metropolises, motorcycles, biplanes, robots and (spoiler) nuclear weapons. I love seeing how all that magic or fantasy-stuff could be implemented into technological or social advancement (i.e. imps used to power photographs in
Discworld,
firebenders working in power plants and metalbender construction crews in
Avatar
, etc).
So,
Mistborn
did something similar.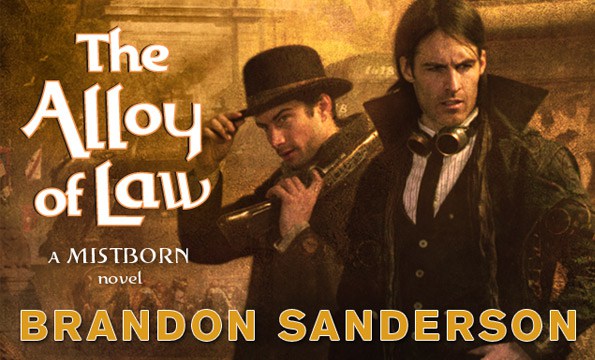 This is the
Wax and Wayne
sequel series of
Mistborn.
It's set three centuries after the events of the original trilogy, which have now become the basis for mythology and religion in modern Scadriel society (for instance, protagonist Vin is now worshipped as a sort of warrior goddess/patron saint figure known as "The Ascendant Warrior"). Mistborn and full Feruchemists are believed to be semi-mythical entities now, so the only Metalborn around are Mistings (who can only burn one metal), Ferrings (who can only use one metal) and Twinborn (a combination of the other two). From the lush and paradisical Elendel Basin, civilisation has expanded to the "Roughs," a sort of
Mistborn
equivalent to the Wild West.
So, you know, there are outlaws, gunslingers, horses, deserts, trains, every Western cliché you can think of. There just also happens to be a bunch of people who can gain superpowers from drinking or wearing metal. Aside from that, the set up's easy to get, right? I mean, that is, so long as you don't mind spoilers for the events of the original trilogy and digging through tons of lore. If not, then you should be fine.
Half the group hadn't read
Wax & Wayne,
but they loved the idea of playing as Allomancers in a Wild West-esque setting that they jumped at the prospect to play this:
Yup. There's a supplement. Based on this era. In the span of one night, I had written up our characters sheets, I sketched a rough outline of a campaign, and bam! We were in business! Alongside the
Berserk d20
game, the tabletop chatroom was finally abuzz with activity.
And I couldn't be happier. (Contented sigh) I love working/playing with these people. The only downside to playing tabletop games on Skype is the lack of, you know, having a drink or sharing snacks with these good friends of mine. Ah, oh well.
Anyway...
With all of that set up aside? Welcome to the prologue of our first Mistborn game. The premise? It's set during the
Wax and Wayne
era of
Mistborn.
Specifically, it's set immediately after the first book in the series,
Alloy of Law.
Our party, or "crew" in
Mistborn
parlance, consists of lawkeepers (sort of all-purpose "hired sheriffs" who provide their legal services to towns on the roughs), hired guns and one scrappy thief. Together, they keep the peace in the growing but isolated town of Vinsong. Far as it is from the civilization of the Basin, on the farthest reaches of the Roughs, it's something of a perfect magnet for crime and all sorts of illicit activities.
That's where our heroes come in.
Ladies and gentlemen~!
---- --- ---
OUR DRAMATIS PERSONAE: THE STEELDEVILS CREW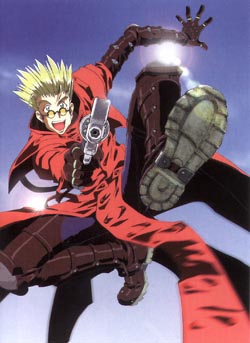 "RAINING-LEAD" ZAK

Played By:

Alignment: Lawful Good