Update 2 - 24.09.2018
The first article s online
www.game-art-hq.com/persona-4-…
We got 3 artworks now and all three are going to get their articles in the next days already.
The Project is directly linked at the top of Game-Art-HQ's frontpage!
It has been around two weeks since we started our next big art collaboration and we got over 20 excellent artists already that claimed some of the most popular games ever like while we also have a handful of the not so known ones as well.
A good couple more games were added to the list since over 20 were taken already, have a look, read the Project description and join this epic tribute to video game history!
~~~~~
The idea is the following. After we had many art collaborations that had their focus on game characters or were celebrating the Anniversary of a game series, this one has the goal to do nothing less than to illustrate video game history through showing the gameplay or the story of the game with your art.
The goal is to have illustrations that are not showing a group of characters, like all 8 world warriors from Street Fighter II as example but to show a part of the actual gameplay or a part of the story,
A few examples of what we have in mind: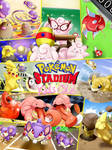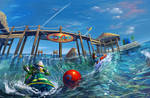 These four were made for our Nintendo 64 Tribute in 2016.
Allowed is every game of your choice if you participated in previous Game-Art-HQ project already. If this is your first time, please have a list at the games below.
Each of them was an important step in the Video Game History and illustrations of them will help to create an awesome gallery that will feature your art as well as screenshots and a lot of info about each game to become an article that is a mix of art and information for the readers. The main gallery would be seperated into years when we have 20+ artworks /different games together.
This Project will be open ended and can grow with the time to cover more and more games. The artworks will be featured on Game-Art-HQ.com as well as here in the group with their own dedicated gallery and also a part of this journal which will be updated constantly.
Rules:
No nudity or strong violence, the artworks should be suited for work.
Everyone can participate, no matter if you are a member of our group already or not.
The illustration must be able to show the viewer a part of the gameplay or story of a video game, so we can use it to describe the game and its gameplay /story
If you participated in earlier projects, challenges, contests in this group you can choose any game, if you are new, please look at the list of games below.
The deadline: 4 months starting on the day you claimed a game. Means the deadline would be the 3rd january if you claim a game today.
Every game can be claimed by only 2 artists. Each game can only have one story related illustration and one gameplay illustration.
Traditional Art as well as other tools are allowed and welcome.
The format is up to you, but it should be bigger than 1350 pixels width. Thats the size that can be displayed on the website, see
www.game-art-hq.com/persona-4-…
1 game right now per artist, you can claim a second game in January 2019.
The following games are claimed already by:
2017Hollow Knight
, one of the best Metroidvania-style games by indie developers was the first game claimed for this project actually
by
LukeTheRipper
who draws the Knight vs. Grimm battle, (Deadline 01.01.2019)
Horizon Zero Dawn
another new Playstation exclusive that might just be the start for a big series to come
by
Esau13
 (03.01.2019)
The Legend of Zelda: Breath of the Wild
the open world LoZ that became one of the most successful games of 2017 on the Nintendo Switch
by
XyvernArtworks
(06.01.2019)
2015Undertale
the Indie RPg that captured a ton of hearts worldwide and is still among the most popular games here on dA by
Endyran
(03.01.2019)
2011Catherine
the  puzzle platformer adventure by Atlus that had some of the sexiest video game characters ever and a pretty bizarre story as well
by
Calluna-Draconis
(08.01.2019)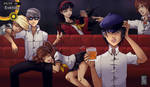 by
EdMoffatt
www.game-art-hq.com/persona-4-…
Persona 4
 The excellent Persona 3 got a follow up in 2008 that can be seen as one of the Playstation 2's swan songs due to its late release.
2006Final Fantasy XII
the return to Ivalice, seen before in Final Fantasy Tactics and Vagrant Story. Who is its main protagonist again? by
Ktovhinao
(03.01.2019)
2005Pokemon Mystery Dungeon: Blue Rescue Team one of the first two Mystery Dungeon Pokemon games
by
PitchBlackEspresso
(01.02.2019)
Resident Evil 4
more action than ever before and still often called to be the best Resident Evil yet.
by
snicholes0000
(10.01.2019)
2004World of Warcraft
one of the most successful video games ever and the probably most successful MMRPG forever. By
DragonchildX
(03.01.2019)
2002Ratchet & Clank
 this game is so great that it got a remake as one of the first games this generation instead of a simple remaster. By
Hedgey
  (03.01.2019)
The Legend of Zelda: The Wind Waker
Toon Link upset many fans back in 2002 while more and more gamers appreciated the graphics years later.
by
Icy-Snowflakes
(03.01.2019)
1999Silent Hill
the great first game of the long running series of survival horror games got claimed by
Komuri
(Deadline 22.01.2019)
1998MediEvil
 the excellent 3rd person action adventure for the first Playstation about the lovely Sir Fortesque by
Twarda8
(Deadline 03.01.2019)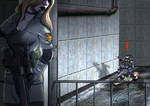 Metal Gear Solid
a masterpiece with an awesome story, characters and the funny Psycho Mantis fight

. By
Danaki
The Legend of Zelda: Ocarina of Time
a masterpiece of its Time (oh the pun) that revived the Zelda series and kickstarted it into the third dimension  by
KelpGull
(Deadline 03.01.2019)
1997Castlevania: Symphony of the Night
maybe the "best" 2d game of the whole 32bit era when almost every developer wanted to explore the 3rd dimension with their games. by
Julius-B
(Deadline 03.01.2019)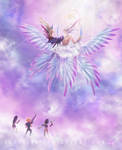 Final Fantasy VII
one of the most influental games on the first Playstation and probably one of the reasons why Sony stayed so successful even after the release of the N64 in 1996. by
Azurelly
(Deadline 03.01.2019)
1996Crash Bandicoot
the game that made Naughty Dog one of the most popular developer teams in the PS1 era and they are still awesome!. By
KirikoWindgeist
(Deadline 03.01.2019)
1994Earthworm Jim
this game is just Groovy..through and through. by
DiegoGomezArt
(Deadline 03.01.2019)
X-Men: Children of the Atom
the first of many X-Men / Marvel based fighting games by Capcom
by
Dreamgate-Gad
(Deadline 08.01.2019)
1993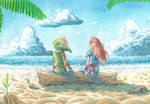 The Legend of Zelda: Link's Awakening
which was the first Handheld LoZ game and was kinda similar to ALTTP
by
PitchBlackEspresso
(Deadline 01.01.2019)
Gunstar Heroes
one of the best run and gun shooters ever made for consoles during the 16bit era. by
EdgeKagami
(Deadline 03.01.2019)
1992Super Mario Kart
the game that basically started the Fun Racer / Kart Racer genre. By
ChocEnd
(Deadline 03.01.2019)
1990
Super Mario World
one of the most influental 16bit games I believe and a masterpiece of its time. By
Myaco
(Deadline 03.01.2019)
1989Castlevania III: Dracula's Curse
Trevor Belmont has to fight Dracula and is accompanied by Alucard, Sypha Belnades and Grant Danasty by
shinragod
(Deadline 03.01.2019)
1986Alex Kidd in Miracle World
it was Sega's aswer to Super Mario Bros once but after the first strong game the series fell kinda apart sadly. by
freqrexy
(Deadline 03.01.2019)
Games that you can choose from that were important steps in the Video game History and just have to be a part of this Project:
1972
Pong
1976
Breakout
1978
Space Invaders
1980
Pac-man
1981
Donkey Kong
1982
Pitfall
1983
Bomberman
1984
Duck Hunt
1985
Super Mario Bros
1986
Legend of Zelda
1987
MegaMan
1988
Ninja Gaiden
1989
Tetris (GameBoy)
1990
Wing Commander
1991
Street Fighter II
1992
Kirby's Dreamland
1993
Doom
1994
Super Metroid
1995
WipeOut
1996
Tomb Raider
1997
Tekken 3
1998
Half Life
More games will be added to the list when Artists claimed and illustrated them for this project.
Some of our past Art Collaborations we started in this group:
2018
Pokemon Gen III - still in the works with around 30 slots left

Our POKEMON Generation III Tribute (270/270)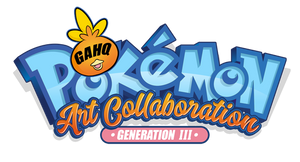 03.10.2018 Update:
1 - The first Gallery is online now since a couple of minutes
 252 Treecko using Energy Ball by

ThePandamis

and Absorb by

Viral-Zone


Which you can see here: http://www.game-art-hq.com/128473/252-treecko-in-our-pokemon-generation-iii-art-tribute/
We used a similar format like last year but updated the move and of course the artist descriptions. Big thanks goes also to the editor team of

freqrexy

Hedgey

and

shinragod

for writing the move and Pokemon descriptions!
For more announcements regarding published galleries follow https://twitter.com/GameArtHQ

Game-Art-HQ

on Twitter.
You can also join our Discord channel here https://discord.gg/a5sc98Z
2 - we are almost done. only 26 more illustrations are needed to complete the Gen III Tribute. Please look at them, the 26 Pokemon are listed below and you are welcome to take 1-3 of them to get this Project finished.
3 - I wanted to delay the Project to March 2019 but i
2017
Pokemon Gen II I
www.game-art-hq.com/113885/the…
Street Fighter 30th Anniversary
www.game-art-hq.com/110180/the…
Link's Blacklist - The original LoZ
www.game-art-hq.com/96283/link…
More at:
www.game-art-hq.com/art-tribut…
Many of our collaborations were also featured on websites like Kotaku, Destructoid, Eurogamer, Shoryuken, Game-Informer, Dualshockers, Eventhubs, Dualshockers, Capcom-unity and many other popular websites and communities and their social network channels.