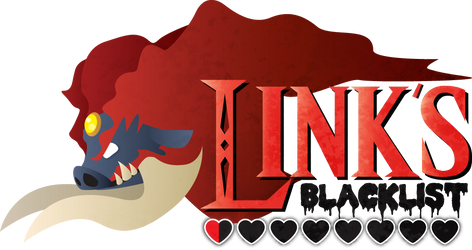 Update: 22.02.2013
6 more artists could join with Zelda 1-IV characters
Update 28.11.2012
After only 9 days all 40 avaiable spots for the second round of Link's Blacklist are taken!
There will be a third round for sure but more about that in June 2013. The next Link's Blacklist related journal will show you the first 10-15 drawn entries of round 2.
Like in the first round, a few already created artworks of Zelda enemies and bosses were chosen. These are all characters which were already drawn for Link's Blacklist you can see them here: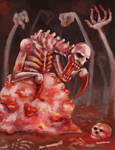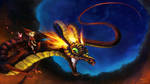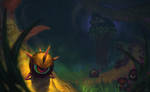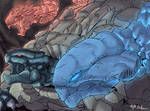 If you did not make it this time, don't worry, Link's Blacklist will continue for maybe 2-3 more years. The Zelda Bestiary is big and there are still over 150 more not yet claimed enemies and bosses
---------------------------
Update, 27.11.2012

41 Artists are onboard Link's Blacklist II now.

Like the last time only 40 artists can participate in this project, means no more spots are avaiable.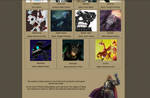 More and really  cool news are that Link`s Blacklist was seen by over 10k people already, sites like Nintendofans and ZeldaDungeon promoted it last week. IGN comes next at one of the following weekends.
---------------------------
I got notes and questions by artists here on dA as well as via email about the future of Links`s Blacklist and that they would love to be a part of it, and here we go!
Links Blacklist II
Artists can claim up to 3 Legend of Zelda Boss or Enemy Characters ONE after ANOTHER = One claim first, and after it being submitted/accepted the 2nd one can be claimed and so on
Like before, you can submit ONE Zelda Boss or Enemy which was already drawn, it does not matter when it was drawn.
The first claimed Boss or Character MUST be one which was not drawn before for Link`s Blacklist already. However the 2nd and 3rd claims can be Ganon, Skullkid etc. that is totally up to yourself. A list with all so far drawn characters is on the bottom of this journal
Link`s Blacklist is a project which got submissions of an awesome quality and creativity to be sure this stays a feature of the project, entries should be colored, detailed and have a background, except they are rendered, like the Nightmare (Link`s Awakening Boss) entry as example. This project is currently getting promoted on more and more websites, Game Art HQ.com is getting a lot visitors anyway but Link`s Blacklist is currently the most seen gallery, if your submission(s) are a part of it you can be sure many thousand people see it, and with that your name / nick and also a link to the pas... i mean to your profile /own website..whatever you prefer.
Beside drawn art, cosplay, 3d renders, crafts can be submitted as well.
Battle scenes between Link and a Monster / Boss are okay as long as the focus is on the Monster and not on Link.
Deadline: 1st May 2013. New Gallery on Game Art HQ.com @ the 20th May 2013.
You can submit your entry whenever you want between today and the 1st May, however if you want to claim more than one character, you need to submit your entries sooner of course, the 1st May is the "ultimate" deadline.
Kudos to you if you take the challenge and claim one or more of the classic Zelda games (Zelda 1-4) characters.
Submissions beside Bosses and Enemies:
For now, Link`s Blacklists entries are sorted alphabetically on Game Art HQ.com
www.game-art-hq.com/links-blac…
if Chapter II continues to be as great as the first Chapter, there will hopefully be around 120+ great artworks together in May 2013. This means that we can sort the entries by games now, hopefully without having only one single entry for Link`s Awakening as example.
This made me thinking that Fan Art which illustrates one of the Zelda games could be great to use as logo and introduction to a games gallery. As example a fan art which shows Link fighting in the typical labyrinth like maps in Legend of Zelda I in a top down view thats just an idea though.
So, after the walls of texts, you are welcome to claim your entry for the next Chapter of the maybe biggest and at some day most popular video game fan art gallery ever made!
You can find lists including images of bosses and enemies of the Zelda Games here at the Zelda Dungeon Website:
www.zeldadungeon.net/gallery/
Claims
Zelda
Dodongo claimed by

on the 22.02.2013
Zelda II: The Adv. of Link
Dark Link claimed by

on 02.12.2012
Horsehead claimed by

on 20.11.2012
Iron Knuckle (Boss Type)

on 19.11.2012
Thunderbird claimed by

on 23.11.2012
Zelda A Link To The Past
Armos Knights claimed by

on 13.01.2013
Ball and Chain Trooper by

on 22.02.2013
Freezor claimed by

on 27.11.2012
Vitreus claimed by

on 22.02.2013
Zelda: Link`s Awakening
Leevers claimed by

on 18.12.2012
Zelda: Ocarina of Time
Dark Link claimed by

on 03.12.2012
Gerudo Thief claimed by

on 19.11.2012
Iron Knuckle  claimed by

on 19.11.2012
King Dodongo claimed by

on 20.11.2012
Morpha claimed by

on 24.11.2012
Poe claimed by

on 19.11.2012
Volvagia claimed by

on 19.11.2012
Zelda: Majoras Mask
Gerudo Pirate claimed by

on 20.11.2012
Goht claimed by

on 28.11.2012
Gomess claimed by :icon

on 26.01 (2nd entry)
Igos du Ikana by

on 27.11.2012
Redead(s) claimed by

on 28.11.2012
Wart claimed by

on 20.11.2012
Zelda: Oracle of Ages
Armos Warrior claimed by

on 19.11.2012
Veran (Spider Form) claimed by

on 20.11.2012
Zelda: Oracle of Seasons
General Onox claimed by

on 27.11.2012
Zelda: Wind Waker
Miniblins claimed by

on 21.02.2013
Poe claimed by

on 20.11.2012
Puppet Ganon claimed by

on 08.01.2013
Zelda: Twilight Princess
Armoghoma claimed by

 on 19.11.2012
Blizzeta claimed by

on 20.11.2012
Ganon Beast Form claimed by

on 28.11.2012
Possessed Princess Zelda claimed by

on 19.11.2012
White Wolfos claimed by

on 19.11.2012
Zelda Skyward Sword
Beamos claimed by

on 19.11.2012
Cursed Bokoblins claimed by

on 19.11.2012
Guardians (Flying and Mace one) claimed by

on 19.11.2012 and by

on 20.11.2012
*Guardians Note, they are two creatures, an exception was made for these with two claims
Scaldera claimed by

on 20.11.2012
Stalfos Warrior claimed by

on 28.11.2012
Zelda: Battle Quest
Ganon claimed by

on 27.11.2011
Already drawn, can only be claimed as the 2nd or 3rd entry: Legend of Zelda
Aquamentus
Ganon
Octorok
Zelda II: The Adv. of Link
Carock
Dark Link
Helmethead
Zelda A Link To The Past
Agahnim
Blind
Ganon
Helmasaur King
Hyrulian Soldiers (the possessed ones)
Trinexx
Zelda: Link`s Awakening
Nightmare x2
Slime Eel
Zelda: Ocarina of Time
Dead Hand x2
Dodongo
Ganon / Ganondorf
Gerudo Guard
Morpha: Giant Aquatic Amoeba
Nabooru
Phantom Ganon
Poe Sisters
Queen Gohma
Re-Dead
Skullkid
Skulltula (The Big One)
Tektites
Twinrova
Volcania x2
Zelda: Majoras Mask
Desbreko
Gecko & Snapper
Gyorg
Happy Mask Salesman
Majora`s Mask
Moon
Skullkid
Zelda: Oracle of Seasons
Goriyas Brothers
Zelda: Oracle of Ages
Shadow Hag
Veran
Zelda: Wind Waker
ChuChu
Darknut (without armor)
Ganondorf
Gohma
Helmaroc King
Kargaroc
Moblin
Morth
Phantom Ganon
ReDead
Zelda: Minish Cap
Gyorg Pair
Vaati
Zelda 4 Swords
Big Manhandla
Dark Link
Zelda: Twilight Princess
Darknut (Fast Version/ without heavy armor)
Death Sword
Ganondorf
King Bulblin
Poe
Shadow Beasts
Stallord
Zant
Zelda:Minish Cap
Big Octorok
Zelda: Spirit Tracks
Byrne
Demon Train
Possessed Zelda
Zelda Skyward Sword
Demise
Furnix
Ghirahim (3rd form) +2nd Form
Guardians 2x
Koloktos
Levias
Lizalfos
Remlit
Tentalus
Facts and Background Info
27 Artists onboard after the first 24 hours 9 of them are artists who did not participate in the first part of Link`s Blacklist