Link's Blacklist is the Game-Art-HQ Art Collaboration about the many monsters and bosses of the complete Legend of Zelda game series.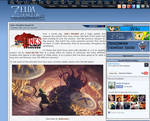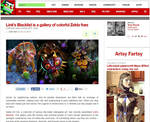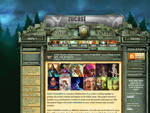 It is running since June 2012 and is one of the most viewed galleries on Game-Art-HQ now. Websites like Kotaku, Destructoid, GoNintendo, Zelda Dungeon, ZeldaUniverse and i think..around 100-200 more wrote about our art project and praised the fantastic artworks which are illustrating Ganon as well as a classic Moblin from the first Zelda game with breathtaking details.
The most of the illustrations are drawn but there are also 3d Model based illustrations, there is Cake-Art, Puppets and Plushies made for Link's Blacklist in the past.
Around 160 Monsters and Bosses of the Zelda games are drawn and featured on game art hq in own galleries. You can find this gallery here
www.game-art-hq.com/links-blac…
 . Each character is illustrated with screenshots and the official artworks as well as text about the characters and the artworks.
Now it is time for the next round and it is your chance to be part of this popular art collaboration.
Only 25 of you can join the 4th round now, 25 spots were already claimed in the last week by game-art-hq contributors who participated in previous art collaborations already and are members of the contributor group. Through participating in this round and showing your talent to the group and the thousands of visitors on game-art-hq.com every week you can get the contributor status as well.
You can claim one of the spots below with a simple comment. Not every artists can participate in this project. The artists of the first round set a high standard, it is up to you to reach or surpas it.

The deadline for Link's Blacklist Round IV is the 31st May 2014

The spots below are almost all for common enemies of the Zelda games, since a lot of the bosses are already part of the project, we try to get more of the enemies drawn now of course. If you submit your take on one of the enemies before the 1st May however you can also claim a boss character of any of the zelda games, it does not matter if it was drawn before already.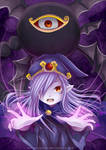 The Legend of Zelda: The Minish Cap  
Not drawn enemies are as example:  Bob-omb, ChuChu, Door Mimic, Molorm. Enemy List:
zeldawiki.org/Enemies_in_The_M…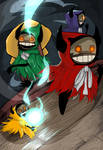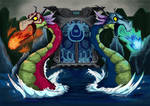 The Legend of Zelda: Phantom Hourglass  
Not drawn enemies are as example: Crow, Eye Plant, Hinox, Gyorg. Enemy List:
zeldawiki.org/Enemies_in_Phant…
Spot 1 -
Ice Bubble
claimed by

The Legend of Zelda: A Link Between Worlds
Not drawn enemies are as example: all of them! List of enemies:
zeldawiki.org/Enemies_in_A_Lin…
Spot 2 -
Stalfos
claimed by

Spot 3 -
Armos
claimed by

----------------------------
Also on board are the following 24 GA-HQ Contributors:
Legend of Zelda
Gohma
claimed by

The Legend of Zelda: A Link To The Past
Helmasaur
by

Wall-Master
by

The Legend of Zelda: Four Swords & Four Swords Adventures
Vaati
claimed by

The Legend of Zelda: The Minish Cap
Gleerok
claimed by

The Legend of Zelda: Spirit Tracks
Dark Train
by

The Legend of Zelda: A Link Between Worlds
Stalblind
by

Dharkstare
by

Grinexx
by