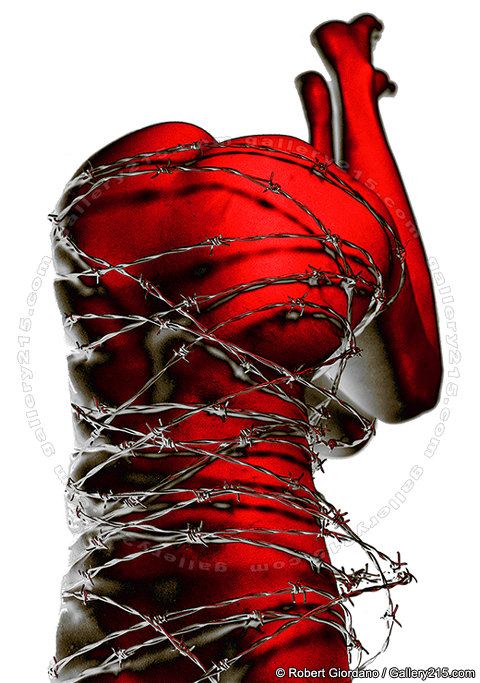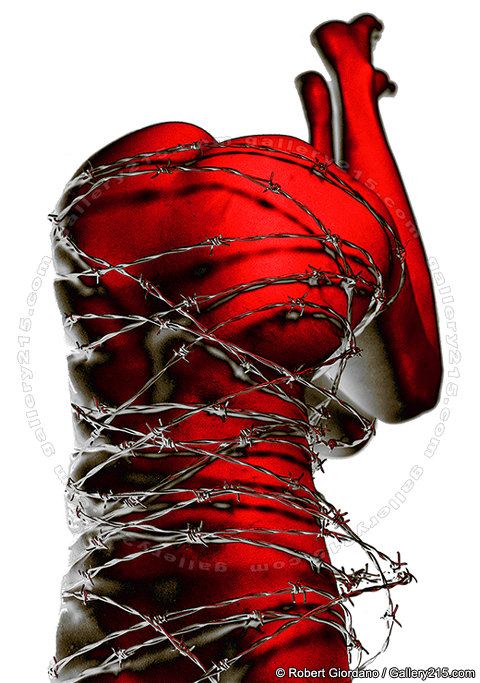 Watch
About this piece
For me, this piece represents the duality of love, but it can mean many things. I'm not trying to represent bondage or submission. I'm portraying the emotional struggles one has to deal with when in love.
The original file is 22" x 30" @ 300ppi. Nothing in this piece was manipulated digitally other than the colors. The barbed wire is real and the model was really wrapped in it. The shot took hours to set up as I had to be very careful bending the wire around the model. Don't try this at home! Those barbs are damn sharp!

About this series
This piece is part of the Digital Solarization series. Please note the gallery215.com watermark is not part of the artwork. All of the Digital Solarization pieces start as photographs shot on black and white film. The negative is scanned and colored by hand, not with filters, in photoshop. As in traditional darkroom solarization, parts of the image are rendered positive while other parts remain as if viewing the negative. This series is influenced by the works of Man Ray.

this is amazing, great job.
Reply

cool concept. the colour you've used looks great. it's a pretty meaningful piece. the model must have been pretty brave to have that wrapped around! great work

Reply

Thanks. Yes the model was great. So many people are like, "Oh I'd do that..." but they don't realize how sharp the barbed wire really is. I wanted to do this piece for a long time but had a difficult time finding the right person.
Reply

yeah- i can appreciate that. i've nicked my skin enough times on barbed wire. i'd be pretty cautious about doing something like that!! great that you got to do it in the end though

Reply