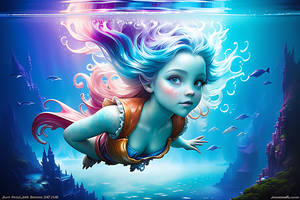 PLEASE HELP ME GROW!
Support my work by contributing to my tip jar every month.
---

Description
My first photoshop only painting. Well, except for the initial graphite, which was a pain to smooth. It has given me a new approach, which is to just revert to gray until its mostly rendered, and then colorize from there. It seems to just be faster, with less obsession about picking the right colors initially. I would like to compare this more to my Painter experiences, but since I haven't been arting much with the computer, I don't remember much >_> Painter does give me more texture, and Photoshop feels very precise - and somehow it ends up more photo like with a feeling of gloss and high contrast in the darks etc.

I need to work on backgrounds more, they really do make an image look complete.
Image size
900x1432px 361.46 KB