Book 2 Of
OUIJI HILL
Chapter 1
Gemini Attack!
AUGUST
Start of
the School Year.
THE CORE
Unlike most tales our story begins at the center, for all things expand or contract from a core; so it is only befitting that our adventure start in the very middle. Which middle? Well... I suppose any middle would do, but I believe the very best middle... or middles, would be the ones your already using. What? Well yes, yes of course your already using them. Shouldn't it be obvious, for what is at the very center of your eyes? Pupils of course, and in the blackness of the core of your eyes is where it begins. Deep down in that darkness there are waves. Can you hear them? Vast waves, small waves, sea swells, and rushing tides spring to and fro in the ink of your eyes. All is black, but as you rise from the Stygian depths, a faint glimmer of blue light appears above you. Emerging rapidly through the deep the light grows stronger, and you see it's the sun shimmering through the ocean. Swiftly you reach the surface and... splash! You are above the water and all is illuminated. Elevating far above the clouds, you look down and realize that you were in the Atlantic. In this ocean, not far from the mainland, you notice an island; one you never knew existed. In the past, this island has had many names, some you may know, but the others forgot to the depths of antiquity. In these present times, the island's inhabitants simply refer to their home as Harmony. At the center of Harmony sits a circular town known as Summertime-Village. Four subdivisions make up this town and each has its own special qualities. The southerly neighborhood, Summer's-End, is the largest, and each of its lawns are adorned with white picket fences. To the east is Ray-Haven where the wealthiest Summervillians make their home, for it boasts vast estates with great mansions. Westward lies Friar's Lantern, the most rural subdivision of the Village, where quaint trailer homes and dirt paths sprawl throughout its canopied terrain. And at the core of this town sits a neighborhood with a most unique distinction, for you see it is an island within an island, much like a pupil within an iris, and appropriately enough, this subdivision was named Summer's-Eye. Around Summer's eye is a moat with four bridges that connects this neighborhood to the rest of the village. These bridges link to a myriad of roads that inevitably lead you near the center of Summer's-Eye, or what could be called the center of the center. At this center of centers is a street called Serenity Lane. At the center of this street is a house dubbed Spear's Lodge, and in this house lives an adolescent boy who, with his mothers help, just finished packing the last of his things, and now he will enjoy his favorite pastime of late - relaxing on the swinging porch bench. Most days he would be reading or doing homework on the bench, but there are rare days, like today, when there is much on his mind. On these days he unwinds and takes in all of his surroundings. These are the moments when he becomes most open to his true nature; because, for him — there is nothing more serene than a nice porch bench.
THE MAP
His bare-feet idly placed up on the post of the railing surrounding the porch, he dozes off, and his snoring scares away birds and squirrels alike. Out of the blue, a fuzzy noise emanates from the ground, proceeded by a crackling voice.
"Darian." It says, but the teen boy snores unawares.
"Darian!" The voice says louder, and awakened he jumps up, almost falling off the bench. Wiping his eyes, he turns left and right searching for the one who called out his name, and through the screen door behind him he shouts,
"Mom... Did you... Did you say something!"
"No baby!" his mother replies.
Puzzled, he looks around again, and out of the blue the voice returns.
"Darian, can you hear us... Pick up the walkie-talkie."
Still confused and half asleep, Darian searches for the device and pinpoints its location by one of the railing post. It sits flush against the far side of it, placed strategically out of his view when sitting on the bench. It is a red child's walkie-talkie that has been modified to be used at longer ranges. At the bottom of it is a yellow sticker with black writing that states:
"PROPERTY OF
THE OUIJI HILL GANG.
SCALAWAG INFANTRY."

Knowing now with exactly whom he is dealing, he presses the black button on the side of the device to chide, "Beta, Zeta! You two should be in school!"
"Yes cousin..." The voice says fluently, "and so should you."
It is true, he should also be in school, so he does not argue with them about that. He instead warns them, "I don't know what you two are scheming, but I swear if I get hit with another dart... or water-balloon, I'm telling your parents." His cousins, Beta and Zeta, have folks that sometimes work for weeks on the mainland, and while they are gone, Darian's parents take care of them. When Beta and Zeta are around, Darian and his best friend, Laura, are often the ones receiving the short end of their mischief. Today they even skipped school again, which means they've been planning something, and when it comes to his cousins machinations, rest assure an ambush is afoot. Desperately hoping to avoid another attack, Darian grips the walkie-talkie firmly and asks in commanding tones,
"Seriously guys, what are you up to?"
"Cousin, We are nearly there, come out and meet us on the street."
"What? Why? No! I'm not getting ambushed again, play your games on someone else."
"Come... Kshhhh Out... Kshhhh To... Kshhhh Street... Kshhhh Signal... Kshhhh Losing... Kshhhh Signal..."
"I know your faking, the signal is perfectly fine. I'm not going out there, so just re-think whatever it is you think your going to accomplish!"
His cousins are very bright, probably brighter than most of the adults he knows, and they have a certain knack for invention. Their wacky concoctions can sometimes be dangerous, and so; against his better judgment Darian decides to run out to the street to make sure they do not hurt themselves, or anyone else for that matter. He looks northward, then southward down the road and sees nothing.
"Cripes, I know those little gullies are up to something..." he ponders as a distant whistling sound from the north catches his ear. It's coming from the sky, and over the vast blue he sees a glinting speck in the distance that grows larger every second. Like a bomb dropped from a soaring warplane, the whistling sound escalates the closer the speck nears. Swiftly the glimmering dot takes shape, forming into a flying-wing airplane. The odd thing about this plane, is that he can tell it is built from countless scrap parts, like the pieces for it were found by a rummage through a junkyard. At the bottom of the ramshackle machine; he notices gigantic water-balloon bombs that are ruthlessly released a few meters before it flies over his head. All he can say is, "Uncle Thad!" as he leaps and rolls into the nearest yard to evade the bombs. After he recovers from his tumble, he looks up and notices that the flying-wing leaves long trails of white puffy vapor behind it. Wiping his cropped sweatpants clear of grass and dirt, he gets up from the ground, and before he can gather his thoughts, the whistling sound escalates yet again as the flying-wing approaches a second time. Darian bolts across the street, returning to his yard, and hides under a tree as the plane nears. Shortly after, he hears a large explosion as the wing descends closer to the road to release its payload. White vapor encompasses the road and near by yards when the plane crashes, skidding across the pavement. Fear rushes through him, for he believes his cousins dead. He runs through the white mist calling out their names. "Beta! Zeta! Are you alright!" lost in the murk, he stumbles over the plane's wreckage. He calls out their names again, and is soon comforted when he hears them giggling close by. As the mist thins he makes his way over to them, only to find them inside the strangest devices he has ever seen. Both his twin cousins are inside two large orbs that are made of, from what he can tell, elastic plastic; for not only can they run in them like a gerbil ball; but they can also bounce around in them like a beach-ball. The younger twin, Zeta, bounces over to Darian giggling,
"We almost gotcha this time Darian."
"Yes, the Stan-Meyer flying Wing prototype was... sort of a success." Beta says musingly. He then says to his younger twin brother, "I told you Zeta that a hydro-electrolysis engine was too unstable, we should have used my compressed air engine instead."
"That engine is stupid." Zeta responds with a cross of the arms and pout of the lips.
"Only as stupid as your silly water powered engine!" His older twin retorts.
"At least my engine isn't run on farts!" Zeta replies with a snicker.
"It's... It's not powered by farts, it's compressed methane!"
"Exactly, it's a fart machine!"
The twins' argument devolves into mindless yelling and fighting as they flail their arms around pinwheel punching each other. The funny thing, is that they are still in their gerbil orbs; so it just looks like two crazy dwarfs bouncing about in the street until Darian yells,
"Hey stop it!" He looks around at the wreckage and continues, "look at this mess, what in the world is all this?"
"Oh! cousin Darian!" Beta says surprised, almost as though he forgot his older cousin was standing there. "This... Well, this pile of wreckage you see here, is the result of our second test flight with the Stan-V Prototype that we invented for the gang." Beta, in a most debonair way, places his hand on his chin while cupping his elbow with his other hand, "unfortunately there seems to be a flaw in the engine which caused the weapons system to fail. I must say though cousin, despite my misgivings with Zeta's silly water engine, and the fact that we were unsuccessful in capturing you: we were however, able to carpet-bomb our recess class before flying here." He snickers at the thought as he rolls around in his gerbil ball. The neighbors have come out of their houses by now to see what the commotion is about. Luckily most of them are off at work. The few that are home go right back inside when they realize it is just the Formid twins again. As they roll around in their gerbil orbs, Darian deduces that the plastic balls are actually protective devices they designed for their plane in-case they crashed. He would stop and admire the genius of it all if he wasn't so angry. In fact, he becomes so upset he cannot find the words for a proper scolding, and as he watches his little cousins roll around he can't help but let his anger evaporate with the last bit of lingering water vapor. laughing he says to his cousins, "I swear you two are the craziest little gullyrunts ever! But enough is enough, get out of those silly things... all this junk needs to be cleaned up before my pop gets home. He's going to have a fit seeing this crap all over the street – and look! It's all over the yard too, geez guys!"
An hour later, when they are through cleaning, Zeta walks over to Darian, reaches into his pocket, pulls out a folded piece of paper, and hands it to him.
"What's this Zeta?" Darian asks as he bends down and takes the paper.
"Open it, I made it for you."
" For me?" Darian asks puzzled. His cousins never made him anything before. All he ever gets from them is trouble, like a pie in the face, a whoopee on his chair, or worms in his socks which according to them is all in the name of science. And lets not forget the ambushes. Almost every other day he is either pummeled by Nerf ammo, or drenched by water-gun spray. Now that he thinks about it, the insufferable little brats have never done anything nice for him, and the thought is not lost on him as he unfolds the paper. He stops unraveling it, looks down at Zeta distrustfully, and says,
"Wait, this is another trap isn't it?"
"Um... No-"
"You little runts are trying to get me again aren't you!"
"No... I made it-"
"Ha! I've caught you. I bet if I open this, some way some how it will result with me being ambushed!"
Darian quickly turns to Beta and says, "I'm right aren't I Beta-"
"No, you most certainly are not cousin. He simply drew you a picture."
"Oh." Darian replies. Still a bit skeptical, he unfolds the paper, and on it is drawn a very detailed map of Summertime Village. A map so nicely rendered it looks as though a professional illustrator drew it.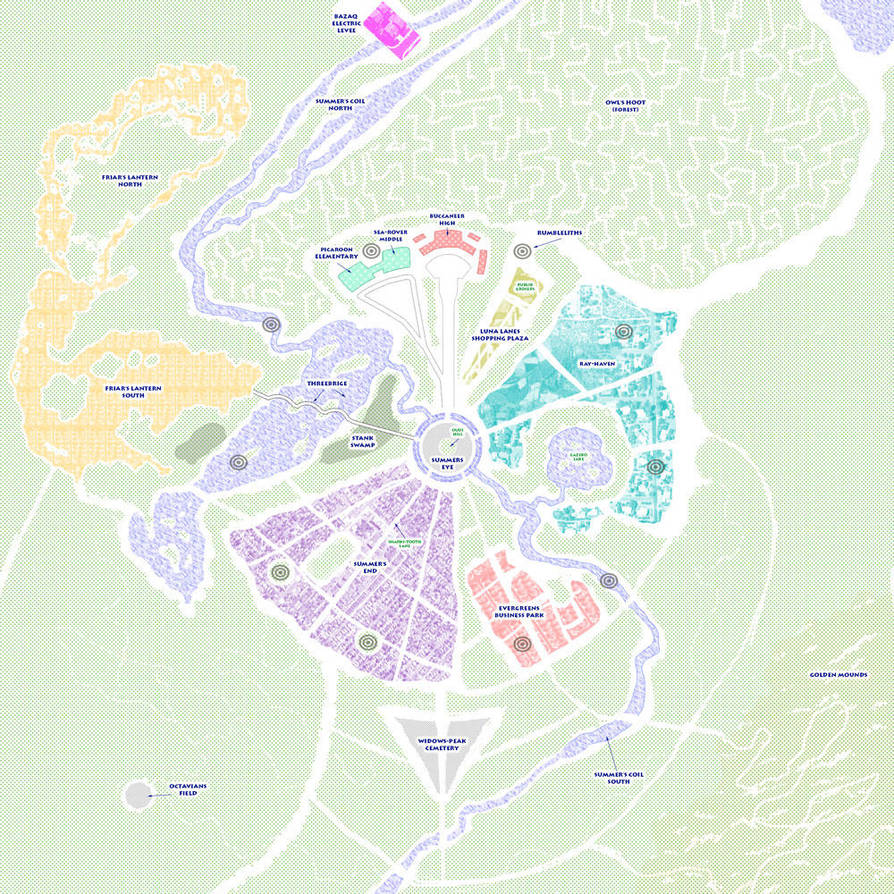 Darian looks down at Zeta and asks,
"You really made this Zeta?"
"Yup."he replies proudly.
"It's very good, but... but why did you make it for me though?"
"Ummm... cause you always look sad sitting on the porchess of solitude, and my drawings always cheer up daddy when he's sad."
"Sad... Laura does say I've become Mr. Sorrow," Darian replies with a smirk, "But, I'm not
sad though, it's just..."
He looks at the map again. Near the center of it he sees Summer's-Eye, and a little drawing of himself with an arrow pointing from him to the Eye. A small description below the arrow states:
"Where my cousin Darian lives."
Darian's smirk turns to a fleeting chuckle as he looks at the drawing of himself, and says
"Cripes Zeta, how did you get it to be so accurate?"
"Cause I used photos we took of the village during our first test flight."
"Well Zeta... this is pretty amazing."
"It is not that amazing. He traced the outline, and exaggerated all of the landmarks." His older twin Beta responds.
"Shut-up Jerk face !" Zeta wines.
The bookworm twins start to argue again as they pinwheel punch each other. Darian folds up the map and places it in his pocket. Looking at them, he shakes his head and sighs. Suddenly all of their commotion is brought to a halt when they hear a faint but distinctive siren coming southward down the road. Simultaneously Beta, Zeta, and even Darian blurt out a name, a most dreaded name to all the village-mice in Summertime Village. "Miss Tattle Telly!"
THE HAG
No one knows when the tradition started, for the woman is ancient, even old Mr. Warly, the village fun-park owner, haunts his young customers with tales of terror regarding the local schools' truant officer. In Mr. Warly's day, Miss Tattle Telly patrolled the streets for derelict students on a bicycle. Appropriately she used a bicycle-bell as a siren, and as it trilled in the distance, it warned ruffians, gullies, and humdrums alike of her presence. Today, she polices the streets on a moped, with all the newfangled accruements these times afford. Two blaring sirens are affixed to her patrolling scooter with two rotating blue lights to accompany them, and Darian along with his diminutive cousins bare witness to her glaring approach. It's these times when the tradition is best observed, for at least one child is overcome, as if by possession, to start the truant officer's ominous ode.
"Skippers Beware." says Zeta.
"Dodgers Despair." follows Beta.
"Don't be trapped." Darian opines.
"In Telly's glare!" They announce in unison.
Without hesitation, after they proclaim her ode, they run; for that is what is done when Miss Telly is on the prowl; you run and hide without thought or questions. If there are questions, then it is best queried while running; for the Mo-ped Miscreant, which she is often called, is known by all village-mice to have a certain penchant for devouring children's souls, or so it is said of course. Scurrying across the street, they make way towards Darian's yard. A glint of fear kindles within his eyes as he yells out to his younger cousins,
"Uncle Thad! Is she after you too?"
"Yes cousin, it seems the monstrous truant officer has us all in her sight. Perhaps a neighbor reported us. Her spies are everywhere you-know." Beta answers.
"No kidding." Darian replies.
"No, I'm quite serious cousin." Beta retorts.
As they reach the middle of the yard, Darian stops his cousins, and says,
"Lets get inside before she sees-"
"-Sorry cousin, but we have other plans." Beta says, as he and his younger twin run towards the other side of the house near the privacy fence where they left their gerbil orbs. Darian chases after them yelling,
"Wait! What on earth are you doing? Get out of those things..." Paying him no mind, Beta and Zeta enter the orbs as Darian shouts, "We need to get inside now!"
"We can't, We're gonna catch that monster, once and for all." Proclaims Zeta in a most proud fashion as he giggles and snickers. He then bounces over the privacy-fence and into the backyard, leaving Darian and his older twin.
"My younger womb-mate is right dear cousin, for you see it was all part of our itinerary-"
"-Itinerary?" Darian says puzzled.
"Yes, for the plan today Cousin was, one: to Skip school. Two: test the plane's weapons system on our recess class. Three: draw you out from the porchess of solitude to ambush and eventually capture you. Four: Use you as tied up bait while we safely flew above you in circles awaiting for Miss Telly to come get you-"
"-You were going to use me as bait?" Darian says shocked.
"-Oh, no harm would have come to you cousin. I can assure you of that, it's just our beloved Mo-ped Miscreant seems to have taken a peculiar interest with you, so we knew that yours and our combined truantry would draw her out you see... "
Frustrated Darian looks behind him, for he can see the flashing blue lights getting nearer and hears the sirens growing louder. He turns to face his blabbering cousin, picks up the giant gerbil ball and shakes it violently as Beta bounces dizzily about.
"You planned for all this!" Darian says angrily. "That's enough, we have to get inside! I can't believe you little gullies sometimes!"
"Well Please don't get upset cousin, there is no need to rattle me about. It would have worked out perfectly if Zeta's inferior engine would have been designed properly!"
Beta says, escalating his last few words, so that Zeta could hear it.
"If it had a proper pilot..."
Zeta blurts out from a distance, almost like he was on the roof of the house. Darian looks around trying to pinpoint his location.
"Where is that little gully. Come out here Zeta, We have to go inside!"
"Sorry cousin." Says Beta, as he jumps up while in his gerbil ball. The supplied force of his body weight colliding with the bottom of the ball is sufficient to set him loose from Darian's grasp, and before he bounces over the privacy-fence to join his brother, he says to Darian
"See you cousin, it's time for Plan B!"
Darian, at a lost for words can only yell out angry tones directed towards his pest of a cousin. He turns around and looks down the road. Using his hand as a visor, he views the truant officer's moped glinting in the sunlight. She's closer, much closer than expected. He spent too much time fooling around with his cousins to make it all the way to the front door in time, so he dashes to the driveway towards his mother's car. "Uncle Thad!" He utters as he tries to open the rear car-door, and realizes it's locked. The siren is so close he can feel the echo tremble the ground. He tries the driver's door, only for it to be locked too. As Miss Telly gets ever closer, In a fear induced act of athleticism, he hops on the roof of the car landing on his back and rolls across the width of the car to the ground. Quickly he recoils from the pavement and crouching behind the car, he swiftly opens the other back door with success molding his visage. Hiding on the floor, he waits for the sirens to pass him by; but he knows something is awry when suddenly the sirens are silenced in front of his yard. He cannot see, but he knows the woman has most assuredly gotten off her moped to investigate. "She's gonna see me if she walks by the car. I need something to cover me" he thinks, and that's when he notices the knitted blanky his mother made to be used on long distance vacations. The blanky is draped over the width of the backseat, and Darian snatches it and proceeds to conceal himself under. "There is no way Miss Telly can find me under this... I hope." He ponders, for he knows Ms. Telly is no ordinary old woman; there has always been something very off kilter about her. Darian clenches his eyes as fear curdles within, only for it to be heightened by an overwhelming sense of shame, for how can he, at this age, still be afraid of old Miss Tattle Telly. He can't help it, but why? Why does she still haunt him. For you see, Summertime Village's resident truant officer has a most peculiar nature. Every child in the village is no stranger to the tales told of her patrolling the streets or the fate of old Gerry Gerrymander; the one child said to have had his soul devoured, but every child also knows, Ms. Tattle Telly is not what she appears to be. Whether or not it's their young perceptive eyes, or their ability to suspend disbelief, but every village-mouse entrapped in her hypnotic glare views her face and hands as... well... as ghastly. The adults see her hands as typical wrinkly palms that quiver ever so often due to her advanced age, but the children in the village see them as disproportionately elongated with knife like fingers. The adults view a typical aged face with withered lips that curl inward towards her dentures, but the children see her jowls stretch downward with a mouth crowned with yellow fangs, and two large glowing green orbs for eyes with pin-dot pupils. As the village-mice grow older the monstrous visions of the hag fades to that of a typical old woman, and the beast from their youth is explained away as active imaginations. Most teenagers like Darian and his best-friend, Laura, see her as the adults see her, but Darian and Laura, for some curious reason, still perceive the woman as a green eyed foul smelling crone. Even now, as he lay on the floor of his mother's car, his entire body stiffens as the monstrous hag approaches. He can smell her putrid breath and hear her long chipped fingernails shrill as she scrapes them against the rear of the car. "She's going to find me!" he says to himself, but he dare not open his eyes as the hag's growl reaches a deafening pitch. It's almost too much to take, and Darian is about to fully awaken to his true nature, until the darkness behind his lids is illuminated in a green haze. He feels as though his eyes are still shut, but he can see the old hag through the car as wavy shimmering grains of green outlines her frame. It's not just her face, for him, her entire body is fierce to the sight. Now she has three glowing eyes: one ablaze with green light and fixated at the center of her forehead. Six arms instead of two extend from her gangly sinewed torso, and as she opens her mouth, blinding green rays of light burst from her bowls. Hunching over the car, she peers into the rear windshield directly at Darian, and says in a echoing voice,
"FRAK... TUL... BHEIR... GON!"
The hag grins, the type of satisfying grin one adorns when they've accomplished a great laborious task. Darian does not like the look of it, so he tries to get up but is unable to move. He can feel his legs, his arms, even the carpet against his neck, the blanky against his face, but he can't move a single limb; he can't even open his eyes, or are they already open? He can no longer tell. Again, the crone says in a deep growling manner, that reverberates throughout,
"FRAK... TUL... BHEIR... GON!"
Only this time, after she utters the nonsensical words, it is accompanied by a number of echoing whispers. One says, "Initiate." Another utters the word "False." And many others say in hushed eerie tones, "let it be... Not in the gully... Perhaps... Impossible... Transferred..." It's almost as if a conversation is occurring from which Darian can only make out bits and pieces. All of a sudden, the freakish hag looks swiftly to her left as a large object, which to Darian, looks like a giant sphere of swift moving water, pummels her, sending her flying away from his ethereal sight. In the background he can faintly hear his cousins laughing and teasing until everything fades to silent black.
THE WOMB-MATES
Zeta stands over the corpse of the old woman with his water gun in hand and a somber expression. He utters regretfully,
"Is... Is she... Is she?"
"Yes, I believe you've killed the deviant. Well done brother, well done indeed." His older twin responds casually, as if the woman's demise has no real bearing on him. Her body is sprawled out over the ground and is contorted in ways which seem inhumanly possible. Zeta looks down at the corpse, and he lifts up his water gun, viewing it solemnly. It has a large cylindrical nozzle as wide as a light post, and one water cartridge at the rear. It is designed to release all of the water in the cartridge in one massive spherical blast at great speeds. It's his newest water-gun invention that he named
"THE BELDAM BUSTER"
It was engineered specifically to deal with old Miss Tattle Telly, but it wasn't meant to kill though, only to stun her while Beta captured her with his own new invention, the
"NERF NET BLASTER"
That was the plan, there was no killing to be involved. How could this happen? Zeta's emotions erupt within, and tears form at the corner of his eyes as he sniffles the words, "You... You mean... she's really dead?" Beta, looks at his younger brother, then proceeds to pick up a twig. He walks over to the truant officer's body and begins to poke her in the face with the stick; and when there is no reaction to his probing, he says,
"Yes brother, It would appear so."
"But... but I... I didn't mean to..."
"Well, it is not official, I suppose I'm not qualified to make such a determination, but-"
In a flash the beastly woman hops to her feet. Stunned, Beta and Zeta dash away immediately. They try desperately to escape, but their little legs are just too small and slow to outrun the maleficent crone, who pounces on all fours after them. Perhaps they could have escaped if they were in their gerbil orbs, but they had to leave them in order to use their new weapons on the old hag. Swiftly Beta is swiped up in the shrew's grasp as they reach the middle of the yard. Zeta tumbles and falls, rolling on the ground as his Beldam Buster flies away from his palms. "Did you think you could escape me you little twerps!" The hag says in a hefty voice as she pulls Beta closer to her monstrous face. "I'll devour every sniffling snot nosed little gully like you who thinks he can skip school!" Beta, his arms entrapped within the hag's wide grasp, can only scrunch his face and shake his head, saying,"Stank... Stanky... Stanky breath." Zeta, seeing his older brother in dire straits, jumps to his feet, runs over to his Beldam Buster, cartwheels over it while picking it up, and aims it directly at Old Miss Tattle Telly. A fierce expression molds his visage and he says to the old woman, "Let my brother go!" Miss Tattle Telly laughs a haughty laugh as she tells Zeta to, "Put down that silly toy boy. It packs a punch I'll give you that, but it has no affect on me, besides, I believe you're all... out... of... wa-ter." She replies maliciously with a hysterical laugh. Beta forgot that his weapon must be re-filled after every shot, a flaw he must remedy if he survives the day. He dare not take his eyes off the hag, but suddenly the woman's mouth stretches open as if her jaw is dislodged. Green light emanates from her bowels throuth her mouth, and her eyes entrance Zeta who drops his weapon to the ground. He is unable to move, and he can feel his essence being drawn into the woman. His older brother yells out, "Fight it Zeta, don't let her suck you in, remember what happened to jerk face Gerry. You must fight, or become a mindless automaton. Fight it!"
Inside, Darian's Mother, Beatrix Formid, hears a muffled commotion outside. She goes to the front door to investigate. As soon as she opens it, Miss Tattle Telly's face reverts to that of an average old woman, her hands shrink to a normal size, Zeta is set loose from her entrancing gaze, and it's as though Beta is merely being pulled by the collar rather than being caught in Ms. Telly's grasp . Darian's mother exits the house, walks to the edge of the stairs on the front porch and says,
"Miss Telly, I thought I heard your siren. I was going to tell you that Darian still hadn't returned from the mainland. I've filled out that absentee form you require, but I can see today your now after these two."
"Yes Misses Formid, This is not about your son, it's about your little delinquent nephews, and there can be no excuses this time, for I've caught them in the act, and I will not tolerate-"
"-Yes yes, Miss Telly, finish writing them up... or whatever it is that your doing, I'll deal with them later, in fact if you would send them into the house when your done, I've got plenty of chores for them to do as punishment."
"Very well Ms. Formid."
"No Auntie Bea, no, we won't play hooky again, don't leave us out here with the monster."
"Yes, I quite agree Aunt Bea, we should begin the chores immediately." Beta adds.
"No! I've told you two a dozen times to keep your little butts in school! Now you've been caught red-handed, and you can't weasel your way out it this time. Now stay here and face the music, a good scolding and maybe some detention time is what you little gullies need anyway," Beta and Zeta whine and argue as Ms. Formid returns into the house. "Stop your sniveling you little gullyrunts!" The old woman roars as her face and hands return to their monstrous form. "I have a far more severe punishment for you than mere detention, little dumplings." She says, laughing hysterically. The old crone tightens her grip around beta. Her jaw dislocates and opens as wide as a serpent's, and as soon as she is about to devour her kid dumpling's souls, the school bell tolls in the distance. Almost instantly she drops Beta, and begins to walk backwards towards her moped in a most awkward fashion, as if she has no control over her own body. Her face shrivels up, back into the old womans face. Her hands wither into wrinkly digits, and she mounts her moped in a daze, like the school bell as put her in some sort of trance. The scooter turns on by itself with the sirens blaring, and old Miss Tattle Telly sits up straight on the seat, her hands to the side, and eyes wide open. The moped, in reverse, travels up the road from whence it came, and as she recedes into the the distance, Beta, and Zeta can hear the old woman wail in a dreadful tone,
"Little dumplings!"
Dirty, bruised, and disheveled, both Beta and Zeta run to the edge of the street and look towards the horizon from which the hag came and left; and they say in unison like they often do,
"UNCLE THAD!"
"Cripes, that was close." adds Zeta.
"Yes, too close for comfort womb-mate. I must say, that plan B has serious flaws we probably should address before attempting to capture her again. " His brother opines.
"Nah, you don't say."
"No brother, I do say."
"No... It's... It's an expression... ah never mind."
Zeta says palming his forehead and shaking his noggin. Beta, reaches into his shorts pocket, pulls out a brightly colored bubble pipe. He then takes out some bubble solution from one of his vest pockets and pours a bit into the pipe. After blowing a few bountiful bubbles in the air, he proceeds to announce in a most deductive manner,
"Although a failure, there are a number of things we can deduce from our most unpleasant encounter with the Mo-ped Miscreant. Most notably, the school bell seems to have a most peculiar effect on her."
"You don't say Beta! Did you figure that out all by yourself!" Zeta says sarcastically.
"Why brother, I don't believe I like your tone."
"Well I don't like almost being killed by monsters!" Zeta blurts out.
"Nonsense, she was merely going to lobotomize us with her mysterious gaze , making us docile creatures who avoid playing hooky. Little did she know that I had all the faith in the world in you brother. I knew you would escape her trance and free me from her deleterious clutches... eventually anyway. Remember we are the Brothers Formid, formidable in our resolve, triumphant in our endeavors, and challenged by the older Alpha, whose name shall not be spoken, for you see-"
"Ok ok Beta. I get the point." Zeta says, for his brother has a penchant for going on and on, and talks like a snooty lokwallet from Ray Haven, not like a young gully from Summer's Eye. Because they are so intelligent, it's sometimes easy for everyone to forget that they are only nine years old, and, at first glance, their own parents sometimes have trouble telling them apart, for they have identical brown faces with button noses and full lips. They each also have dark red hair which they get from their half Irish mother, that they keep trimmed in a boxed shape with parts on the side. Beta's part is on his right side denoting his right-handedness, and Zeta's part is on the opposite side denoting his left-handedness. This is the only way you can tell them apart physically except for the different shaped spectacles they ware. These differences usually puts them at odds with one another and often results in fights.
"All this monster hunting made me hungry, lets go in and get some sandwiches. We can tell Darian about what happened." Beta says.
"I believe the proper colloquialism for this moment would be. Are you nuts! Have you forgotten already brother? Do you want to do chores, besides, cousin Darian isn't in the house, he's in the car."
"In the car, Why?"
"I haven't the foggiest. I can only assume he didn't have time to run in the house."
"Cripes, he could have helped us fight the monster you-know."
"Yes, perhaps we should see if he is ok. Maybe his soul was devoured."
"I hope not, then we wouldn't be able to ambush him anymore." Zeta says disapprovingly.
"Indeed brother, indeed."
They scurry over to the car and look through the back-seat window and notice what appears to be a body hidden under Auntie Bea's travel blanky.
"Is that Darian?"
"I would assume so brother." Investigating further, they open the car door, and yank the blanky off of him. He's as stiff as a nail, and his bright green eyes are wide open as if caught in a trance. Beta picks up a twig and begins poking him in the leg. "Is he... Is he dead Beta?"
Still poking, Beta answers,
"Nonsense brother. He's in another one of his trances-"
"Hey Darian! Wake up Wake up Wake up Wake You-up-"
"Stop it Zeta, you know it's no use. When they get like this, they are dead to the world."
"Should we tell Auntie Bea."
"No! How foolish! Have you forgot again? Do you want to do chores?"
"Oh yeah." Zeta replies.
"Yes, and you've also forgotten about our plans for Auntie Laura. What would you do without me oh brother of mine. Lets retreat for now until she gets out of school. Darian will come to in several minutes... or hours like always; he should be safe in the car."
In a flash, the bookworm twins close the car door, jump back into their gerbil orbs, and bounce down the street snickering and scheming; for when they return, rest assure, mischief is afoot.