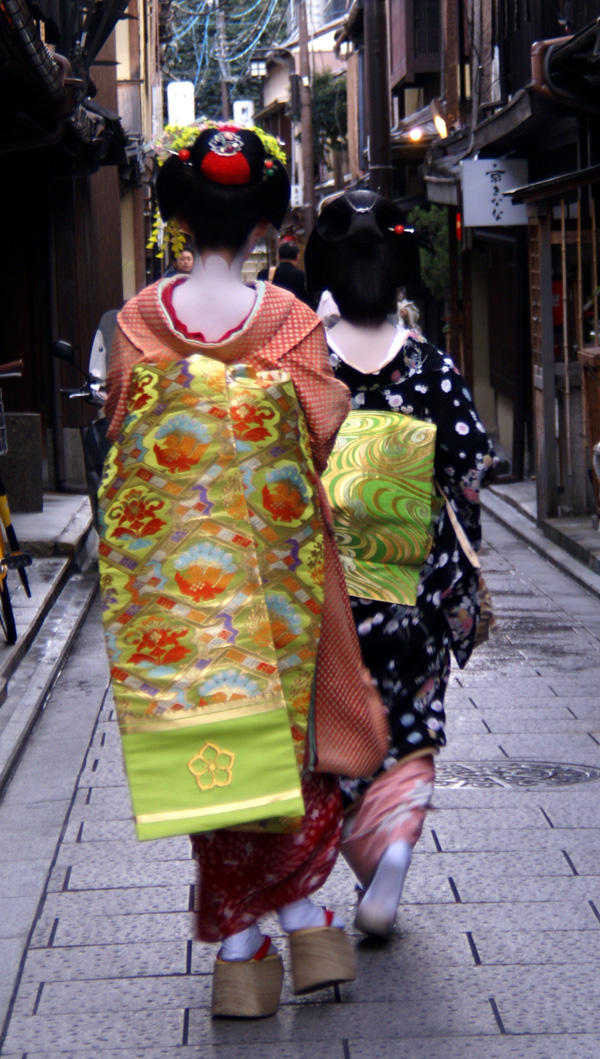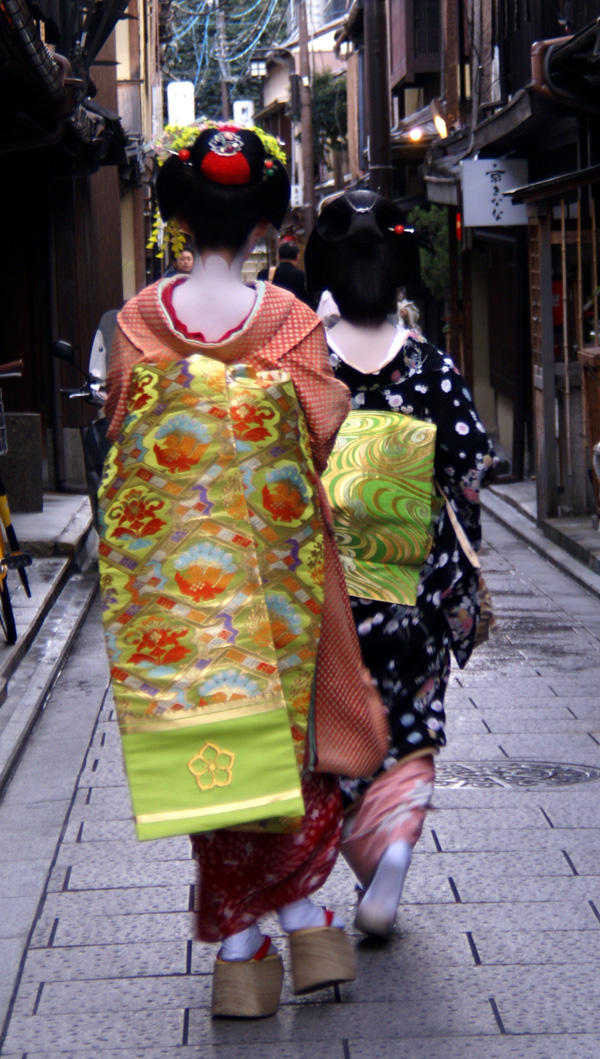 Watch
I was looking through my pictures from my stay in Japan, and I thought I should post some of the images I never used.

This photograph of maiko Kyouka and geiko Fukumomo is perhaps the best photograph I've taken that shows the differences between a maiko and a geiko. To a person who's familiar in the nuances of kimono, it's unthinkable to mistake a maiko and a geiko, but to those who don't it's often easy to confuse the two. Here are a few key differences which make identification easy.

The hairstyle worn by Kyouka in the back is called the wareshinobu, and is the first hairstyle a maiko will wear. It's characterized by the bun on the back which has a red ribbon peeking out from behind two strands of hair, and a brooch in the middle. It's a style based on a young girl's hairstyle of the past, because back then it was a very easy style to produce and didn't require extensions (that's not quite so true now). She also wears many more hair ornaments than a geiko, such as the iconic kisetsubana, the flowery ornaments worn in front that are made from silk and change monthly. Geiko Fukumomo in contrast wears one of the many varients of the Shimada coiffure, a much more complicated hairstyle that has less ornaments within it. The shimada style was worn by unmarried women who were of a marrigable age. It signified that they were women, not girls. It's held together with silver paper chords and strips, and is decorated with a comb and a few simple ornaments. So essentially, a maiko's hairstyle is in itself easy to create but decorated profusely, while a geiko's is complicated to create and decorated sparcely.

The kimono of a maiko is different in construction and design from a geiko's kimono. Maiko Kyouka's kimono is in a style called furisode, which is characterized by its long sleeves. It's a style worn by unmarried women, and gives a girlish image. As you can see in the photo, Kyouka's sleeves go to the end of her obi, while Fukumomo's much more womanly sleeves in constrast are only half that size. A maiko's kimono is also more colorful and expensive. While Fukumomo's is covered in yuzen, a dye-resist painting design, Kyouka's is covered in expensive shibori, tie-dye on a minute scale. Each one of those little white dots was a tiny knot made by hand before the fabric was dyed. So essentially, a maiko's kimono is big and showy, while a geiko's is simpler.

The underkimono collar of a maiko and geiko is another big difference between the two. A maiko's collar in back is always red, while a geiko's is always white. That is why the debut of a geiko is called Erikae, turning of the collar. An important note to remember though is that the front of a maiko's underkimono collar is a mark of seniority within maiko ranks, and ranges from the very red collars of very junior maiko to the perfectly white collars of very senior maiko. Only the back of the collar is the marker of overall maiko status.

The obi knots of maiko and geiko are the easiest way to identify them. A maiko is famous for her iconic Darari knot, the dangling knot made from an obi around 25 feet in length. This style was created by unmarried merchant daughters, and as geiko were mostly patronized by merchants, it makes sense that their apprentices wore the style that their customer's daughters helped create. A geiko in contrast wears the simple Otaiko knot, a square knot made from much less fabric. The Otaiko was in fact created by geisha, which helps explain why it's the most popular style for geiko to wear. An important note to remember is that this difference only holds true in maiko and geiko's work clothes. During the day both of them wear the Otaiko knot as it's the most popular obi style to wear for all women, not just geiko.

The last major difference in appearance between maiko and geiko is their footwear. Maiko are famous for wearing okobo, 10cm high wooden clogs that are shaped like a wedge and ring like a bell when the maiko walks. Like everything else that maiko wear, okobo were worn by children and young women, mostly to make them cute and give them extra height. Geiko don't wear them, they wear zori or geta, adult footwear. But an important note to remember is that maiko are not required to wear okobo, and in fact many of them almost never wear them.

I hope this helps for anyone who has a picture of a possible maiko or geiko and is having trouble identifying them.