Journal Entry:
Sat Sep 21, 2013, 9:44 AM



ALRIGHT GUYS! The contest is now closed!
Thank you all for the wonderful entries! It will be hard to judge only three of them as winners (which is why I have asked some people help me out).
17 entries came in, which means the 2000

price is out, sorry! But since over ten entries came in, the first price winner still wins 1000

and more!
I will need a while to judge, but I shall get it done atleast within this week!
Hope everyone had a cool halloween! ` v ´
It's official;
the contest is OPEN!
New update! :
Me and ShadersHQ made a secret deal after the 1000

thing
that if over 20 entries are in, the first place wins the total of 2000

!
So for that to be reached, we need 20 entries (only eight to go at the moment!)
NOW! To the theme:
The theme is: Trick or Treat!
Basically what you must do is to draw your character, together with your friend(s) character, trick or treating in costumes!
Rules:
-The characters can be any species
-They can wear any costumes- Whether it is a witch's costume, a canon character's costume or their friend's costume
-The picture MUST include your character(s) and your friend(s) character(s)! Also they must wear costumes
-You can also write your entry! You can write a mini-story about when the characters trick or treat (but make it special by adding a plot twist!)
-You can enter as many times as you wish (though you can only win with one entry)
-You must comment here with your entry so I can see it
-Have fun!
Prices:
1st place:

A Full picture from me

1 character full body, shaded
from :icon
lancer88
:

100


A one-character picture (with transparent background) from me

1 character chibi from :icon
lancer88
:
3rd place:

50

from me

A sketch drawing from me

1 llama badge
If any one wants to add on prices, that'd be amazing! You can still join if you donate prices.
Winners will be judged by: 50% creativity, 30%
artistic skill and 20% effort
Now, hope you want to join!! ovo
Also:
also thank you for all who adds prices! You're all awesome!!

ENTRIES: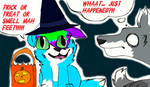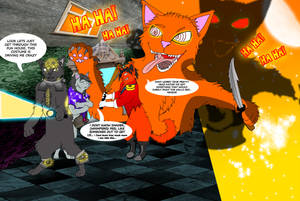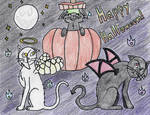 <da:thumb id="407064751"/>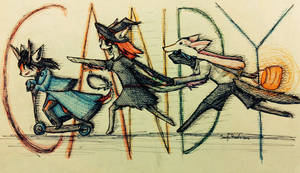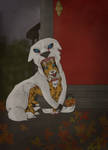 Glow's Spooky Trick or Treat

The night was dark...

The air, a crisp fall breeze winding through the streets of the twolegplace...
The sky, clouds eclipsing the moon...
The time was ripe for haunts and scares...
Halloween Special... Glow's Spooky Trick or Treat
"I got myself a haul of candy. Che-che-che-che..."
Glow giggled as she walked down the street, carrying the huge and noticeable bag full of candy in her jaws. The straps looked like they were about to break under the weight. She struggled even to hold it up, taking a break every so often to rest her numb mouth.
She was at the northern part of the Twolegplace, last stop before heading back to her house. The streets were paved with decorations from the twolegs, and up here, everyone went all out on the decor. Everywhere Glow looked, there were at least a huge spider web, a skeleton, and fake blood splatters across the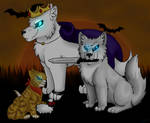 Deadline is November 5 (a bit after halloween for some extra time! `v� )

Watch