Fumis are a closed species, meaning you may not make your own. Customs are closed (but you can bribe me) MYO slots are currently OPEN.
---
Pictured above is what one would consider the most 'common' type of fumi, the Painted thug class fumi. It is the most practical example of the breed's basic traits, so it will be used as the model for this guide.
First discovered in the [REDACTED] star system on the planet known as Eremus, whose surface is currently inaccessible due to extreme [REDACTED]

Diet
:
They are opportunistic omnivores with diets consisting of mostly berries/fruit, fish, and small animals.
Role
:
This
can be varied
, but is most commonly a companion animal. Most fumis are found in captivity but a few small feral populations do exist.

Intelligence:
They are intelligent and social creatures, a level which is comparable to orcas. Whether or not their are sentient is heavily debated, it is generally considered to be [REDACTED] Fumis form
groups of 5-15 called fogs with roles
determined by a fumi's
class
, more on that later.


Communication:
Fumis communicate primarily with their
vapor
and
body language
. Any vocalizations are purely for the benefit of species that can't understand
vapor
communication, and sound like gecko chirping.


Habitat:
Fumis are hardy creatures, they can survive in any environment that can keep them hydrated, well-fed, and provides shelter from harsh sunlight. Their body shape; wide, webbed feet; and thick, hairless skin make them good swimmers and they quite enjoy floating or wading in water, making them most adapted for a semi-aquatic environment. These features and the fumi's fuctional nictating membrae (third eyelid), which works to clear debris from it's eyes, also helps a fumi in sandy or snowy areas. Fumis aren't well equipped to live in mountainous, heavily wooded, or tropical areas, but they can and do survive in such environments anyways.
The most common environment for a fumi is urban, although it is also the most unhealthy for them.


General Anatomy:
Quadrupedal; digitigrade; 4-5 digits on each paw. Plump body for nutrition storage (tail, belly, front limbs, and rump)
A fumi's large
eyes
,
ears
, and nose help it to be a creature who is very aware of it's surroundings, but they typically show little fear. The fumi's
horn(s)
,
tusks
, claws, and brute strength/size give them protection against most threats so they don't have a whole lot of things to be scared of, but they won't protect the fumi fr[DATA EXPUNGED]. If a fumi does encounter danger, it can use caudal autotomy to 'drop' it's still-wriggling tail to distract the threat while it makes it's escape. The tail will grow back, but it will commonly grow in discolored and even kinked (unless a splint is used to keep the tail unkinked).

Size:
Fumi size varies greatly depending on class and breed!
The chart below (click the thumbnail) shows (from left to right) a gummi, a dwarf (thug), three painted (nurse, thug, and brute), and a snowfumi (calm form).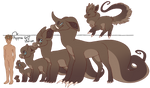 Reproduction and Gender:
Fumis are considered bidirectional sex changers, a type of sequential hermaphrodite, who are sexually female by default. When certain conditions are met and a fog enters a breeding season
, dominant fumis duke it out tournament-like style. The champion of the breeding season is flooded with hormones which temporarily allows it to preform as a male, which it will do with the fog members that where the most attractive (this tends to be the ones who put up the best fight, but may be different depending on the individual).
Fumis do not naturally have the same concept of gender as humans do, but may adopt it from their caretakers if they wish. A fumi may identify or be referred to with whatever pronouns they wish. ​


Aging and Class:
Painted and dwarf fumis reproduce and age naturally. Adults of these breeds have different appearances and social roles determined by their placement on a hormonal gradient, which is separated into three distinct classes: Nurse, Thug, and Brute.
Click HERE to learn more about fumi aging and class
Aether and Vapor:
Aether is mysterious substance produced in the fumi's blood, it's invloved in many bodily functions. The color of aether differs greatly among individuals.
All fumis exhale vapor, which always matches the individual's aether color, and is the main form of communication within the species. While this vapor normally has pleasant properties, a fumi can alter their vapor to become dark and harmful when upset.
Click HERE to learn more about aether and vapor


Vapor Sacks
:
All fumis have a squishy, stretchy pouch which they inlfate during vapor exhalation. When inflated the pouch becomes semi-transparent, allowing the swirling vapor to be seen! Fumis use this inflation as a form of body language.
Click HERE to learn more about vapor sacks
Tail, Autotomy (dropping and regrowing tails), and Injury
:
Fumis have (oftentimes large) semi-prehensile tails that store some of the fumi's body fat and nutrients. They are capable of voluntarily detatching their own tails via caudal autotomy and it wriggles as if still alive, distracting would-be predators and foes alike. The tail will never grow back exactly like the original tail.
​Fumi hide is tough and more resistant to damage than human skin, and wounds heal very quickly (especially in areas with thinner skin like the mouth, horn(s), vapor sack(s), ect.) Fumi blood is colored by the individual's aether color, so wounds will also display the aether color as will scars (although shallow or older scars will become faded).
Click HERE to learn more about fumi autotomy and injuries (this information is in the middle of the page)
Skin Textures and Markings
:
Fumi hide is tough and elasatic, but also velvety soft to the touch. Fumi skin come in such a vast array of markings, colors, and optical effects that no two individuals look exactly alike, even close relatives.
Click HERE to learn more about skin textures and markings
Eyes
:
Fumi eyes are large and come equipped with fully functioning nictating membranes (third eyelid) to keep them clear of debris. The pupils come in a wide variety of shapes, although some are more difficult to produce than others.
Click HERE to learn more about fumi eyes and pupils
Horns
:
Most fumis have bony protrusions extending from their skulls, known as horns. These horns are completely covered in skin, and are oftentimes used for mating displays rather than violence. There are many different varieties of horns, although some are more difficult to produce than others.
Click HERE to learn more about fumi horns
Ears
:
Fumi ears have large, radar-like ears with ripped insides. Though normally very stiff and cartilaginous, some ears may lack cartilage in certain areas or even, giving them a different shape. Some ear shapes are more difficult to produce than others, though.
Click HERE to learn more about fumi ears
Mouth and Teeth
:
Fumi muzzles are round and squishy, housing a complex sinus system. The tongue, which should display the color of the fumi's aether on it, are fat and forked at the tip. Many fumis possess tusks, although some tusks types are more difficult to produce than others.
Click HERE to learn more about fumi mouths and teeth
Restricted Features
:
Genetic defects that have hugely negative impacts on the fumi's physical, mental, emotional, and/or social well-being.
These features are categorized as restricted, since they are restricted from public access. Fumi breeders are required by law to turn fumis with these features into the local authorities, and failing to do so results in major repercussions. Even so, individuals with these features still persist in private collections and in wild populations.

Click HERE to learn more about restricted features
(this information on the bottom of the page)
---
Painted and Dwarf Fumi Breeds
Painted Fumi
This breed is widely considered the 'original' one by the general public, although this is not true. Painted fumis are the result of many (mostly failed) experiments done on the true original fumis (dubbed simply as Eremians by those who know of them) These fumis would not have otherwise survived on Earth as their anatomy was suited for completely different environmental conditions.
Painted fumis get their name from the many colors they are able to come in! These fumis are the most common and are extremely popular as companion animals, although the cost of owning and caring for one tends to be very expensive. All information in the description above, as well as the information in the aging and classes guide, apply directly to this breed.


Dwarf Fumi
This breed is essentially the same as the painted breed, but are bred to be much more petite. Adult dwarf fumi sizes average around the size of a painted rookie (juvenile) although brute dwarfs can grow to be similar in size to a painted nurse class fumi. The same information that applies to painted fumis in the description above, as well as in the aging and classes guide, also apply to the dwarf breed.
---
Fumi Guides
Required Reading
:
Bare Minimum Info Packet
((includes the
fumi ownership rules
))
Basics
[Fumi in a Nutshell] Part 1: Basics
[Fumi in a Nutshell] Part 2: Aging and Classes
[Fumi in a Nutshell] Gummi Breed
[Fumi in a Nutshell] Snowfumi Breed
[Fumi in a Nutshell] Faerumi
[Fumi in a Nutshell] Seraphumi
[Fumi in a Nutshell] Cannigoomi
[Fumi in a Nutshell] Mushroomi Transformation
Anatomy
[Expanded Fumi Guide] Breeds and Transformations
[Expanded Fumi Guide] Aether and Vapor
[Expanded Fumi Guide] Vapor sacks
[Expanded Fumi Guide] Eyes
[Expanded Fumi Guide] Horns
[Expanded Fumi Guide] Ears
[Expanded Fumi Guide] Mouth
[Expanded Fumi Guide] Markings and Skin
Care Essentials
[Expanded fumi guide] Care, Injury, and Restricted Features
[Expanded Fumi Guide] Behavior and Social
[Expanded Fumi Guide] Lifestyle
---
More fumi information:
Information Center
Fumi Ownership Rules
Masterlist account -
LEX-dex

---
Species, art, and character belongs to me. Fumis are, again, a
closed
species.
Image details
Image size
1500x1050px 668.11 KB