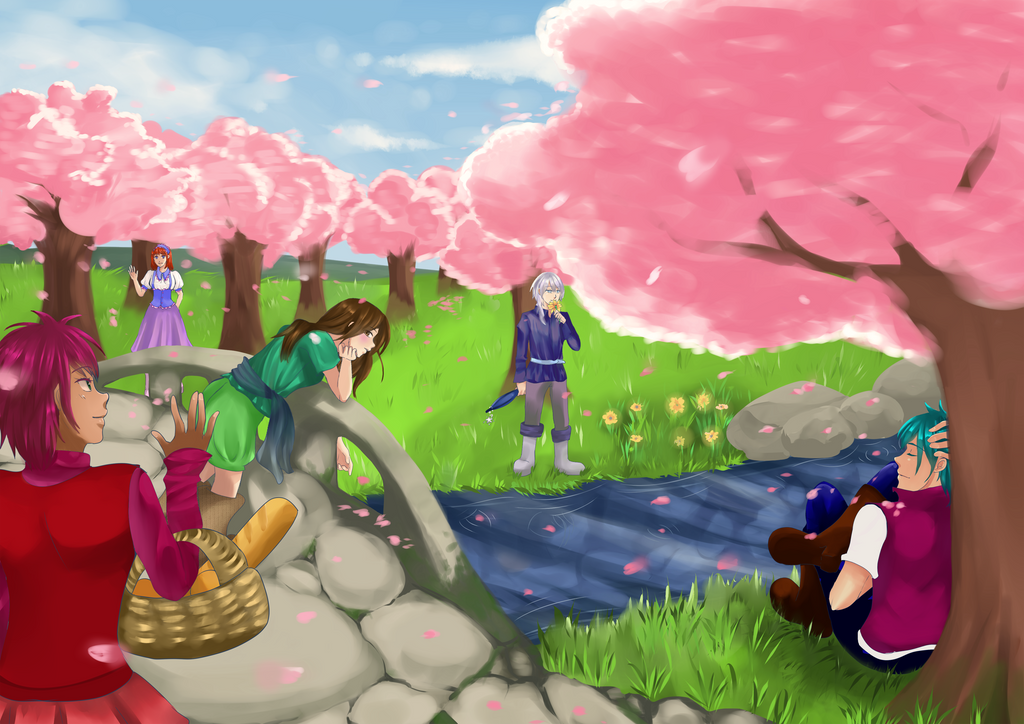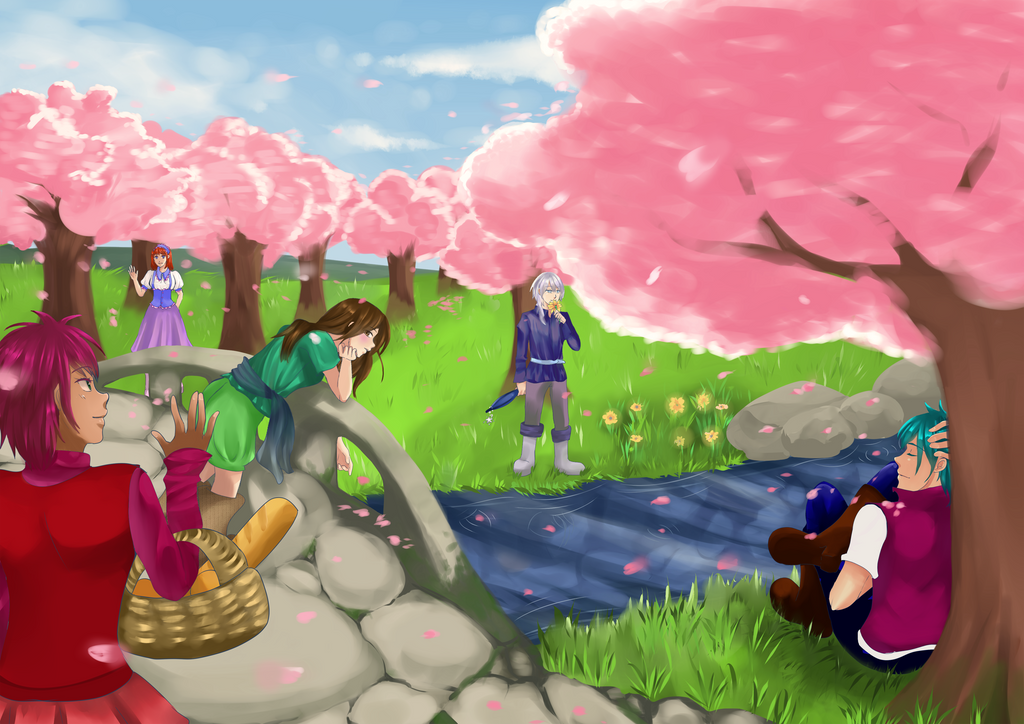 Watch
Lo and behold,
it's springtime in Culinaria!

The sun so warm, the gentle breeze,
by the fresh blades, the air pierced.
So soft, and so green,
So comfortable to sit in.

Today, what should we do?
Maybe, a picnic for two?

I'll prepare the drink,
you'll bring me the bread.
We'll sit under the Sweet
Tangy Cotton tree,
tasting the richest petals
falling to our plate.

(May I add them to our tea?
Or eat it like a candy?)

Or how about a small adventure,
for the gems, we must look further?

What gems, you ask?
Why, none other than our prized
sweet Sproing flowers, right?
(those yellow little patches!)

And is it you, that I see,
sleeping under the tree,
uncaring for the piling treats
on your shoulders and knee?

Springtime in Culinaria
once again,
I meet you.
Will these feelings
ever be reaching you?

~ "Springtime in Culinaria", by anonymous poet.


---

PaintToolSAI, Photoshop Element 8.
April 30, 2012.

---

Done! ...Can you notice the differences?

Crappy poetry is crappy. //sigh I'm not a native in English, so scram.

jkjk I'd like to think that it was written by Hime the traveller

Also, it's my first time to use PS filters, bear with me, yes? I tried to subdue the colors, but I felt it was too dark, like a cloudy day... If you feel so too, please tell me.

Download if you want to see Gateau + Kaname face, that's why the original file is so big.

I should've make clearer shadows to Flenn, but it's done, and I'm not coming back to this pic again. Period. Also, ignoring my crappy perspective on Hime, I like her coloring the best. Did you notice her left hand that wasn't there before?



---

From left to right

Tovarii (c)


Gateau (c)


Hime =

~


Kaname (c)


Flenn (c)



in



---



Please don't claim this as yours.