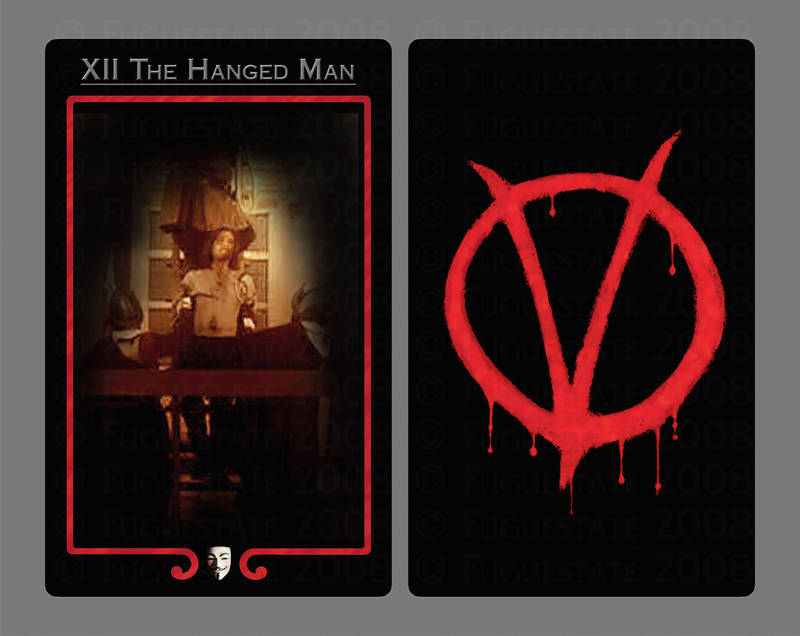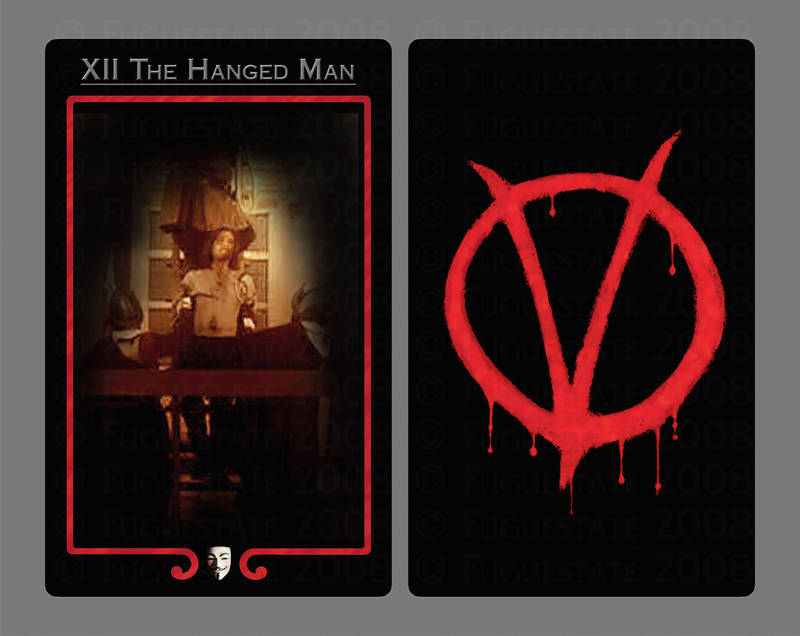 - Part of the
V for Vendetta
Tarot project -
----------------------------------------------------------------------------

The Hanged Man signifies a time of insight so deep that, for a moment, nothing but that insight exists. The Hanged Man symbolizes such moments of suspension between physical and mystical worlds. Such moments don't last, and they usually require some kind of sacrifice. Although the Hanged Man represents a view from a different perspective it represents only a catalyst for change rather then a change from tradition itself. In the tarot the Hanged Man is always the card prior to official change and it usually represents the hope and fear of a different more challenging path. The Hanged Man also brings up the idea of the total worth of one idea as compared to another. The Hanged Man symbolizes the revelation that life is different depending on whichever way you choose to look at it.

Reversed: In a reversed position the Hanged Man represents seeing things from a narrow or limited perspective. It suggests A stubborn, unwillingness to change, or a refusal to understand other people's point's of view. The Hanged Man reversed signifies a hanging on to an egotistical existence instead of encompassing a "oneness" with others.

----------------------------------------------------------------------------
- I am aware that The Hanged Man is not literally being hanged, and actually has connections to Odin and Norse mythology. That is why I did
not
depict Fawkes with the noose around his neck. I did what I could to make use of the materials contained within the film and still respect the spirit of this card. Your mileage may vary, of course...



[Disclaimers: This project is intended as an homage to "V for Vendetta". No disrespect of it or the Tarot is intended. (I'm not saying I got them all "right", but I gave it my best shot!

) I claim no ownership of V for Vendetta or the characters thereof.]

Tarot References:

Lotus Tarot
Aeclectic Tarot
Wyrdology
Intuitive Tarot
Lost & Found