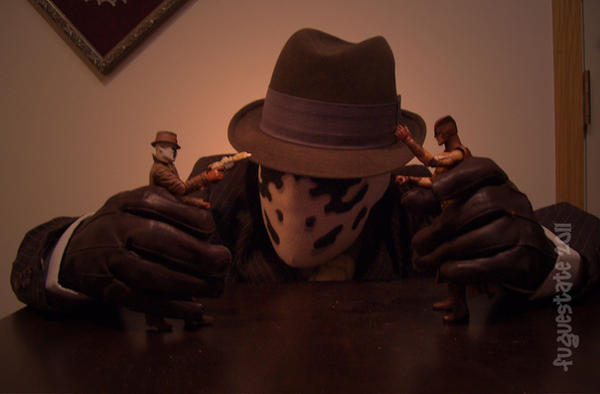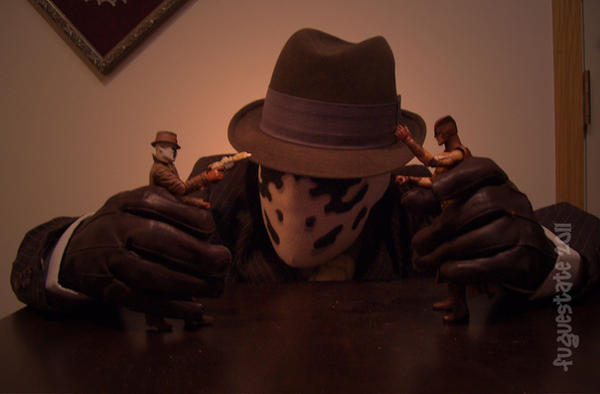 Doing my part to
give Mr. Moore fits
pay homage with meta and silliness.


playing with yourself
your doing it right!
Reply

Your Rorschach continues to delight and amaze.

Well done!
Reply

Aw, thanks!

It was in response to a Watchmen 5-day challenge; there really ought to be more of those...

Reply

That costume is awesome! How'd you do the mask?
Reply

Thanks! It's three layers - first layer black dance mesh, second layer white knit with eyeholes and pattern painted, third layer white dance mesh with the same pattern painted on it.

Reply

How well can you see out of it?
Reply

Extremely well - For day wear, I add another layer of black mesh over the domino mask to help hide my eyes. For nightwear, I'm just looking through 2 layers of mesh. In either case, it's sort of like wearing sunglasses indoors.

Reply

Do you need to be somewhere particularly well lit? Or just normal indoor light?
Reply

Normal light is fine - I've worn the costume at night both indoors and out (including crossing streets and being inside a bar) and been able to navigate safely. The mask lets you see and recognize faces, and as long as the eyeholes in the second layer are nice and large, the field of vision is pretty much the same as without a mask. Reading, especially smaller print, is about the only thing that gets tricky.
Reply

awesome. btw, do you wear the black half mask (the first pannel in your tutorial) when wearing it, or did you just use it to get the face shape right? (sorry about all the questions!!)
Reply

No problem!

I did wear that half-mask as well, primarily to keep the mesh away from my eyes. That's the real key in the whole thing; if the mesh is up against your eyelashes it's too distracting. It's a rigid cloth-covered domino mask - this one, actually (
[link]
). I enlarged the eyeholes quite a bit, added some foam padding at the temples, and later trimmed down the rest of the mask so that it only really covers the eye area once I realized the mesh layers were applying
just
enough pressure on the domino to give me a headache.

Reply
(1 Reply)

Reply