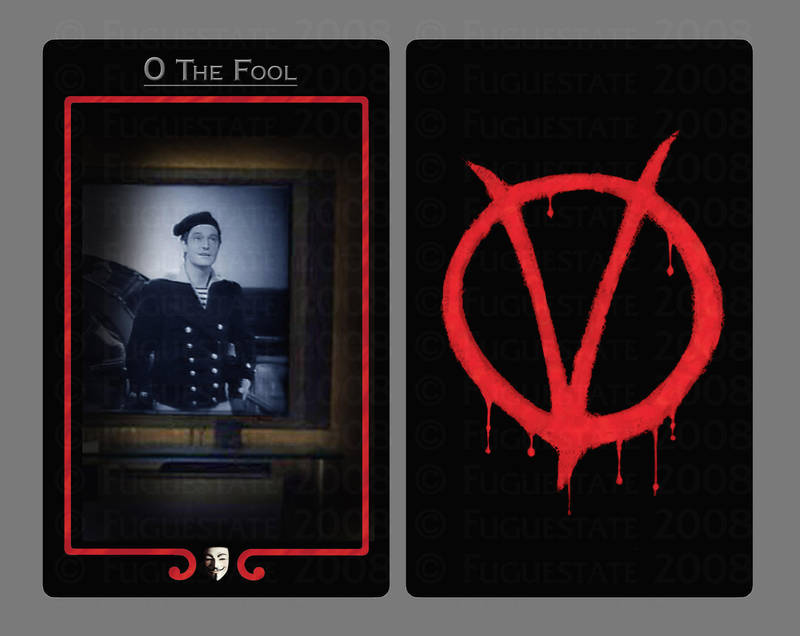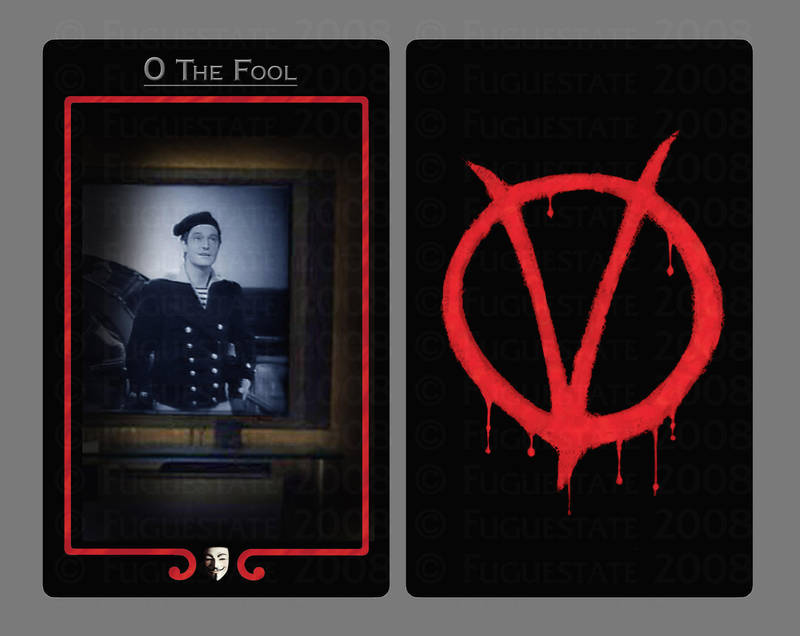 - Part of the
V for Vendetta
Tarot project -
----------------------------------------------------------------------------

At #0, the Fool is the card of infinite possibilities. The Fool steps forth without regard to warning and he is free to make his own choices. He knows there will be consequences to his actions but he steps forth anyway. For the Fool, the most important thing is to just go out and enjoy the world. To see what there is to see and delight in all of it.

Reversed: In a reversed position The Fool card represents a lack of motivation to start something new, succumbing to fear, or the turning away from learning. It can also signify a person heavily depressed or restricted by outside means. It can show a lack of freedom, denial or refusal of choices, or imprisonment.

----------------------------------------------------------------------------
- I confess, on this one alone I "cheated". This is an image of Edmond Dantes from the actual film
The Count of Monte Cristo
- this scene does not appear in the film.



[Disclaimers: This project is intended as an homage to "V for Vendetta". No disrespect of it or the Tarot is intended. (I'm not saying I got them all "right", but I gave it my best shot!

) I claim no ownership of V for Vendetta or the characters thereof.]

Tarot References:

Lotus Tarot
Aeclectic Tarot
Wyrdology
Intuitive Tarot
Lost & Found


There are still some values of the Tarot.
0 - The magician finished his studies in front of which are open all the way.
Reply

Yes - I know there are multiple interpretations of the Major Arcana, but to try to find an "absolute" one is an exercise in futility. x) I chose images and interpretations that seemed to match best thematically, using the film version of
V for Vendetta
as the primary focus.

Reply

In my opinion there are mistakes. But the idea and its implementation I liked. In the end - you are the author.

Reply

I'm sure there are, though I think the primary problem is that the originators of every interpretation of the Tarot are convinced that their own variant is the "correct" one.

I'm glad you enjoyed these, though.

Reply

These are interesting, have you read Promethea?
Reply

I did, but only after I completed this project. It makes me wonder how well Moore's other works would translate into Tarot figures...

Reply

owww yeahh i know this scene i didnt see it in the movie anyway is great
Reply