WARNING

There are things in my gallery that some people will not like, and that's okay. I respect everyone's opinion, but nobody needs to tell me that I shouldn't draw something just because they don't like it. I will post whatever the hell I want on my page, and if you don't like it, leave me and my art alone. It's that easy.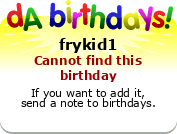 Text.LiveTyping.com

Fun facts about me:


I am a freshman at a very prestigious art school.


I plan to be the next Seth MacFarlane with my cartoons.


I am TAKEN!!!


I am allergic to blackberries.


I have a tattoo of my persona (Fry) on my arm.


I have a dirty, yet childish sense of humor.


I draw digital art using my Wacom touch-screen computer (a Mobile Studio Pro to be exact).


I have 381 OC's in total.


I honestly do not care what pronouns people refer to me as (she, he, they, etc.).


I am bisexual.


I am 20 years old.


I suffer from bipolar depression and anger disorders.


My favorite sports are water tubing and wakeboarding.



My friends! Thank you all for putting up with me.



























Anyone feel free to contact me in other shit!


Snapchat: elusivejackass


YouTube: www.youtube.com/channel/UCfhpq…


Facebook: www.facebook.com/CRH.No.Zer0


Google+: plus.google.com/u/0/+CassidyHa…


FurAffinity: www.furaffinity.net/user/fry-a…


Twitter: CHarasick


Instagram: www.instagram.com/c4s51dy/?hl=…


Kik: C4s51dy