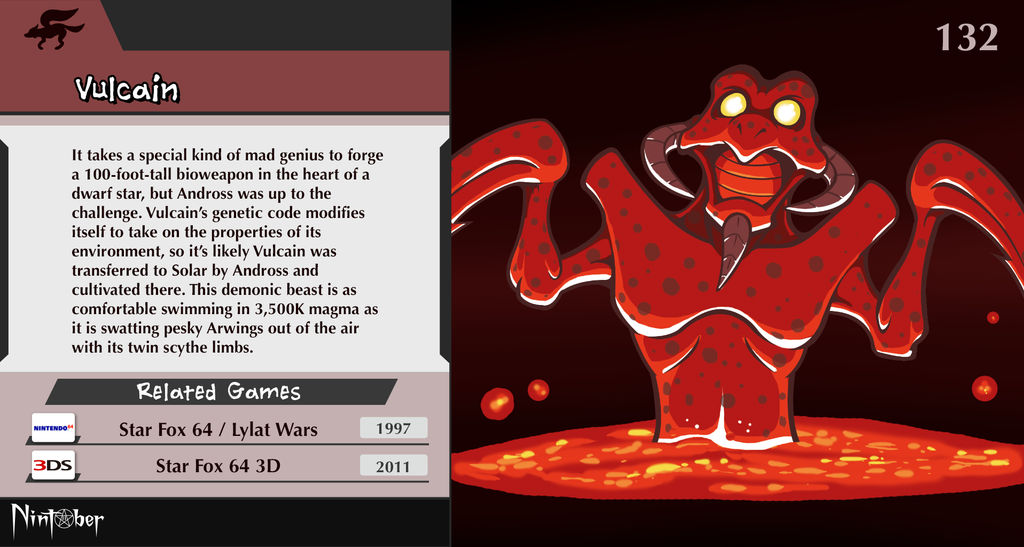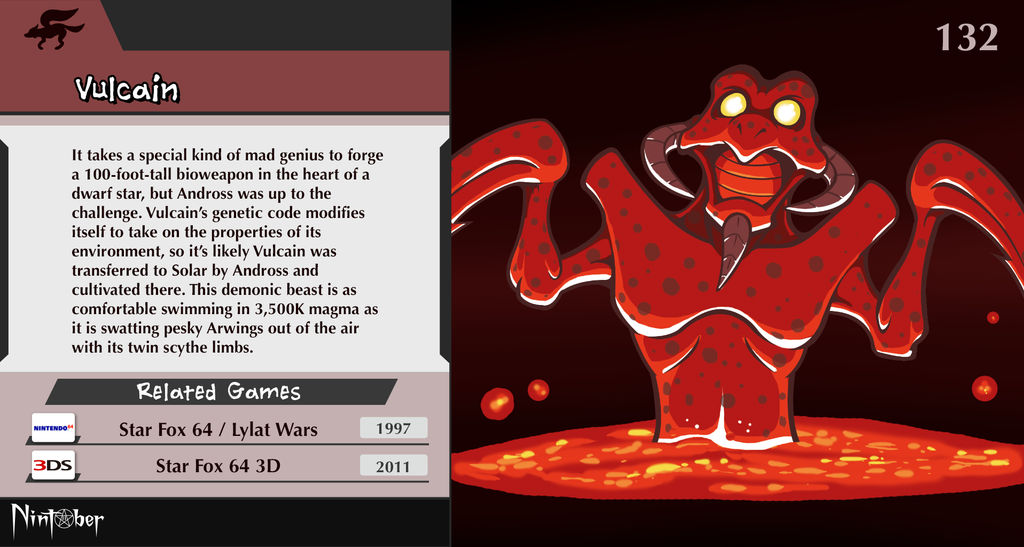 Watch
I took a day off yesterday to deal with some family matters. But Nintober's back with a representative from the Star Fox series: the giant fire beast Vulcain. Remember how cool this thing looked in screenshots back in 96-97? No? Just me then?


Do you think you can do the other B.W's from Star Fox, like Cascoon from aquas, and the monster from Titania from Star Fox 64, not the worm robot from Star Fox zero, also, do you think you can do all the other bosses from The legend of Zelda Onicarnia of time such as Gohma, King Dodongo, Barenaid, Phantom Ganon, Volvaga and Morpha?
Reply

I have to spread out which monsters I draw. I only do this for one month of the year, and I have to spread it out among ALL of Nintendo's franchises. Also, I like to try and theme them around Halloween-style monsters, so Barinade probably wouldn't join in.

However I have had Phantom Ganon on the list for a while. And the Titania monster from SF64 was nearly my choice before I did Vulcain.
Reply

Reply

Is it possible you could draw the Sarumarine and The Forever Train (not Mechbeth) with all the train's carriages drawn with textbook precision
Reply

Nope! I can't draw anything with textbook precision. That much should be obvious by everything else in my gallery.
Reply

Holy Carp, it's a giant insect of Fiery Proportion!
Reply

Peppy Hare: This is the enemy bio weapon?!
Reply

Reply

Hopefully you fill the gap between your day off and today.
Reply

I doubt it. I'm pretty much winging it day to day at the moment. I took Tuesday off as a personal day as we had an important meeting about personal matters that was more important than drawing monsters. I feel less guilty about it because I'm not doing it for charity this year or anything. It's all for me and I can set my own schedule

Reply

Right, family is more important rather than filling 31 days of ghosts, ghouls and abominations.
Reply

Slippy Toad: It's too HOT !!! I can't take it anymore !!! DX<
Reply