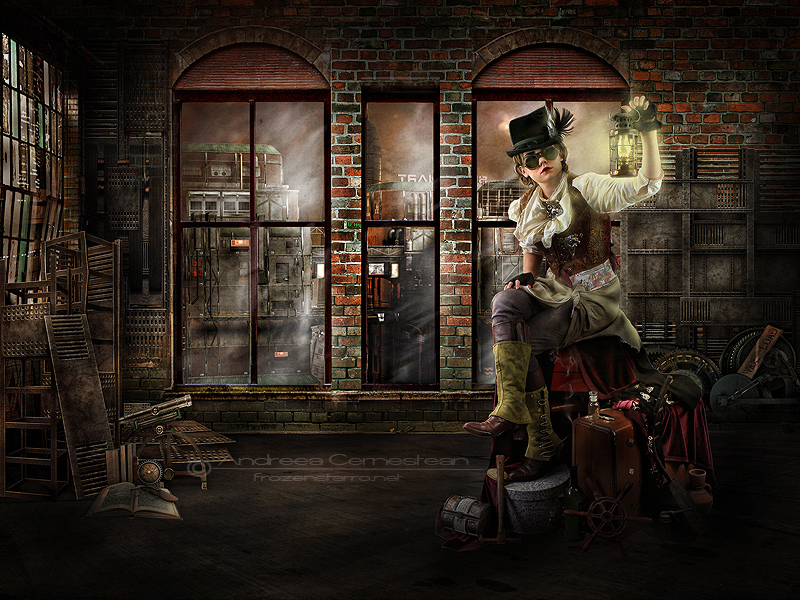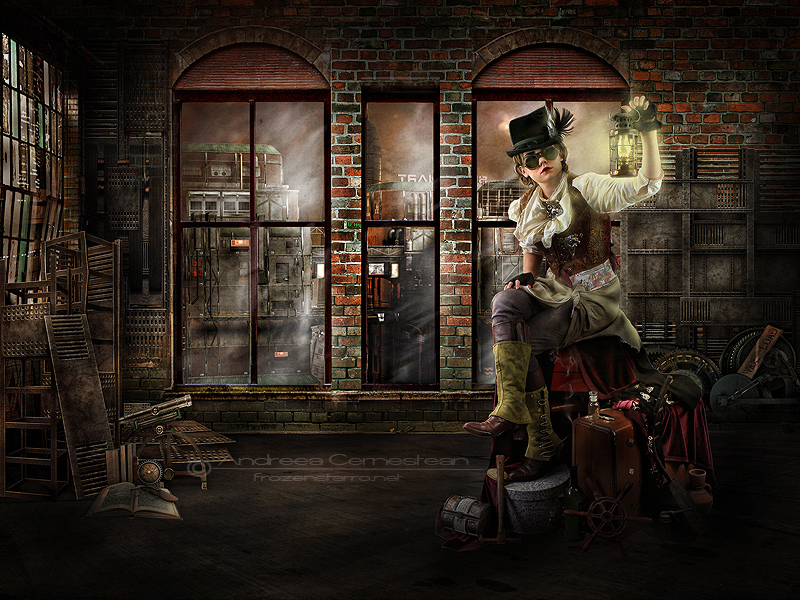 Watch
I really wanted to work on a steampunk piece in so long, just never found the right stock or inspiration to make one. I'm glad I waited so I could start the series in style. I'll make 2 more steampunk related, got the ideas sketched up, just hope I find the time to work on them in the upcoming weeks.
Title is lame, I know. I'm open to better suggestions.
And... should I leave it in sci-fi or move it to fantasy? The line is blurred here I'm afraid.

Stock:

*
magikstock
[link]
=
Fairiegoodmother
[link]
~
FoxStox
[link]
window - cgtextures
City scenery - Urban Future 2 rendered in Poser 8
all the rest purchased from renderosity and my own
I love the idea behind this picture and it is executed very well. The blending of the objects to create the illusion that they're all in the same setting is spectacular.

The composition flows nicely though it could arguably be a little heavy toward the right since there is more of an abundance of colorful objects on that side. Personally I don't think the favoring of that side is bad. It works very well for this!

Perhaps think about toning back the saturation/vibrance on the bricks on the two pillars in the middle that separate the windows. My eye keeps getting drawn to that rather than the woman.

Overall I feel this is a masterful execution of your vision and I can't help but wonder what her story is! Why is she there? What is she doing? It's art like this I find the most enjoyable - the ones that have me staring at every detail to try and uncover more story hidden within.
The Artist thought this was FAIR
20 out of 20 deviants thought this was fair.
Great Job, Andreea, this image is fantastic. The strengths of this artwork definitely are the crisp details and the colors. You didn't reinvent the wheel here, but the objects you have chosen for your scene all blend seamlessly and suit the steampunk theme well. I can find interesting details everywhere here, rusty furniture, old books, caskets and even parts from a ship. The buildings in the background are a nice addition as well.

I have only two little things to criticise:
- with all the nice details the composition seems to lack a clear focal point. I suppose this focal point is supposed to be the girl, but the sharpness of the bg is kinda distracting. To attract more attention to the girl you might want to darken the back wall slightly, especially the bricks around the central window
- it might just be me, but I think the light coming from the lamp looks pretty dull and not like a real light source
The Artist thought this was FAIR
41 out of 41 deviants thought this was fair.