Hey guys, Frost here and it is 2019. And frankly, I have honestly no idea what I can do to keep up. Seems like a lot of the things I do on here are either looked over or ignored because I don't happen to get much chatter on here like I use too. But I want to try to change things up this time.
I've already happened to show you guys a preview of one of the new looks for a character of mine here. But this time, I'm not only working on that, but I'm also bringing in something new too. I'm working on Frost V2. Yeah, that's right. There's a newer version of him in the works and honestly... I'm not sure if this is a project that I can just tackle alone.
But before I ask for help, I want to hear from you guys. Should I give you a preview of the new version of Frost? Just like I did with my LSW version of Raven right here? -->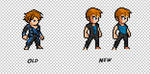 I want to hear from you guys soon so that way I can get back to making art and trying new things for you guys.
In the meantime, I want to wish you all a late happy new year and a great 2019!
-Frost