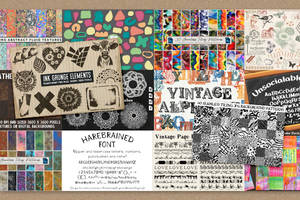 HG Designs Subscriber Area
Lots of high resolution goodies for graphic design including textures, photoshop brushes, seamless patterns and more.
---
Suggested Premium Downloads

Lightning Brushes Photoshop
115.2K
Views
1
Collected Privately
Description
Lightning Brushes for Photoshop
*19 Brushes
*600 to 1800 PCX Size
*Grayscale
R
u
l
e
s
Spanish,English,German,French
Copyright ©2012 frostbo.deviantart.com
Derivative redistribution,data base collection and online redistribution are prohibited,following Directive 2009/24/EC,Directive 2009/24/EC ,Directive 91/250/EEC of the convention.Include the convention itself in all part
English
Important Rules :
1
*You MAY use my resources within your OWN design, painting, etc and do whatever you like with it (provided that proper credit is given).And submit as print if you want,and even out of DA i agree.
2
*Credit my work with the link of my account or my deviation work is necessary.
3
*Derivative redistribution WITH MY RESOURCES,DATA BASE COLLECTION WITH MY RESOURCES and ONLINE REDISTRIBUTION WITH MY RESOURCES are PROHIBITED.You may NOT repackage and,or redistribute or claim as your own, my resources in any way, shape or form as resources,application and derivative.(this not include your personal design made with my resources as design and not resources)
I reserve the opportunity to pursuit who will not respect these rules in every country with the proper bill.
German
Wichtige Regeln:
1
*Ressourcen können innerhalb eigener Designs, Zeichnungen etc. verwendet werden und in diesem Rahmen zu allem genutzt werden, solange ordentlich auf mich (FrostBo) als den Urheber der Ressource hingewiesen wird. Ich stimme Drucken (Prints) innerhalb und außerhalb DeviantArts zu.
2
*Bei Verwendung meiner Ressourcen ist auf mich als Urheber durch einen Link zu meinem Account oder zur entsprechenden Ressource innerhalb meines Accounts hinzuweisen.
3
*Anderweitige Verwendung meiner Ressourcen, Datenbank-Sammlung meiner Ressourcen sowie Online-Weiterverteilung meiner Ressourcen ist VERBOTEN! Es ist nicht erlaubt meine Ressourcen in neuen Paketen weiter zu vertreiben, sie als eigene Arbeit auszugeben oder sie zu neuen Ressourcen, Verwendungen oder sonstiges zusammen zu fügen. (Dies umfasst nicht die persönliche Nutzung meiner Ressourcen in eigenen Designs und Zeichnungen, jedoch das Erstellen neuer Ressourcen.)
Ich behalte mir vor, solche, die sich nicht an diese Regeln halten, strafrechtlich in jedem Land zu verfolgen.
French
Règles importantes :
1
*Vous êtes "AUTORISES" à utiliser mes ressources dans "VOS" propres design, peintures etc… et de faire ce que vous aimez avec, tout en me donnant les crédits qui me desservent pour l'utilisation de mes ressources. Vous avez mon autorisation pour imprimer vos travaux qui ont utilisés mes ressources postés sur DeviantART comme en dehors de DeviantART.
2
*Créditez moi avec un lien vers mon compte DeviantART ou directement sur la page contenant la ressource utilisée.
3
* Toutes redistributions dérivées de mes ressources, bases de données de collections ainsi que les redistributions en ligne sont FORMELLEMENT INTERDITES.
Il vous ait FORMELLEMENT interdit de reconditionner et/ou redistribuer et/ou revendiquer la parenté de mes ressources sous un quelconque format ou forme que se soit.
(Cela n'inclut pas vos travaux personnels qui utilisent mes ressources comme design et non comme ressources.)
Je me réserve le droit de poursuivre qui qu'on que ne respecte pas ses règles dans chaque pays avec leur propre législation et leur faire payer la facture.
Spanish
Todos los derechos reservados® Derechos de autor©2012 frostbo.deviantart.com
Prohibida su distribución parcial o total, recopilación en bases de datos y redistribución en línea de acuerdo a la directiva 2009/24/CE, 2009/24/CE y la Directiva 91/250/CEE de la convención, incluida la propia convención en todas sus partes.
REGLAS IMPORTANTES:
1
.*Puedes usar mis recursos dentro de tu propio diseño, dibujo, etcétera, y hacer cualquier cosa con los mismos (dentro de tu diseño) y siempre dando crédito por el uso de los mismos. Puedes publicar tus diseños usando mis recursos, dentro e incluso fuera de DA, estoy de acuerdo.
2
* Es necesario dar crédito por el uso de mis recursos con un enlace directo a mi cuenta, o a la liga directa del recurso.
3
* QUEDAN PROHIBIDAS: Cualquier redistribución y derivados de mis recursos, compilaciones en bases de datos, y redistribución en línea. PROHIBIDO re empaquetar, redistribuir en cualquier forma, total o parcialmente, o reclamar como tuyo CUALQUIERA de mis recursos, en cualquier forma, aplicación y derivados. (Esto no incluye, tus diseños personales hechos con mis recursos)
Me reservo la posibilidad de la búsqueda de cualquiera que no respete las reglas, en cualquier país con las autoridades y leyes correspondientes.
[link]
Saludos cordiales
frostbo.deviantart.com
Políticas de Importantes de DeviantArt
DeviantArt, sus propietarios, etc. NO POSEEN LOS DERECHOS DE AUTOR DE MI TRABAJO O RECURSOS. Como se indica en la política de sumisión.
Para obtener más información, puedes leer la sección de Preguntas Frecuentes en DeviantArt.
FAVOR DE NO USAR mis recursos en obras que representan:
* La violencia y tortura contra mujeres, niños y animales
* Odio hacia los animales, personas, grupos, raza, país o religión
* Imágenes sangrientas, Obras que muestren matanza de animales y personas
* Desmembramiento
* Racismo, Política
* Sexismo, pornografía, fetichismo extremo / Esclavitud
* Maltrato de Niños / Maltrato de animales
* Niños desnudos y/o cualquier contenido erótico infantil
* O cualquier cosa asquerosa / contenido moralmente incorrecto / ilegal / ofensivo / intolerante.
Usted está autorizado a utilizar este stock en todas las obras que representan
* Ligero o leve contenido con temas de Horror y/o Macabros
* Leve contenido religioso / espiritual (no condenar a otras religiones)
* Desnudez estética, Erótica (de personas mayores de 18 años), fetichismo leve
Mis recursos no pertenecen al dominio público, la licencia que se extienden para el uso de los mismos es para los miembros de DA solamente – Si no es clara esta nota, favor de pedir una aclaración!
El hecho de que no todos mis recursos tengan una marca de agua visible de derechos de autor no significa que no están sujetos a permisos de los mismos.