Do you like my artwork? I'm taking commissions starting at $3 - all details are right here! Alternatively, you can get commissions for cheaper if you
join my Patreon!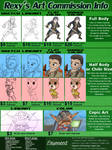 ---
Hello, it's New Year's Day where I'm at right now! I wanted to post this on NYE itself, but I ended up getting caught up in too many things all at once, unfortunately. But it's here and good to go!
For the past two years, I've been showing my artistic progress and seeing where it takes me. I've also done a challenge on my
Tumblr page
, where I did a sketch for every day of the calendar year. I'm up for doing it again this time around too - it's done some good to my artistic juices!
This is also the year where I've also experimented with having a Patreon page and started taking plush commissions much later on. It's still slow, but I'm also hoping for all the best with both over the next calendar year and all.
As for what I considered to be my favorite works throughout the year, I compiled them right here. There were some months where uploads were just exclusively
Pokémon
art for
Game-Art-HQ
, but there were others where I ended up doing a lot more - taking on the odd commission, fulfilling Patreon requests and even helping out a couple of other clubs along the way.
Anyway, here's what I picked out!
January
Illumise used Covet!
The
Pokémon
Generation III tribute started on GAHQ back in January, and once again my first pick ended up being a female Pokémon with a technique that can heal themselves under certain conditions. You know something turned out really well if you decide to overload the image with cute hearts - such envy!

February
Commission: Ice Maid Felicia
I felt glad to go back to
Fire Emblem
again! I've taken a few art commissions this year, but this one also is the only one that I've been able to post publically. Frilly maid uniforms were so cool to try and work out and figure out how all the folds envelop around the body - plus it's Felicia, the clumsy yet loveable maid from
Fates
!
March
Taillow used Secret Power!
Ah yes, the Secret Bases - somebody needed to reference that in GAHQ's
Pokémon
Generation III gallery. Taillow is one of the more iconic birds out in the Hoenn region, so I was thrilled to tackle it as my third entry and see how it would feel to create a silly little hideout. I also still had a thing for rocks and light slapstick, because why not...
April
Carvanha used Dive!
This is one very hungry Carvanha and my first attempt at a dark type. I'm surprised the second slot in the tribute wasn't taken for a long time, because that hungry look made it perfect to pounce on other unsuspecting fish! It's also where I really started to let loose with the layout for my images, which all means well in the long run!
May
N-Pop Idol Collab: Wendy-Metal
I almost didn't take part in
thenintendogirlsclub
's J-Pop / Idol themed collaborations with various Nintendo girls, but when I did, I was heavily inspired by the Kawaii metal subgenre and decided to take Wendy of the Koopalings for a spin. Designing a suit more suited for dancing on top of her turtle body was a big part of making it one of the more original fanart works I put forth yet!
June
May 2018 Patron's Choice - Ecco the Dolphin
One perk I have available for Patreon subscribers is for them to get the chance to choose which of my sketches will become a fully colored piece of artwork. I didn't get a consensus for all months unfortunately, but this was the first of a handful put together this year. Sometimes it helps to draw simpler characters when pressed for time, and Sega's own
Ecco
was a good example of that x)
July
Dusclops used Grudge!
This
Pokémon
artwork marked the point where I have illustrated at least one of each type throughout all 3 GAHQ tributes. I clearly wanted to get the idea of a big ghost going through a painful knockout with this one, plus making sure to focus hard on the lighting to make it feel more vibrant for that ghoulish atmosphere.
August
Ralts used Skill Swap!
Two words: BEEFCAKE RALTS. This was clearly my favorite vision out of all I put together for GAHQ's Generation III tribute, all so I could envision what a tiny white thing with feelings could be when juiced up with power. So innocent and yet cool to work on!
September
Nestor of the Artisans
This was one image I turned from a sketch to a full colored one based on its popularity on Tumblr throughout July - and of course with the release of <i wytiwyg=" 1"="">Spyro Reignited Trilogy this year, I was super-hyped to work on how Toys For Bob envisioned who is typically the first dragon you rescue in a casual playthrough of the first game. Mad props to the guys for adding details and little touches suited to the environment they live in - they became super fun to draw!
October
Active Hero Wii Fit Trainer
If the Idol one was a difficult one to join in,
thenintendogirlsclub
's ongoing Magical Smash Girl collaboration was even harder to go out of the ordinary! But once I started envisioning how the female
Wii Fit
trainer could be seen as a magical girl, it all turned into an outfit that crammed so many references from the game - and the Wii itself! I was actually really happy with how it turned out!
November
Metang used Brick Break!
I found it surprising that one of my favorite moves to use ended up being given the shaft, so it was up to me to illustrate Metang drawing it. Having done 2 Steel types in Generation III, getting used to the dynamics of a metallic surface is something that paid off well, and I feel as if I can only go further up from here at this rate!
December
CCL: Rover's Toy Day Miracle
I got involved in a couple of Secret Santas this year, including my first purely art based one at
CandyCane-Lane
- where I did a sentimental image of Rover from
Animal Crossing
finally not being forgotten about during the holidays. The organisation behind this gift exchange effort is amazing; they make sure you get to draw what you want, and they make sure everyone gets something back as well. I'd totally take part again next year too if it happens!
2018 isn't all set just yet - there's one more thing yet to do, and I'll upload that later on in the week. For now, enjoy this New Year - and make it the best you can!