Do you like my artwork? I'm taking commissions starting at $3 - all details are right here! Alternatively, you can get commissions for cheaper if you
join my Patreon!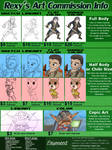 ---
"Nature Power turned into Tri Attack!"
This is an illustration I did for
Game-Art-HQ
's
Pokémon
Generation 3 collaboration - and boy is it busy already with people sweeping in for spots! Both of their
previous
projects
were great fun to be a part of and so fun to see everyone's interpretations of various moves, so I felt very happy to go in again and see what I can send in for those first seen in the Hoenn region! If you're interested, there's a journal right here:

Our POKEMON Generation III Tribute (270/270)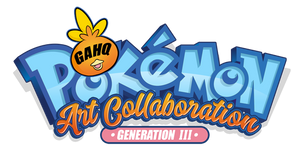 03.10.2018 Update:
1 - The first Gallery is online now since a couple of minutes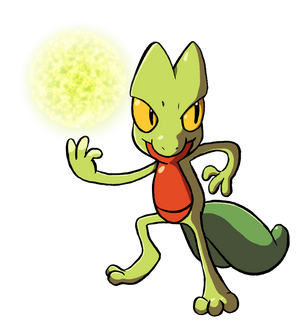 252 Treecko using Energy Ball by

ThePandamis

and Absorb by

Viral-Zone


Which you can see here: http://www.game-art-hq.com/128473/252-treecko-in-our-pokemon-generation-iii-art-tribute/
We used a similar format like last year but updated the move and of course the artist descriptions. Big thanks goes also to the editor team of

freqrexy

Hedgey

and

shinragod

for writing the move and Pokemon descriptions!
For more announcements regarding published galleries follow https://twitter.com/GameArtHQ

Game-Art-HQ

on Twitter.
You can also join our Discord channel here https://discord.gg/a5sc98Z
2 - we are almost done. only 26 more illustrations are needed to complete the Gen III Tribute. Please look at them, the 26 Pokemon are listed below and you are welcome to take 1-3 of them to get this Project finished.
3 - I wanted to del
Did I seriously do 16 entries for this thing? I swear it feels like I've done more... but that's what happens when there's a lot of empty space needed to get filled in! Anyway, Seedot was one of the unlucky ones that got left out - an exclusive to
Pokémon Ruby
and can be easily obtained via an in-game trade in
Emerald
, so I never really got to use it much. Neither do many meta-game players in the Little Cup - it's only really got one niche going for it and that's having access to the speed-boosting-in-sun Chlorophyll ability, the special-stats-boosting Growth and the big red button that is Explosion. It's just more of a nut-case if anything else (and excuse the bad pun!).
But it does have access to a quirkier move in the form of Nature Power, which deals a move based on the location of the battle. You're more likely to see a wider field of effects when going through the story, but in link battles, you're stuck with sending out Tri Attack each time (Swift in Generation III, Earthquake in Generation V). Though, the introduction of Terrain moves in Generation VI means drawing a move from their effects instead of the battle location, so that made the move even more unpredictable!
The vision I had with this one is a ball with various different types of location where it can be used - and while I am on the money with sea routes, deserts, underwater, snowfields, meadows and urban areas, the pressure of time throughout the Christmas period meant I didn't have much time to focus on drawing the backgrounds as much as I would've liked, so I just cut some corners and copy-pasted some from past digital illustrations in my gallery. >.> But the real meat is seeing how everything connects - and picking from my available Procreate brushes, I felt as if it'll work well with a glowing yet smoky appearance, especially when trying to prepare the on-set of Tri Attack. Seedot was actually very simple to color and shade; all this practice has paid off when it comes to simpler creatures x)
The sketch version was done as part of my 365 sketch challenge for 2018 over at my Tumblr.
And I think I'm just about done - there's five more waiting to be completed from other artists, and hopefully they'll be done when the gallery gets finished in March. Which reminds me, it's off to edit some of the galleries again!

Check out some of my other contributions to the tribute right here: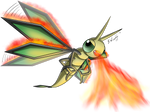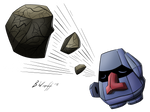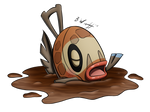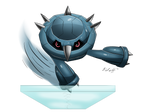 Pokémon is a franchise put together by the folk at Nintendo. I drew this!