Do you like my artwork? I'm taking commissions starting at $3 - all details are right here! Alternatively, you can get commissions for cheaper if you
join my Patreon!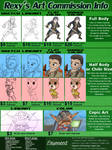 ---
"The wall shattered!"
This is an illustration I did for
Game-Art-HQ
's
Pokémon
Generation 3 collaboration - and boy is it busy already with people sweeping in for spots! Both of their
previous
projects
were great fun to be a part of and so fun to see everyone's interpretations of various moves, so I felt very happy to go in again and see what I can send in for those first seen in the Hoenn region! If you're interested, there's a journal right here:

Our POKEMON Generation III Tribute (270/270)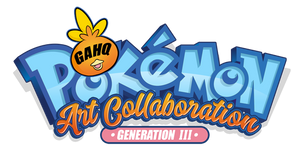 03.10.2018 Update:
1 - The first Gallery is online now since a couple of minutes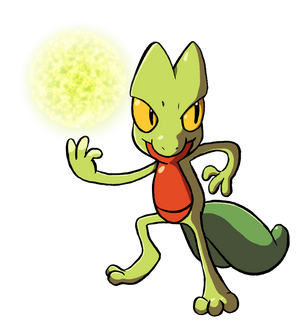 252 Treecko using Energy Ball by

ThePandamis

and Absorb by

Viral-Zone


Which you can see here: http://www.game-art-hq.com/128473/252-treecko-in-our-pokemon-generation-iii-art-tribute/
We used a similar format like last year but updated the move and of course the artist descriptions. Big thanks goes also to the editor team of

freqrexy

Hedgey

and

shinragod

for writing the move and Pokemon descriptions!
For more announcements regarding published galleries follow https://twitter.com/GameArtHQ

Game-Art-HQ

on Twitter.
You can also join our Discord channel here https://discord.gg/a5sc98Z
2 - we are almost done. only 26 more illustrations are needed to complete the Gen III Tribute. Please look at them, the 26 Pokemon are listed below and you are welcome to take 1-3 of them to get this Project finished.
3 - I wanted to del
Entry 15 was a little delayed, but I got there in the end. Much like Vibrava, Metang isn't really something that has use in the competitive scene but it
is
one of those middle-stage evolutions where its line actually starts to get good. Beldum can only learn Take Down as a move in Generation III and can learn a handful more via move tutors from Generation IV onwards, so raising one to a Metang gives it a lot more accessibility for move building and no more relying on recoil building techniques. Of course, you'd still want to evolve it into Metagross for its maximum potential...!
Anyway, one cool move that I like teaching to any compatible Pokémon is Brick Break. It's a reliable fighting type move that deals 70 base power out of its physical stat and has 100% accuracy, so while it's not quite as powerful as moves like Superpower and Close Combat, it makes up for it by having a secondary effect of shattering any barriers caused by Light Screen, Reflect and (from Generation V) Aurora Veil. It can be a setup killer if used at the right place at the right time!
As this also fit the last day of prompts for Inktober, I felt the best way to approach the shattered barrier would be to let it split down the middle and bring Metang top-down. But that also meant a rough time when it came to shading it, as I knew where the light source was going to be but wasn't too sure how to portray it! Luckily I still remembered the tricks I took on when dealing with other steel-type Pokémon, so once I figured out where the reflection of its surrounding area would be, it all started to come together. It's great to figure things out that way!
The Inktober variant was done as part of my
365 sketch challenge for 2018
over at my Tumblr.
And there we be - as of right now, there are 5 slots left to fill in. I doubt the project will be out at Christmas at all like the previous few, but they're always looking for people to take up those remaining slots nevertheless.
Check out some of my other contributions to the tribute right here: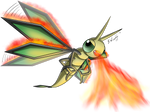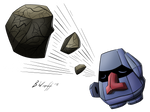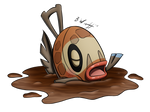 Pokémon
is a franchise put together by the folk at Nintendo. I drew this!