Do you like my artwork? I'm taking commissions starting at $3 - all details are right here! Alternatively, you can get commissions for cheaper if you
join my Patreon!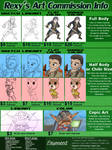 ---
I decided to take part in the
CandyCane-Lane
art based Secret Santa this year, thinking it'll be really cool to draw something nice for someone and equally get something nice from another participant. For my match, I was assigned
sJibbi
, who provided me a nice list of cute characters from video games and animations to work with - though one of them stuck out more than the others.
So the first thing you do when you play
Animal Crossing
is ride out on a train, taxi, bus or whatever and get asked a bunch of questions as to who you are, where you're going and setting the in-game time. In three of the four main games, it's Rover who asks these questions to you - a cat who loves travelling but never really stays in one place. You'd probably think he'd be forgotten about because of his frequent travels - especially by Jingle and Santa, thinking they'd only mail gifts for Toy Day (the game's take on the holidays, which falls on Christmas Eve) to those that have a permanent address and are easy to get at.
But to quote Fuller in
Home Alone 2:
"(Santa is) omnipresent - he goes everywhere!" - and so I thought of this scenario where after many years of travelling around, he *finally* gets a Toy Day present of his own.

I had fun drawing out the concepts for this one, and aimed for a very wholesome presentation. I wasn't expecting his overnight bag to take so long to shade and detail though, but I felt it was needed to show a) a sign of him having his own belongings somewhere, and b) cameo the other character requests as cute little plush toys. I aimed to go all out, and I feel really happy with how it all turned out!
So yeah, merry Christmas sJibbi! I never knew you before the Santa, but I can say you welcoming newcomers to DA is a very wholesome thing you're doing yourself. The best advice for 2019 is to just keep being nice and positive, and spreading that infections energy!

Animal Crossing
is a franchise owned by the guys at Nintendo. I drew the pic!
Image size
1536x2048px 1.26 MB