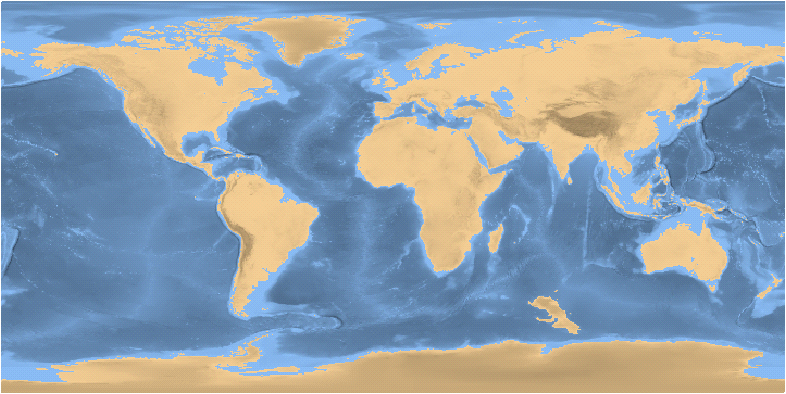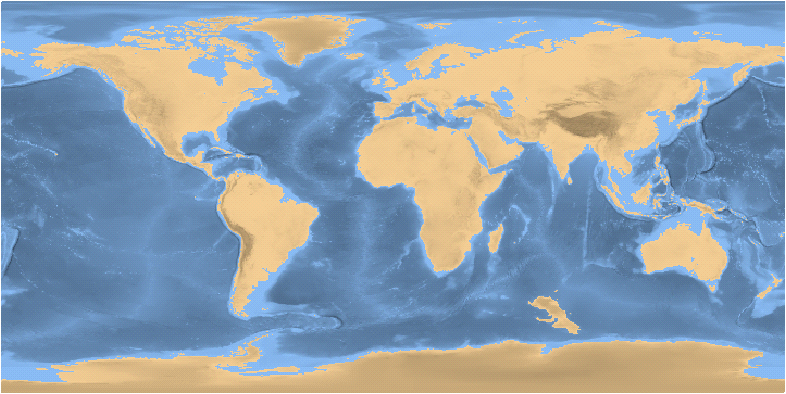 Originally posted to
[link]
on December 3rd, 2008.
Description as posted:
<<A New Atlantis - The Kerguelen Microcontinent
This is really more alternate geography than alternate history. What defines this as ASB is that the Kerguelen Plateau doesn't sink however many millions of years ago, yet there is no effect whatsoever on the world as we know it, just one more island waiting to be discovered.
This, however, is a serious undertaking. Mostly.
First is my map of Kerguelen. If i can do it, when i get to it, i'll lower the island a bit so that it's not one little continent, instead one very large island with several medium ones and low seas surrounding.>>

Which application did you put topographie in?
Reply

If I remember correctly, I took screenshots from the online version, used Photoshop color range select to cut Kerguelen out of the one I lowered the sea level in, and pasted it into the regular sea level map in Paint.
Reply

Never thought about it. Cold but even climate, heavy winds, heavy glaciation. When I figure using the same population density as Greenland, which I think would be low, 10,000. Same as Tierra del Fuego, 1,000,000. Same as South Island of New Zealand, 2,500,000. Counting the south as bitterly cold and and the north as pretty nice if windy, I'll go with around one million.
Reply

Interesting

While this is ASB and the following is speculative, how many people could Kerguelen realistically support if the microcontinent was developed along roughly similar lines to say New Zealand?
Reply

I put my response in the wrong spot. I guess around a million.
Reply

I see, thanks for replying.

Would human habitation be limited to the northern part with the south completely uninhabitable or is it possible for minor human settlements to appear in the south along the coasts? Also region-wise, what would the likely climate be on Kerguelen?









Reply

I'm thinking the south would be like Greenland, but with milder temperatures. I guess it would have a ice cap which would bring temps down, but free flowing ocean on all sides would keep temperatures more even. Most of it would be like Tierra del Fuego or OTL Kerguelen, wet, windy, and always chilly but not super cold. Looking at prevailing winds, the west coast will get the wind and rain, but the mountains will block all that and leave the east coast dry, probably to the point of being desert. Forests to the north and north-west, especially in wind-protected locations.
en.wikipedia.org/wiki/Magellan…
Reply

This would effect the world as we know it. It would make subtle change in the climate conditions.
Reply

Yes. Probably would interfere with the circumpolar current. If so, more rainfall in SW Australia at the least, with a possibility for radical climate change. But i only wanted an exotic locale for our world, hence invoking the Alien Space Bats to ameliorate any climate change.
Reply