56 Favourites
23 Comments
4K Views
Why llamas?
On April 1, 2010 deviantART introduced llama badges! What was originally thought to be an April Fools joke quickly became a mad success, and tons of deviants were scrambling around the site, giving llama badges out and hoping to get enough badges to make their llamas evolve into the kind of llama they wanted. That's right... deviantART's llamas can
evolve
! (More about that below.)
The
FreeAvatarProject
took the entire month of June 2010 to challenge it's watchers to create free llama avatars at
Free-dAvatars
! You can see them below.
Each of them is a FREE 50x50 avatar, under 15 kb, meeting dA's requirements for use. And they're all LLAMAS!
But before I get ahead of myself...
Wait... Llamas can evolve?
For those of you wondering, "What can dA llamas evolve into?" or "How can a llama evolve?" read the description of
eggy
's
Llama Badges
stamp to find out how your llama badge can change:
Any member of dA can give away llama badges for free! Here's a quick
Llama Badge Tutorial
by
Glittercandy
to help you get familiar with deviantART's llama badge system.
Nowadays, you can even accessorize your llamas with bow ties and sunglasses.
How can I get more llama badges?
There are lots of creative ways to get llama badges, but the most effective way is to give tons of them to other people.
One way to seek more people to give them to (people that will usually return the favor) is to find a few groups that specialize in this sort of thing. Luckily for you, I brought enough links for everyone...
I know this is all devastatingly exciting, but please read the rules in these groups before spamming them with "LLAMA 4 LLAMA" comments.
How did the llama Internet meme begin?
I don't know for certain. However, sources point to a
Flash animation with The Llama Song
that was originally uploaded 6 years ago this month in July 2004. (Consider yourself warned if you decide to listen to The Llama Song; it's kind of catchy.) This file made its way into Internet fame within a year's time, no doubt because people out here in cyberspace love llamas. And ducks.
FREE LLAMA AVATARS
As promised, here are the results of our June 2010 challenge! These avatars were all created to be used at deviantART for free.
Please

and follow an iconist's rules before using anything you see in this feature.



:thumb167338679:

:thumb160686804:


:thumb159928600:




:thumb160169459:
:thumb169528439:


LittleMissLlamaLover's Llama Army
Click on Acumenous-Ignorance's 40 Llama Avatar Pack to get the full effect.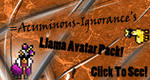 mocha-san's Albino Llamas


WDWParksGal (aka WDWParksGal-Stock) bred a whole herd of llamas!








SillyWereWolf's llama with emotes
RoseSagae's Llamas

Antrami's Twilight vampire llama and llamas in love


xelloss100's Llamas


Llamas by

QueenOfDorks
:thumb160283366::thumb160281411:
kiddomerriweather's Super Llama and Super Albino Llama


Twoohten llama-obsessed emotes
(This guy actually lures llamas with affection, captures them, and puts them in tiny jars.)



a purely evil plot
MixedMilkChOcOlate's llama and llama king

Winners for one of the June 18 Chat Challenges

First Place: tailcat - won 20 points

Second Place: nataseskek - won 10 points

Third Place: WDWParksGal - won 5 points



Thanks to everyone that participated in our llama challenge and to all who make avatars for people to use for free!! We appreciate your time and talent.
If you'd like to participate in our future challenges, please watch our journal and keep and eye on
our monthly challenge folder
.
If you'd like to help decide our next challenge theme, please
vote here
.


Gallery Poilcies
Membership Requirements
(Non-members may participate in monthly challenges.)
Avatar Requests