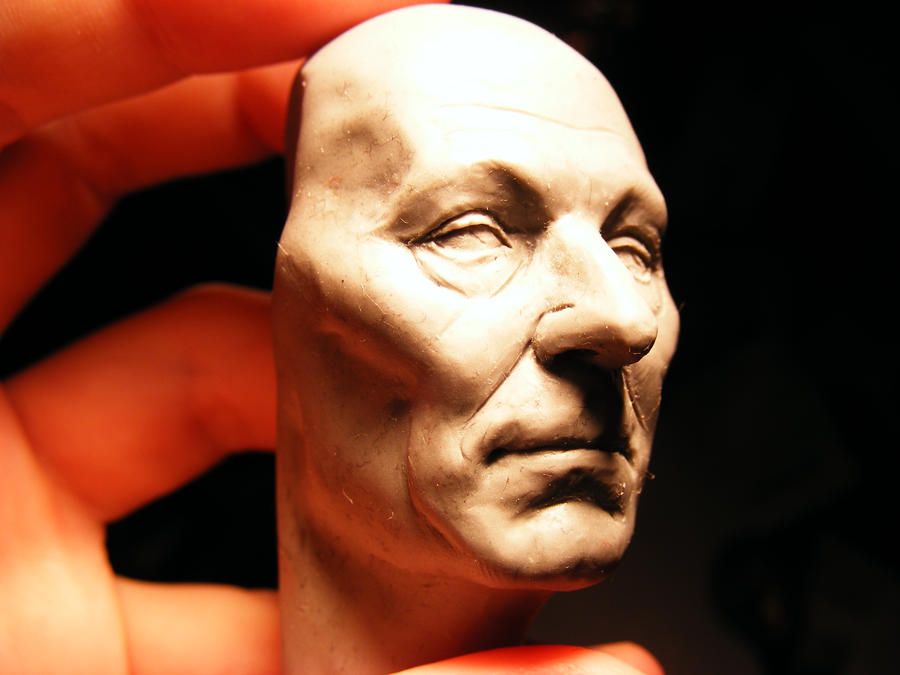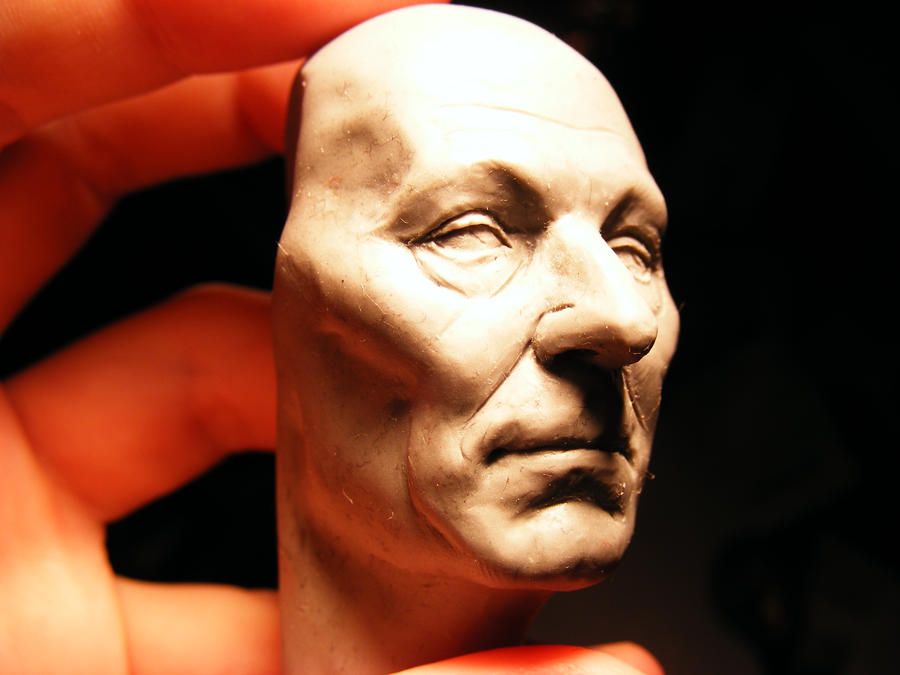 Watch
Stripped the sculpt back to the basics of the likeness. Got rid of the hair and ears because they were becoming a distraction.
This sculpt was originally a rather poorly sculpted Hartnell that I hacked out ages ago and left in a drawer to gather dust.
I have since "improved" and what had already been done with the hair and ears was just too bulky and thick to be Hartnell, so starting from scratch really.
A very tricky likeness, but I'm liking it so far.

That's a great likeness of ol' Hartnell

Looks like the CO one made larger.
Love the detail around the eyelids.
Reply

Why thank you, seriously gotten into Hartnell's era lately, one I rather badly wrote off, not him or his companions, just the production values, but now. having seen An Unearthly Child, The Daleks, Edge of Destruction and The Sensorites, and bits and pieces of other stories, I'm totally sold on the period again.

I though with this sculpt I'd try and get the whimsy of his character, the darker, grumpier side seems to get a lot of attention so I thought this would be a nice change.
Thanks awfully, really liking where this is going actually
Reply

Ah right, glad to hear you're into it. I feel a project flies better when you have faith and love in the item.
Great how it works.

Yeah, every fan sculpt has a neutral to grumpy face, what I love about yours is the fact he's got a cheeky look to him. Even though not painted, his eyes 'sparkle'

I look forward to seeing it progress.
Reply

Well I always loved Hartnell, Chestertan, Barbara and Susan, but never gave the era much time, for me it felt like it really came into it's own with Troughton, but I just can not get over how sharp and stylish Unearthly Child is, it's remarkably directed.

Indeed, I mean, obviously, Hartnell was grumpy a lot, but he was also extremely impish and jolly, those moments are always such fun to see and I think he almost gets wrongly labelled as the grumpy old man, which he wasn't. He's an alien, just like Matt Smith, there's a lot of dialogue he says that Smith could sooo easily say
Reply

I always loved Troughton. From the first time I saw him in Tomb.
But An Unearthly Child is brilliant. It's very 60s, yet timeless.

Yeah, he was annoyed a fair bit but his moments of child-like joy were wonderful!
Sad he gets palmed off as a grumpy fellow, but yeah... Fans are weird when generalising an entire era.

That's true... I can here him saying half the lines...
Matt has so many characteristics of the older Docs I get sad when people call him crap because he's not Tennant.
Reply

Troughton is stupendous, no question. All his stories are magical, well, most, some have a few iffy moments when it gets a bit too silly, like when the Doctor, Jamie and Zoe almost get sucked out of the TARDIS because Salamander forgets to shut the TARDIS doors. Makes me cringe just thinking about it.
I adore Unearthly Child, Hartnell is extraordinary, he's just so impossible to get a hold of. Just so happy that the director, William Russell and Carole Ann-Ford are still with us

I always found his moments with Susan very touching, like, obviously their goodbye scene, it still stands up and still works 50 years later
I loathe how some "fans" write off Colin's or Sylv's time, or even NuWho for goodness sake.

I like how after half a century it's almost come full circle
I see flashes of Davison in Smith, bits of McCoy and hints of Troughton with the fire of Colin too.
What REALLY pisses me off are "fans", who after four or so years of Smith are still missing Tennant. People who are only watching the show for him and him only. I seriously hate that kind of shallow, hollow fandom
Reply

But every story has a few bad bits, however, that's silly but VERY crap Sci Fi which is part of the charm.
I had the pleasure of seeing Carole Ann Ford once, will I din't get to speak to her, but she's just as lovely as ever.

The lines Hartnell says before hand are timeless, they stood up beautifully in The Five Doctors. Even now they are still just as moving.
You can't be a fan of the show if you hate an entire Doctor's run.
Yeah, I have a few stories I ain't fond of but I don't hate the Doctor.
McCoy is one of my favourites Doctor's because of the Doctor.

It's really wonderful. I mean Matt is like the best bits of every Doctor ever mixed up in a skinny man in Tweed.
I suppose it's the while Davison following Baker thing.
Loads disliked Davison as he followed a Doctor everyone loved.

That said Tennant started to grind my gears by saying sorry a lot. REALLY liked his last stories though... Not the visiting of everyone he ever spoke to however.

They often turned out to be fan girls who obsess over Tennant.
I genuinely had an argument with someone via Facebook who said she was a massive Dr Who fan.

Ah well. Trials of being an obsessive fanboy.
Reply

Well it's funny if you think about it, in America they don't understand why the show, as it is, is perhaps a little childish, or happy. They don't have any examples of a show like Doctor Who which is and always has been primarily a family/kid's show. All they have is Star Trek, Stargate, stuff like that, all which were rooted firmly in the "Nerd" category, Who never was that, during the 70s, obviously, it could not BE more mainstream, it was only during the...15 years or so during the 90s and early 00s when it was off air that it got it's nerdy rep. I'm going to write my dissertation on that period in the show's history, so I'm starting to know my stuff lol
Watching the goodbye scene in Dalek Invasion Earth, I'm struck by how hideously beautiful Susan is, just gorgeous...I'm able to fawn over her as my flash of a relationship has come to a tepid end, so I feel better lol

I'm just struck by how emotional he obviously is when saying goodbye to Susan, at a loss, the way he doesn't complete sentences and such, really touching
Absolutely, it's all or nothing. Steven Moffat was asked which Doctor was best, he said something like "Why have one when you can have eleven", that's my view.

I adore Matt, he's my favourite Doctor now, I mean Davison will always be MY Doctor, but Matt is just on the money imo.

I like Tennant a lot, as a person and Doctor, his final stories were jolly good, the Timelord Victorious got me on the edge of my seat thinking "yes...yes...YES!" at how such an amazing u-turn in terms of character had happened, then it was all ruined in the opening seconds of the End of Time with a stupid comedy routine with a TARDIS carlock joke. Nearly threw up.

It's so hard to argue with those people because they just don't get it or understand the show. It is NOT about Rose or 10, it's about the Doctor, whoever he may be. Tennant once said how he'll be forgotten one day, and that is how it should be, not forgotten in a....never seen again, overlooked etc sort of way, but forgotten in the heat of the moment, moving forward and enjoying the show in the moment, instead of being held back by fond memories. That's the way it should be.

Speaking of Trials, I love Trials of a Timelord...really very good, Mindwarp is just cripplingly eerie
Reply
(1 Reply)