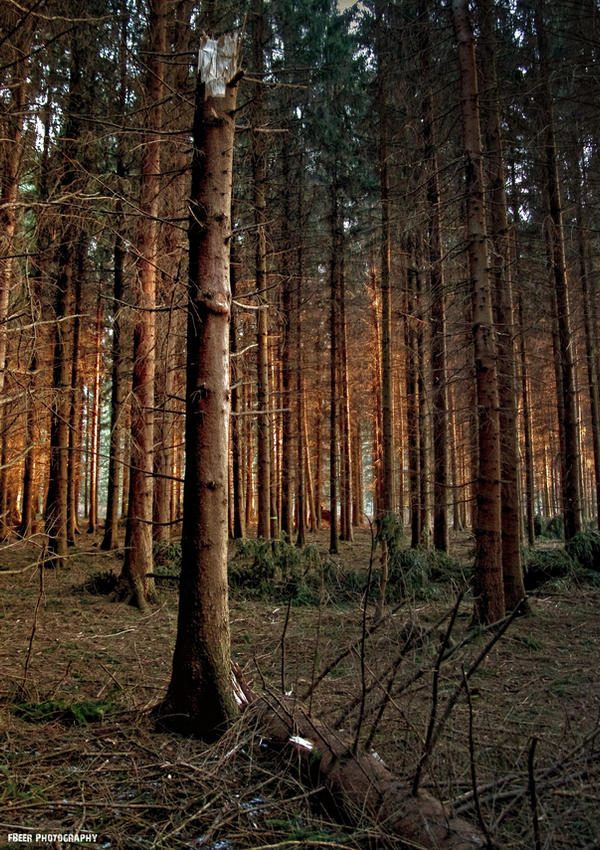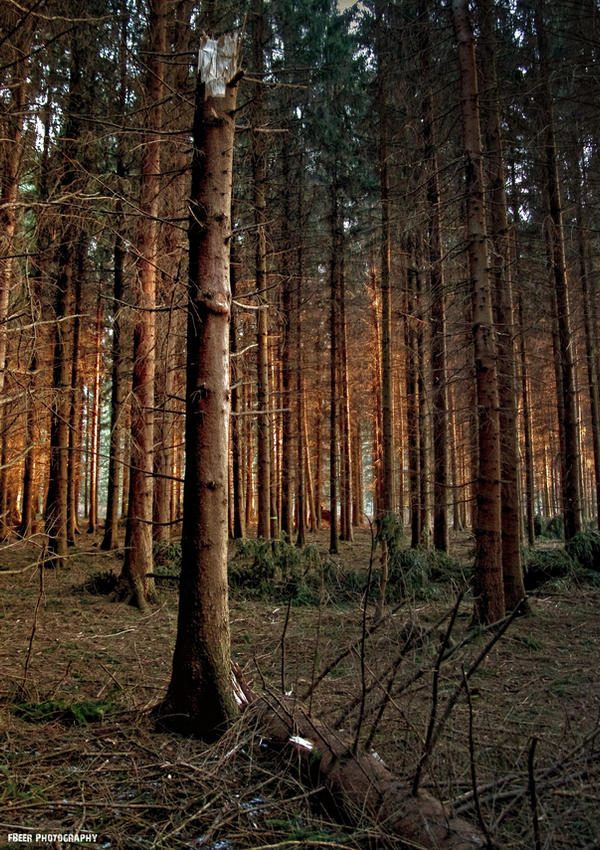 Watch

A shot recently taken deep in the local forests on sundew, the sun was shining from the right side into the forest givin the trees this orange burning look.



Copyright © 2009-2013 by Frank Beer. - All rights reserved.
This work may NOT be used, reproduced, copied, edited, duplicated, printed, or uploaded in any way without my written permission.
The first thing the viewer notices is the closest element in a picture, if it is anywhere near the center. In this case it is the tree at center left. The eye is then drawn into the distance where it encounters the theme you have proposed, a forest that seems on fire due to the light coming from the side. So far, so good, but as we now open our gaze to the entire picture, we are abruptly pulled back to the closest tree for what might seem a trivial reason, the white patch at the top caused by the recent breaking off of a large segment of the tree which is now seen to be lying at the base of the tree and of your photograph. So what? Why even bother with such a petty detail? And it is petty. Even a tiny detail such as this can make or break a picture. You are right in thinking the light shining on some trees and not on others is worth a picture. It is worth the viewer's interest. And it will capture his interest until the white flash tears him away from what you want him to look at and that quickly you have lost him. The odds that this exact circumstance will arise again are almost zero. The odds that something like this will occur again while you are planning a photograph (and it is obvious that you do plan, unlike many these days) is close to 100%. Just be aware of the little things. What could you have done here, if you had noticed that the closest tree was broken? You could have turned slightly and just moved it out of frame. That is easy in a forest. You could have walked one meter to the right. You could have moved forward. Perhaps you wanted this particular tree in the shot because you liked the way the broken trunk looked. Fine, but then you were shooting the wrong theme.
As far as the rest of the picture goes, everything is fine. Nice color, nice range of tree trunks and branches, not mix of earth and trees. The fallen tree in the center adds some nice green. One small detail is all that lies between a good picture and an excellent picture.
The Artist thought this was FAIR
2 out of 2 deviants thought this was fair.