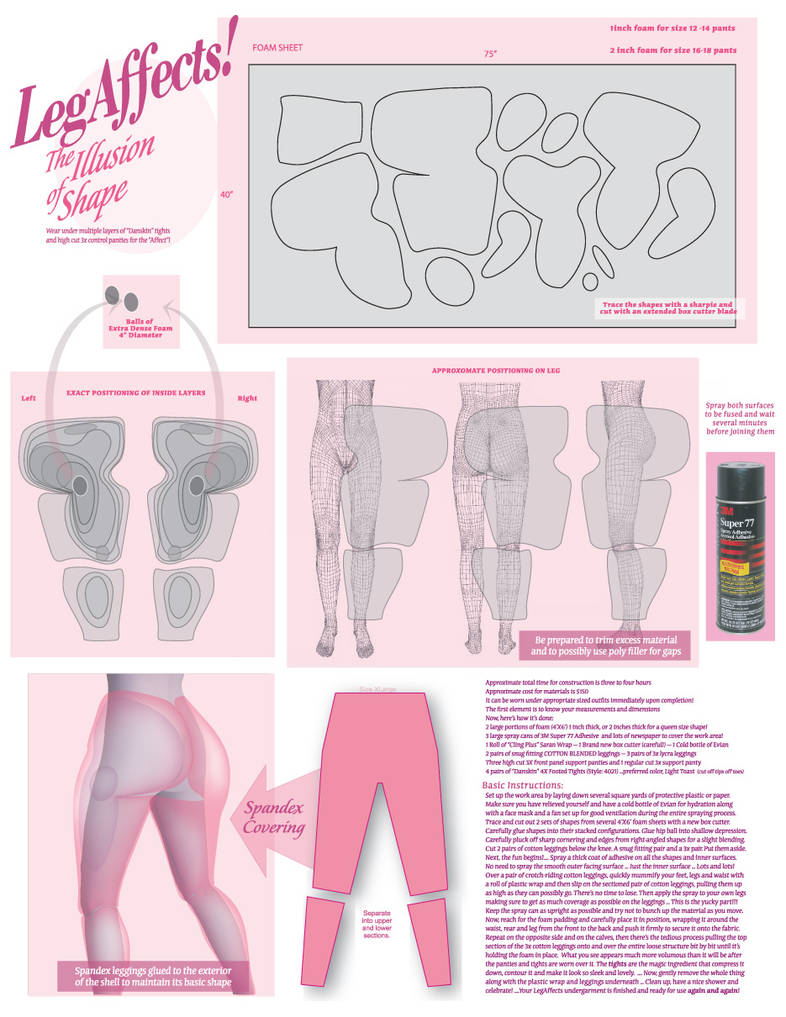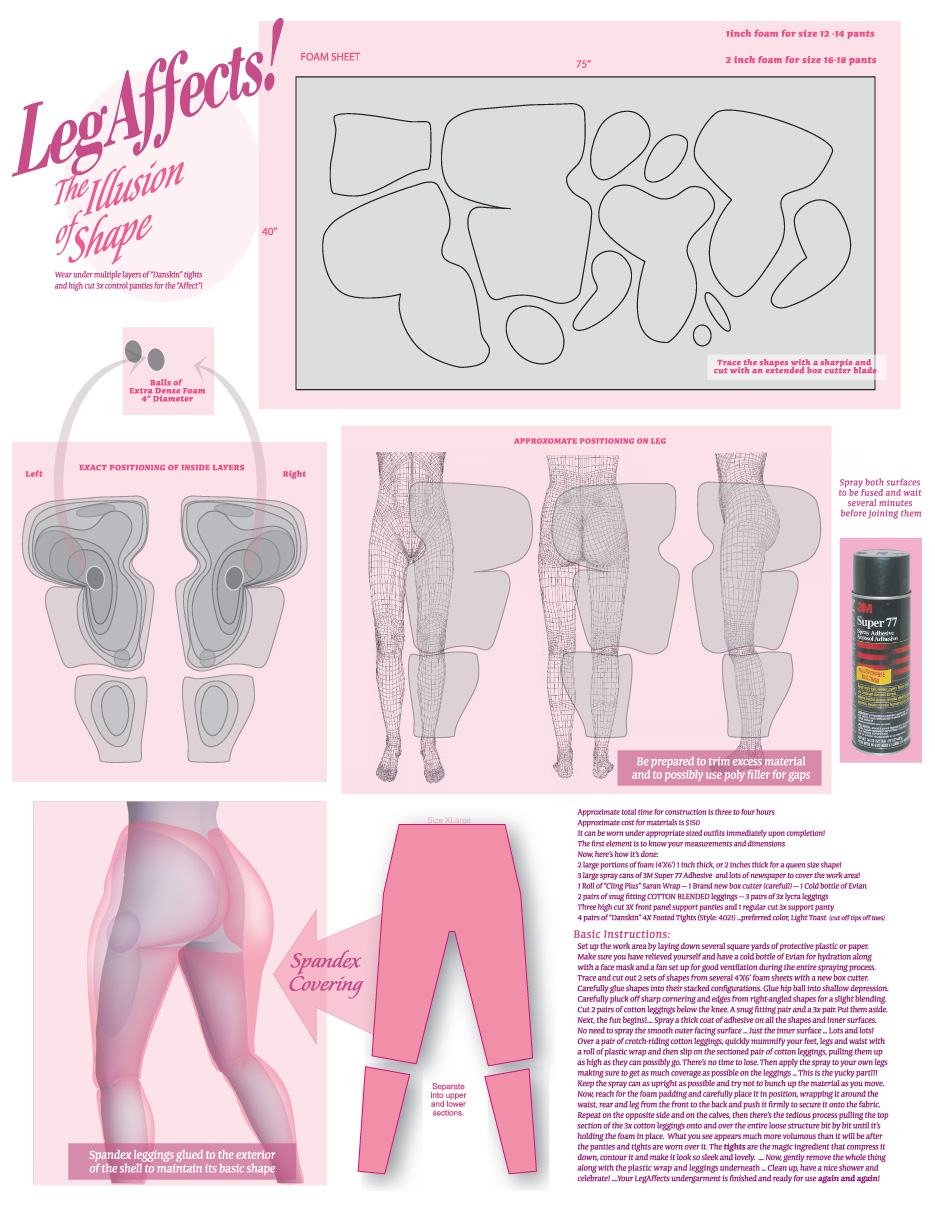 www.techdollogic.com/legs.zip
and support my 100% free and ad free content
www.techdollogic.com
11/26/17 I revamped the file set to v3.0 the file set is now 100% free of any of the old ads web content that's not needed and its better than ever! please start at the Read this first when you download this!
v1 Just as it was all ads all errors and to much garbage files from a "free" web builder , RIP v1
v2 Cleaned up some of the main code cause it almost didn't work , RIP v2
v3 Current Very squeeky clean code perfect for everyone! and all SFW too. but i would still DL it at home, lol!
To DL the new version just hit the link!
www.techdollogic.com/legs.zip
This is a clean
www.techdollogic.com/legs.zip
to patterns to make your self look more feminine by padding your legs and hips to your liking.
The method is easy and the result are excellent when done right.
Useful to Cosplayers, Crossplayers, Costume Designers, Fur Suiters, Drag Queens ,Gender Benders ,and Halloween Freaks and Many More that are interested in having a different shape ,which will make it look as thou you have large Hips even if you dont!
The original website 2007 for this went down many years ago and was lost, I saved the site as a whole. I put all the needed materials in a zip, cleaned it up and uploaded it to my own server that I run.
www.techdollogic.com
You can safely download this, so you can make your own set!
Link to Zip file Below
www.techdollogic.com/legs.zip
www.techdollogic.com
IS AD FREE and financed by me. PLEASE DONATE to keep these files and my similar projects alive.
My web service cost about $200 a year. It needs your help to stay afloat even a one time $5 to $15 donation helps. All proceeds keep the site up and running. I dont get many donations and o most years 75% of the cost is out of pocket.
This has always been meant for Free distribution! It is Offered that way here also but please conciser visiting my main site and donating a small amount to help me host it.
MarilynBardot

has written you a FAQ and Tips section as posted below because I (Franchii) is a big girl and have not personally made myself a set but M.B. has. M.B.'s are both very fine sets and represents very much, the right way to make them ,so please read the whole FAQ and tips before asking questions.
This will save you and I alot of time and much effort has gone into the FAQ and Tips. But If your inquiry is not listed and wish to direct Questions to either myself or M.B. we will be glad to try and answer your questions.

Now on to their second set I got some great updates by
MarilynBardot
:iconmarilynbardot so please read this before attempting to make your own set.
It will help you do it right the first time i know it seems wordy but trust that doing it right is worth the read and you can skip much of what is in the comment section since I moved it all to here.
so without further a due:


UPDATE. I have decided to make two new garments as the other two are six months old, but the main reason is that I am going to upscale them 15% so that they cover my knees and go higher up my torso. I am a bit mystified that the diagrams look absolutely perfect when seen on a PDF viewer but when they are printed out there are margins mainly at the top and bottom of each page so now:

LATEST UPDATE! Have finished constructing my latest half thickness foam (1.25cm or half inch) LegAffects with the upscaled diagrams. I made them almost 20% larger and the results are superb! The main garment padding now covers the knees nicely as it is supposed to, rises above the Iliac Crest (top pelvis bone) and wraps around my legs almost completely. So much better!!! I have just updated my Deviant ID with an example. I believe I now have a garment that is the size and shape that is intended. As such, I would urgently advise everyone who decides to make the LegAffects padding strategy to upscale them 20% (as I am quite slim!). For example the largest pad, "1", is around 60cm (23.5 inches) at its tallest. I would make it at about 72 cm (a bit over 28 inches) tall. All you do is print out the original diagrams and draw a bigger line around each one. Then cut out your new bigger ones. Its really easy and the result is very satisfying.
FAQ and Tips
Here are a few tips that I have found invaluable in making both my sets of the LegAffects garments. First of all, I fabricated a set with the full 2.5cm or 1 inch foam but I found it impossible to bend around my body to attach it to the leggings - more on that later... So then, from the experience of Sillytwitch, I decided to make a set from half that thickness which was much easier but still made several mistakes. Eventually, I managed to fabricate the full thickness garment after some time. However, due to errors in some of my strategies, I've had to re-glue both garments, and in fact, only finally did the full thickness one yesterday...
First of all, I think that both of these look incredible. I actually managed to track down Quarrla, the creator of the LegAffects concept, who has given me some valuable tips as well as lots of encouragement. The results of my efforts are on my Flickr page, many for public viewing, however, I have been compelled by Flickr to re-classify a fair few as moderate so you now need to have a Yahoo/Flickr account to view these ones unfortunately.
If I was you and interested in this, I would start off making the half thickness one. You will look sensational with gorgeous hips and curves, it is much more user friendly and you have more clothing options due to its relatively smaller size. Then, once you get into it and feel comfortable with it all, I would make the full size one to get that really spectacular gynoid body!!! I love them both!
I will say that it helps if you're relatively slim, but by no means prohibitive. A strategy that an inherently curvier person could use is to upscale the patterns a bit. Two other LegAffects wearers in Flickr who are on my favorites page, are somewhat more generously proportioned that me and they look stunning!
The main difficulty for me was wrapping the foam padding around my body. For the first time with both thicknesses I used rope to bind it around my torso and legs. This is a mistake for a couple of reasons. The first is that you won't really get the crucial hip ball and padding aligned properly on the leggings. Second, because you are compressing the foam with the rope, you will actually make the garment shorter than it should be and will be semi kinked in the middle so is a bit misshaped. It is actually quite amazing how the sticky the glue is as long as you have sprayed both the foam and the leggings generously.
When you have up to 15cm (6 inches) of foam it is really hard to bend!!! The secret is to get the foam used to being curved, so what I did with both sets of padding was to use the rope to bind it around my body so then pulled up a pair of leggings (non glued) encasing it and removing the rope and then left them in the wardrobe for a few weeks or so. Following this you will find them partially precurved and much easier to wrap around your body. Prior to application to the leggings you may have to re-glue parts of some of the layers back onto each other but that's easy. Then use lots of the spray glue during application.
My second error was to use nylon blended leggings to glue the garment onto. Quarrla clearly says cotton blend in the instructions which I failed to notice!! Consequently, the padding didn't stay stuck to the leggings for very long I'm afraid!!! Have now rectified that and no problems at all.
The next tip is when you are gluing them onto your leggings, don't panic!!! As long as you are calm and methodical you will do a perfect job! I had been putting off re-doing the large padding garment for weeks but finally bit the bullet yesterday and was amazed at how easy it was and well it went!!!
Just remember to carefully align the crucial hip ball against your hip and that the top of the padding should be a bit above the Iliac Fossa (upper hip bone). Special care to ensure the wrap around padding around the rear of the thighs covers the hip sock and wraps around the thigh from just below the buttock to the back of the knee. Make sure both sides are even with each other. Don't try to wrap it around your whole body and or legs. Unless you're really tiny or Superman its impossible. The LegAffects is designed to have the gaps in the abdomen, inner thighs and between the buttocks so when the compression regime is applied the compressed padding has somewhere to go.
WEARING AND PUTTING ON.
Its important when donning that you pull it up as high as it can go!! Ideally, above the Iliac Fossa. Don't worry. With the compression garments it will shrink a little bit. Next, make sure that the calf pads are hard up against the bottom of the main garment otherwise you'll get an ungainly gap! See my earlier pics on Flickr... You may have to do what I've had to and cover your knee with the calf pad (and I'm only 178cm or 5 foot 10 inches tall). Use the mandated "High Cut" compression panties, not the normal regular one. This makes a huge difference and allows a much more uniform curve for upper hip to knee. The next issue is the gaps in the garment, something that Quarrla has addressed in his instructions. He has recommended using Polyfil, but I'm nowhere near as capable (he's a sculptor) or as confident to do so as you could ruin the garment or make it worse! What I have recently been doing is simply using stuffing from a pillow to fill in the upper thigh, groin and abdominal gaps, but have now fashioned some "L" shaped mini foam pads out of the foam that I had left which eradicates the inner and upper thigh gaps, and use much less stuffing for the remainder. One of the penalties you pay for the compression is the loss of your big bum!!! So at the moment I'm using some 2.5cm thick oval shape foam butt pads I fashioned but intend to get some silicone ones soon...
Its all a bit of trial and error and takes time to get it perfect. It took Quarrla 10 years, mainly due to his exacting standards. See his superb results on the "Femillusion by Padding" videos on Youtube. It has taken me about 2 and a 1/2 months and I still don't get it right all the time...
All in all, though, its been a thoroughly wonderful experience for me both creatively and intellectually as well as fantastic fun so I commend it to anyone who may be interested.
UPDATE.
One thing that I have had to do to ensure that my knees look fairly normal is to pull the calf pads up over my knees so there's no unsightly gap between them and the lower main garment. This is because the main garment for me is at least 2 or 3 cm above my knees. I hasten to add that I am of average height (178cmm or 5'10"). As such, due to this compromise, the bottom of my calf pads are inevitably halfway up my lower legs!!
You can clearly see from Quarrla's videos here:
www.tudou.com/programs/view/B4…
and here:
www.youtube.com/watch?v=rA36pX…
that his padding covers the front of his knees quite easily so I did some investigation! First thing I thought was perhaps the templates provided by Franchii-Manchii were too small. Then I looked at whether my printer was not printing them properly so printed them without the margins. There was no difference between the two so that wasn't it. Then I noticed something on one of the pages where Quarrla says that you may need to enlarge pad "1" which is the biggest and main pad, and/or pad "A", which is the main calf pad to fit.
I wasn't going to pull apart my whole garments after all my hard work, so what I have done is made new calf pads for both the full 2.5cm (1") and 1.25cm (1/2") thick foam garments that are a substantial 10cm (4") longer but not wider (unnecessary) than the templates and placed the inner pads further down the "A" pads to maintain the leg shape and correct proportions. I also didn't wrap them around the leggings as tightly as the previous pairs to allow them space for compression. Success!! Padding is more uniform and longer down my lower legs and thicker matching the magnificent curves of the upper garment. Will post latest pics on Flickr shortly.
The obvious question I want to ask Quarrla is how tall is he, but we haven't been in contact for a while lately so that will have to wait...
Until then, if I was fashioning a new set, I would consider making pad "1" at least 5 cm longer and maybe higher as well. In fact, maybe just upscale that whole pad say 10% when you print it out. That will give you more allowance for upper body, knee coverage, and maybe make it easier to wrap around and attach to the leggings when you glue it together. I would then also extend the "A" calf pads, but only 5cm or so.
Good luck, and I remain available for free consultation if you have any questions...
If you are making the half thickness (1.25cm, or half inch) foam garment, you should use only one rolled up sock each side for the crucial hip socket otherwise the natural curves will be grotesquely overwhelmed by this pointy lump sticking out the sides! I do think, though, that the hip socks are very important as they really help mold the foam out to give you those magnificent curves!!!

I haven't commented here for ages, but I have to say that finally, I believe that I have been able to replicate the incredible presentations of Quarrla with my LegAffects garments, or near enough... It has taken almost 2 years and 5 tries at it, and not without some missteps along the way!!! I am so grateful to Franchii-Manchii for saving this creation,
and greatly improving its accessability through his revisions. You are my hero, Franchii and I'd love to see a very BBW fursuited Franchii, one day!!!
I know that I go on and on about it, but, particularly with the correct soft, low density foam, and upscaled to the correct size (never able to work out what happened there... must have been from the original many years ago as Franchii didn't do it...), this figure, and these legs look so realistic and yes, sexy, and in black hosiery, are just dynamite. It is quite miraculous how with a bit of compression (tights), one can transform a big blobby pair of foam layered pants and calves into the legs of a goddess!!!
I get so many kind and glowing comments on Flickr and Dollspride about my photos wearing the LegAffects, and have even had a marriage proposal!!! I always steer the commentators here, and also to Quarrla's Youtube videos, which, like with me, blows their socks off!!!

Although he has gone on to other things in his life, I'm sure Quarrla, the creator of this concept, looks in on us every now and then, and I hope that he may finally feel that all his toil and creative cleverness has been worth it, and his vision, vindicated. It is an amazing piece of work and I love it!!!!
Marilyn Bardot

Reply

I wish i had time to make a set even with my legs being what they are for certain costumes.

Thanks once again for helping think my efforts to keep my web services running are worth while.
Reply

Something I never thought I would find myself wearing, LOL a dress. It's a Poison Ivy-themed formal dress, got it on clearance sale from the Hot Topic clothing store website. Plus size Poison Ivy costumes are seldom seen due to her leafy exotic half-nude appear

ance, so I took a shot at this dress since it was on sale for $35. It's a Juniors' 2XL and fits snug, I originally planned to get it in 3XL but it sold out by time I got it. I guess is suppose to fit tight since it's labeled Juniors', and Junior size would only mean it has a snugger form-fitting fit? Excuse me as I'm not good with ladies' clothing sizes since I don't wear women clothes regularly. And plus size version was still way too expensive even on clearance, but I might give it a shot one day too. Plus version comes in number size and I'm guessing mine would be about 18 or either 20. Love this dress, and it's floral print detailed at the hem! Need some long green elbow-length gloves and might get some green boots or pumps to match too. As you can see, it's literally dragging the floor (since I'm not tall). I had the corset and bra (no rice pads) on in the pics.


Reply

Its a lovely dress, SSW. Very nice good quality material by the look of it. Just keep your eyes open for specials. Many stores will have clearances, particularly with the change of season. I picked up a sweet little mini-skirt for $3 AUD, about $2.30 in your money, the other day. A bargain. Of course with the impending completion of your LegAffects garment, you will need bigger clothing and I would suggest that you try and get some made out of stretchy material. That way, they will cling beautifully to your glorious new curves!!! You can get over elbow satin gloves through Aliexpress and probably Ebay for under $2 USD a pair. I've just ordered 3 pairs!
Reply

I've got some gloves for this dress from EBay over the weekend and just received them this morning right exactly on my B-Day (29 years young today). They're beautiful and heavy duty but I don't think the green color tone match the dress though, do you think this is ok? Good news that the gloves match the dress's floral design yarn around the neckline/cleavage area. I originally wanted my gloves and boots match the same exact green color tone is my dress, like the traditional Poison Ivy or either the Poison Ivy from Batman: The Animated Series (my favorite 90's childhood cartoon), where her leotard, gloves, and boots were all the same color tone. I did googled up the Poison Ivy character for pictures and seen some images where her gloves/arm warmers didn't match her costume, this included the comic version, cartoons, various cosplayers, and the Uma Thurman "Batman & Robin" movie version. Green over the knee high heel boots are a little difficult to find due to being a male and having to go a few sizes up, looked all over EBay. Do you think black boots would do?
Reply

Happy birthday. 29 years... You are still a youngster and all the best for you SSW!!!
I think that the gloves match OK. Have you tried them on yet? I have just ordered 3 over the elbow pairs from China but generally, these are made for petitie Asian girls so may not be big enough for some men... I'm sure black boots would go nicely with the green, but Franchii-manchii is much more of an expert in these matters that me!!!
Reply

Now I'm stressing about the makeup part and what to wear and how to put it on, I've been watching drag makeup tutorial videos on YouTube lately but seems like lots of hard work. I mean don't get me wrong, LOL drags are so sexy I almost forget they were born guys but the makeup seems overwhelming with lots of steps and products to be used, and then you have to apply your false eyelashes, which looks to be the most difficult in the bunch. I've used makeup before (but only eyeliner and lipstick for Michael Jackson cosplay) but never used it for a M to F transformation, in reality to this day I actually still don't know how to fully use makeup. First of all, I do know I need a good razor and shave really good. I do understand that drags have to wear makeup to blend in with their face shape just as regular ladies, since I have a larger rounder face I need makeup to blend in with it. If I get into crossplaying I would also need the makeup to match the costume too. I know I will make one hot gorgeous girl since I'm already a good-looking guy, LOL it works for RuPaul and he's not a best looking guy but he still makes a sexy drag. Just need some good cheap contouring makeups and eye shadows/mascaras that fit my budget that would complete my transformation and almost make me look unrecognizable, hopefully Walmart would have some things.
Reply

Good to hear from you SSW. I am terrible with makeup, and to be honest, I am not remotely pretty without the mask, no matter how much I put on, so I can't help you there. What I can suggest is that take things one step at a time with it. So, just do the basics, initially, and as you get more experienced, you can expand on that. For example, maybe just foundation, eyeshadow, eyeliner, mascara, blush and lipstick for starters. Leave the false eyelashes, and contouring for when you are more comfortable. Rome wasn't built in a day... How is your LegAffects garment going? Incidentally, I have just received confirmation that my Crea FX Taylor mask with makeup will be arriving next week. Stunningly gorgeous! Have a look on their website... creafx.com
Reply

I've looked on their site, I couldn't afford those masks on my salary, in fact they would take up my whole entire paycheck. Oh wow! I didn't know this is why you used a mask, I thought you used it because it was easier and faster. My LegAffects garment is going about the same, however, I've been thinking about the all great exciting things I can wear with drag so much I almost forgot about the garment itself, it's why it's taken me so long. Maybe I do need to slow and relax down and stop letting myself get overwhelmed and take one step at a time, starting with the garment and then the clothes, costumes, and makeup. But I have noticed from the tutorials that you could use Elmer's glue sticks to hold down your real manly eyebrows and cover them with layers of foundation and then draw the feminine lady eyebrows over them with eye makeup. These may be lots of tasks and products to use but I know it'll pay off and I'll look good. Don't mean to brag, but I may not need a mask, I just need to learn some good makeup techniques. I will try to find some things next time I go to Walmart and maybe practice it. I'm guessing the foundation, contouring, and blush probably will shrink my beefy football player-like head and face and make it more feminine, right?
Reply

Well, I'm a fair bit older than you plus the idea of the mask is complete femillusion transformation. These Crea Fx Taylors are drop dead gorgeous as well. I think that slowing down and doing things one step at a time is a very good idea. So often in life, if we have too many things happening at once, we get paralysed by it all and accomplish nothing, me included!
I found something that may interest you... Dance tights
www.discountdance.com/dancewea…
Their prices seem very good and you can get them in XLA (extral large adult) which is what we need with our padding... I can't help with with your manly eyebrows and features I'm afraid, but there is some incredible makeup techniques out there. Practice is very good. Because the eyeholes in this new mask are bigger than my current one, I need to become more adept with false eyelashes!!! Its a fact of life that most men have bigger, more rugged heads than women, but as you've probably noted, so many drag queens look absolutely amazing, but they are highly skilled with makeup. There are many lessons on Youtube, but I would finish your LegAffects project first if I was you, as it is almost done...
Reply
(3 Replies)

Sizing can be tricky if you dont know the term or they dont provide them.
As US standard for all below, China or other countries will be very very different.
Often times clothes at certain stores or brands tend to run small or large accordingly.
I'm only gonna cover the 3 different junior xxl ,miss xxl and plus 2xl
XXL in Juniors sometimes called teen
AKA Size 17 the sizes run ODD numbers when by size
Bust 41 1/2
waist 35
hips 45
XXL in womens sometimes called miss
Sizes 20 The sizes run EVEN numbers when by size
Bust 45 1/2
Waist 36 1/2
Hips 47 1/2
2x or 2xl in Plus rather than piling X's on to the L this indicates yet another size
18W these numbers run EVEN with a W on the rear indicating Plus
Bust 46
Waist 39
Hips 50
there is also petites ,tall which we wont list at all , Bra sizes are listed differently and often panties will follow the chart above many companies have their own standard and do not follow the rules and older clothes like 1970 and 1990 followed very different standards just to mess with us all even further.
www.liveabout.com/us-womens-ap…
<---this link has alot to do with sizes and shows you the range of what is what ,remember you can usually return clothes that are poorly made or dont fit you well. Clothes are not a one size fits all sort of thing they never have been. If you are going to buy online its best to have a reasonable understanding of the different female sizes and know your measurement.
I have this chart for downloading which can help you write down the measurements of you. If i am to commission a person clothes cosplay or fursuit, of any type i require this form filled out not everything on here pertains to only female size but you should fill one out for yourself and redo it each year to make sure you are not gaining or losing size and buying the wrong clothes. this should be measured with a soft cloth tape measure.
I know that was alot to take in but hopefully it helps you make other fitting purchases in the future without the hassle of returns or ownership of things that dont fit.
Reply

LATEST UPDATE!
See below news flash. I have finished making my new full thickness foam (25mm or 1 inch) LegAffects garment using the correct low density foam. As per my protocol, I upscaled the patterns 20-25% to allow for the loss of size due to the printing of the diagrams. The results have been phenomenal!!! See the pictures of the process and results in my gallery. After 16 months and 5 garments, I have now reached a stage where they are almost a perfect match of Quarrla's (the creator of LegAffects) own presentations. This is a great concept and the ulitmate iteration of Femillusion padding in my opinion. A superb BBW figure. It has been thoroughly worth the journey, and I remain willing to assist anyone else who wishes to undertake this project. Great fun, too...
As always, I thank Franchii-manchii for his wonderful stewardship of this LegAffects creation for what must be over 7 years by now.
Reply

Sounds great and what you are doing over there on your own art page is looking good.
People go check their pages/art out! They will help you make your own!
Reply

Thanks very much, Franchii. I'm really pleased that I decided to do the photos of the process now, as I was initially a bit undecided. Like you, though, I am also a fan of great work and would really love to see others have a go at this and see their efforts. Sweet Sexy Wafer is pretty close to finishing his garment... Marilyn
Reply

Feedback and commonality are always nice, mabey we can encourage others to post as well.
Reply

Perhaps seeing a full how to and results example like I have done here, and of course, Sillytwitch's earlier example, may rekindle some interest. I'm already getting quite a few comments and enquiries on Flickr in relation to it.
Reply

Sound good "the revolution will not be televised" it will be right here, right now!
Reply

However, with only about 6 people a day viewing this page, it may be incremental and a slow burner, unfortunately!!!
Reply

Its always slow at first plus in a year thats over 1000 views if the stream stayed steady. Enough interest and the way it comes up in search will change and boom you could reach a few thousands of people.
Stats for my leg effects sit like this currently and is right now the most popular thing i host on here. from 2011
Reply
(2 Replies)

NEWS FLASH!!!!! I have been bewildered and frustrated as to why my full thickness foam LegAffects has been so much hard work, both in the making of the garment, notably the wrapping of it around my body during the gluing it to the leggings, and then later having to use so much compression to whittle it down to size, relatively speaking!!! As I've mentioned in the Q and A guide above, there is no way I have been able to bend it enough to wrap it around my torso, and to be frank, I was a bit critical about it. However, when listening to the start of the instruction video yesterday, it says use LOW density foam. Unfortunately it is not in the written instructions but I should have really thought about before now... Silly me! I've been using MEDIUM density (23 - 130) foam for both my full LegAffects garments although low density for the half thickness one. The foam I have been using was far too hard and stiff due to its increased density, so no wonder!!!! I will be buying some LOW density (15 - 60) foam in the next few days so will be making my third full thickness foam set with it. It will be much easier to wrap around my body during the gluing process and I'll be able to use much less compression while also have a smoother more nuanced figure whereas because the current one was so dense, you could hardly compress it, or if you used a lot of compression tights, it didn't make much difference!!! Stay tuned, and say farewell to the garment in my current Deviant ID photo! Hasta la vista, baby!!!
Also, remember if you make your own, enlarge the printed diagrams at least 20%, maybe 25% (I just draw around them approximately) as for some reason the printed ones are "shrunk" from what they are supposed to be... No biggie. This way, the main garment will cover your kneecaps as it is supposed to and reach over your upper pelvic crest (hip).
I do not know how many times I have downloaded these instructions from Franchii-manchii's Techdolllogic site. Bravo, Franchii for your superb work, particularly the latest iteration, and safeguarding this wonderful creation!!!
Reply

I'm so sorry I never got back in touch over the past month, MarilynBardot, but so much had went on these first weeks of 2018. Had a case of Jock Itch and after the holidays Mom and I caught very bad nasty colds (from the flu epidemic here in the United States that I'm pretty aware you've heard of lately). But we're a bit better now, and don't worry, I haven't forgot about this. I haven't started gluing yet, I haven't even traced the calf pads yet either. But I have sewn up the zipper on the Catwoman costume (as pictured), it should be sewn on extra tight this time and shouldn't burst again with the rice breasts, I just need to reattach the O-shaped silver piece back on the zipper somehow. I sewn it before Christmas. LOL I'm not a bragger, but think I did a good job sewing a zipper to a garment for the very first time, it may not be sewing machine perfect but it still look good and should hold. And just a week or two before I got sick, I've got a Batgirl plus size (XXL) costume from Party City website too, I need to do to some adjustments to it as well and get some metallic gold gogo boots and a long wavy strawberry red wig for it too. I received 2 left gloves (as pictured) instead of a left and right glove each, so I had to get separate gold Batgirl gloves instead, I didn't notice this flaw weeks after I've received the costume in the mail. I finally received my gloves for my Harley Quinn costume weeks back too (as pictured). But I'm still reusing the wrist ruffles that are attached to the smaller gloves already came with the costume, just need to cut them off to slip them over them new larger comfortable gloves. I also found some more kind of compression tights for the outer leggings from the ladies' workout clothing aisle at Walmart, as seen from the pics, they have some kind of black & grey polka-dots designs (not a big deal since the layers of dance tights will be covering them up). Would these work too? They're ladies' 2XL. Oh my! I nearly forgot about this, what kind of rope should I use to tie the foam around the cotton-blend leggings while its drying after the spraying process, do I find rope like at a hardware store like Lowe's or Home Depot or just a regular store like Walmart?

Reply

Great to see you are back on board after the break and ill health. Very good job with the zipper. Its a major effort, particularly by hand. Looks great. Bummer about the gloves... A bit naughty of them to mess that up. Whilst they are certainly vividly coloured, those leggings should be fine. Look... I really don't think that you will need the rope for the 1/2 inch thick foam. I didn't use it at all for my second garment which is the one I have used for the "Sexy Fortnight" pics on Flickr. This thickness and density foam is really easy to bend and hold in position unlike the full 1" thick foam. Having said that, I think that even that would have been OK for me if I'd been able to get it from a roll, so already curved, rather than as flat sheets! Tying it with the rope MAY compromise the positioning of the foam. Kepp doing what you are doing and after you have glued the pads together, just have a practice session or so without glue and see if you can bend it around your body OK and hold it for a few minutes. The glue is fantastic and really sticky so its not for too long...
Reply

This has been an awful flu season for us here in the United States, so bad that some people are sadly passing away, both adults & children alike. I didn't think I could sew the zipper on the Catwoman costume at first, LOL I almost panicked, now I just need to reattach the O-Shaped piece back on the zipper. So do I just go ahead and start spraying the patterns together along with the rolled up socks at the centers? I don't need rope for this 1/2 inch foam after all? I figured those leggings would be excellent for the outer. My extra Batgirl gloves haven't came yet, as I've ordered them in the last week in January, I hope they haven't got lost by postal service. I've been trying to figure out how to take the gloves apart someway and fix them where they can fit both left and right hands, but I don't think I could come up with an idea where it'll work.
Reply

That's great that you are looking at the gluing of the pads. Yes, it has been a little while to get this far so you might as well take your time. I am very confident that this is going to go very smoothly for you. So, glue the pads together, then just hold them against your side, or maybe just one, not both sides so you can use two hands against your side and see how easily it wraps around. If it is really hard (which I doubt) you may have to use rope, but I doubt that it will be necessary. The other thing is that this exercise is useful for you to just get a feel for it. Those leggings should be fine although they may be a bit hard to get on. See how you go... How many socks are you using for the hips again? I used one each side for my garment with the half inch foam see "Sexy Fortnight". As far as the gloves go, no, unless you turned them inside out, you would not be able to change a left glove into a right or vice versa... I'd contact whoever and get an exchange.
Reply

So do I just glue the socks and foam patterns all together at once or should I come back later on to glue the socks after I've finished gluing the foam patterns together? Would 2 socks on each side be too thick and difficult to put the layers of tights and leggings on? Might be good to practice the wrapping process once all the patterns and socks are glued together.
Reply

I would just glue the foam together first, then add the sock. As this is in effect a half thickness LegAffects garment, I would definitely only use one sock each side. Two would make the garment have big jutting things stick out either side. The socks are mainly to help the foam curve out to give you glorious hips, not dominate them. If you look at my very early pics on Flickr when I was using the wrong compression panties (I was using bikini style when I should have been using high cut), you can see how pointy the hips were... And that was with the full thickness LegAffects! The practice is a very good idea. Just to get you comfortable and familiar with what you will be doing when you glue it but also to work out the best positioning of the padding on your body.
Reply

Reply

This is more the ideal spacing in answer to your later question. Angled side of A pad goes inside your calf and the longer (from B and C to more vertical edge of A pad) wraps around and they join inside your calf like you have demonstated.
Reply

They look great, SSW! Yes, as you can with Quarrla's Youtube videos, the B/C thick part sits behind the calf muscle and slightly towards the outer leg. Fear not, though. As they are separate to the main garment you can adjust them easily. However, what you will find when you have completed the main garment, it is likely to just cover the knee so these will go higher up your almost up to your knee to get rid of any gap between the two parts so you have a seamless leg with no gap or dent, like in my recent "Sexy Month" pics on Flickr. Well done, and I am excited by your progress!
Reply
(3 Replies)

I ordered an more exotic Batgirl mask for the Batgirl costume too. It was a bit tight for my face at the beginning (since I have a round chubby head & face), so I had to add a larger piece of elastic for a better fit. Luckily I had some elastic lying around in some craft & sewing things I had awhile back. I just need to sew it. This mask would look so much better with a pretty red wavy strawberry blond wig and some makeup & lipstick. LOL Can't imagine how sexy me and my LegAffects will look as that Dominoed Daredoll, Batgirl!
Reply

Nananananananana nananananananana, Batgirl!!!!!!
Reply

Reply

Wasn't Yvonne Craig a hottie?!!!
Reply

YAAASS!!!! The way she filled that skin-tight purple costume out. And especially when she was a tied & gagged damsel in distress, LOL Sorry if I went a bit extreme there. I'm thinking about getting her version of the costume someday too, as they only have them in small, medium, and large. I wonder will the large fit me and over my LegAffects. From the reviews on Amazon, I heard that it fits bigger girls quite well too (because of it's tough spandex-like material). Not only she has one but Batman, Robin, Catwoman, Penguin, Riddler, and Joker all have one too. These inexpensive replicas of the costumes from the 60's original TV show have been on the market about 5 years now. Despite they're replicas, they're not so perfect quality like the cheaper costumes either I heard.
Reply

She was obviously an excellent dancer as well. Those high kicks she used to do, sometimes supported by Batman and Robin. Great stuff. Well, once you have your LegAffects curves, the world is your oyster!
Reply

I got some bad news! Seems like I'm always having a hard time getting the right pair of Batgirl gloves for the costume. The pair that came with the costume were the made for the same hand (both left handed), and then the pair I bought to go with the costume about nearly a month ago got lost in the mail, they were out for delivery on February 2nd but never showed up. Luckily they weren't very expensive like the costume. I don't know if should I re-order the whole costume again (which is more expensive) or just re-order the separate gloves again.
Reply
(2 Replies)

UPDATE: I decided to replace the current pattern 1 shapes with the pattern 2 shapes, so now pattern 2 are 25 inches in width. And I've widen the pattern 1 shape on posterboard too (28 inches), now I just need to transfer it to the foam. This thing looks like it's already gonna be huge, are you sure outer spandex leggings, shimmer dance tights, and thongs will fit over it? Like I said, now I think I'm starting to see the purpose for the outer spandex leggings now, I assume they shrink and hold the foam down in place (since they're so huge) so it'll be easier to put on the dance tights. I may not have enough foam, I may have to go back to Amazon to order some more. Some more news to share, my Harley Quinn costume & mallet came in the mail yesterday too (as pictured). The little white puff balls on the jester collar and headband are cheaply glued/sewed on and easily fall off, they to be sewed back on correctly. I really care less for the headband though, and as I said, I've been looking into blonde pigtailed wigs. The gloves are way too small and doubt if they would fit a small child, I may just cut off the white ruffles and just slip them over my wrists like bracelets and just mix and match some pairs red & black gloves. It's made out of thick spandex and comes with zipper in the back. Overall I still love it. Think I may've finally found my perfect pairs of boots for this costume and Catwoman's,
www.ebay.com/itm/352158630364?…
.
Reply

Ok. So you've discarded your original pattern 2 and used the original bigger pattern 1 in its place. Is that right? What about the wrap around the rear of the thigh part of the pattern 1? Did you cut it off or are you going to keep it and have it and your new bigger pattern 1 both wrap around the back of the thighs? Don't worry. It will be big but the full thickness foam one is much, much, bigger I can assure you!!! Its twice the thickness! The compression leggings/tight/high-cut panties/thong etc will shrink the padding down to less that half easily. You may say to yourself, why make it that thick? The reason for that is you need it really bulky because its only by lots of compression you will get rid of all the lumps and bumps and realise a smooth sexy realistic figure. Have you had a look at my current Deviant ID pic? Gorgeous legs if I do say so! And the only parts of them that aren't foam are my ankles and feet! So realistic, and yes, sexy... I think that your new LegAffects garment will fill out your Harley Quinn outfit very nicely.
Reply

Reply

LOL Harley sorta looks like a futuristic race car driver here, still looks pretty cool though. But I prefer red & black better, akin to her Batman: The Animated Series, DC, and Batman: Arkham City designs. Hey franchii-manchii and MarilynBardot, I know this topic is unrelated to the LegAffects, but what do you use for breasts? I thought I didn't need them at first but now I think I do, even though I have quite a chest of my own (as you saw earlier this year with my corset) they're still a bit flat &
manly and aren't huge & feminine enough for my outfits. Is there by any chance some cheap projects out there opposite to LegAffects that can slightly enlarge them and make them have realistic cleavage, since my Catwoman costume requires cleavage. But I wouldn't need them really huge since I'm already large & broad chested.
Reply

I have used many methods depending on the costume.
1 Push up or Water bras work very well. works with most covering outfits.
2 Taping can be very effective but it does hurt and requires you dont move your arms to much. can leave marks on you if you dont heal fast ,but i do heal fast and im quite tuff so i use this any time my chest is seen in the outfit.
3 large silicone boobs are great and some are even sticky on one side or the other. you still need a bra with most of these, they are expensive and will often pick up dye from the clothes so beware of dark clothes touching them.
4 when i was young i often used doubled up water filled 12 inch ballons, but its hard to make them perfectly the same size, and they dont last more than one night, you can use punching balloons if you need um to last a week. Or a pair of rolled up socks used with a bra.

Its not a problem to be off topic just so long as it is SFW (safe for workplaces discussion)
Reply

Looking forward to seeing you in them, Franchii, although the non-traditional black fishnet/hotpants look would also be very scintillating!!!
Reply

Dont tempt me. Ive had my eye on some color shifting red blue sequin material. to make shorts like this
www.derbykiss.com/product-page…
but with one side flipped so when you rub them they change to red right and blue left and shift the other way when rubbed back. I want them so bad but i got to much going on to put more on my plate right now!
MP4
No Preview
Reply

I think that you may have given me a link to these on Youtube a little while ago. They are very clever and this girl has a great derriere. Go on, buy them for Christmas. You well and truly deserve it!!!
Reply

Uhhhh, I think you may've missed the question,
MarilynBardot
. As I asked yesterday, do you still think these are the best route to go for the pantyhose tights (to match my skin color)?
www.ebay.com/itm/151909932521?…
They go up to 3XL/4XL.
I couldn't find the Agiato outer leggings at Walmart last night that you showed me on the Walmart website over the week? I may have to use something else for outer leggings, or either I must've overlooked them with another name and brand. I've been looking into cheaper methods to slightly enhance my already large breasts too.
Reply

I didn't check the site, that's why! These are very similar to the ones I use, including my latest Deviantart ID pic. They are great. This toast colour is much better than the light toast in my opinion, and I have both. Being dancers tights they are pretty durable as well. Because of the "geolocator" in the website, I got $13.75 USD postage but I'm sure postage is a lot cheaper for you... I recommend these as the final layer. You'll look terrific. The only thought I have with budget breast enhancement is to make rice breasts with knee high pantyhose and use a bra to hold them. I used them for 4 months before buying my silicone ones. It works very well, although a bit cumbersome... Here's a link to one of the tutorials
www.youtube.com/watch?v=aMMEps…
Reply

I've too have heard of the artificial breast pads that you can make from rice and stockings on YouTube before, I may try them. But I wonder what would be the appropriate bra size to hold them or whatever other route I may take if it doesn't work, both the strap and the cup size? I'm about 46 inches (117 cm) across the bust and 41 inches (104 cm) at the underbust. Whatever size this is, LOL I already know this sounds like a pretty big bra. Need something for a bit of a push and to actually look like cleavage, since my Catwoman costume requires it.
Reply
(5 Replies)

Sorry for staying outta touch for the past weeks, but had so much going on. I've decided to remake the shapes again. The largest pattern (Pattern 1) is still same height (26"), but only a bit wider in width, (25") for the top and (22") for the bottom as pictured. I've tried practicing the positioning and wrapping process by wrapping the shapes (with the sock ball too) around my body before I transfer them to the foam, but they'll tear or either slide off, it's probably hard to practice due to the posterboard being stiff. I've manage to find some thongs weeks back from Walmart, as pictured too. I had an idea came in my head over the weekend, but it might not work, I wonder will using a real human woman would work for the entire wrapping and spraying process? Will the garment still fit me if I go that route? I stay with my mother and I thought about using her since she's gynoid, but she isn't BBW type and is way thinner than me, but we are the same height, (5'4-5'5). Unlike me, she's been skinny almost her whole life but she started gaining for the past year (due to older age), she's gotten big from the waist down and I believe our hips, legs, thighs, and calves are about the same measurements now too, but her chest and arms are still skinny & lean though. She's currently at 145 lbs. Luckily most the ladies on her side of the family are gynoid, I have an older sister (her daughter) that's retired military and resides in Tennessee with this built too (she's curvy like me too, but only taller & longer), and also her mother (the grandma I never met) also was built like this too. I'm skeptical about the idea because she may find out and look at me differently (by me being the only son), the main reasons why I've been holding back from buying clothes, shoes, and purses. Unless I can lie and say it's just some kind of fur costume. Keeping this project secret and sneaking the stuff (like panties, thongs, corset, and the foam) in the house and in my room has become a bit hassling in the past months.

Reply