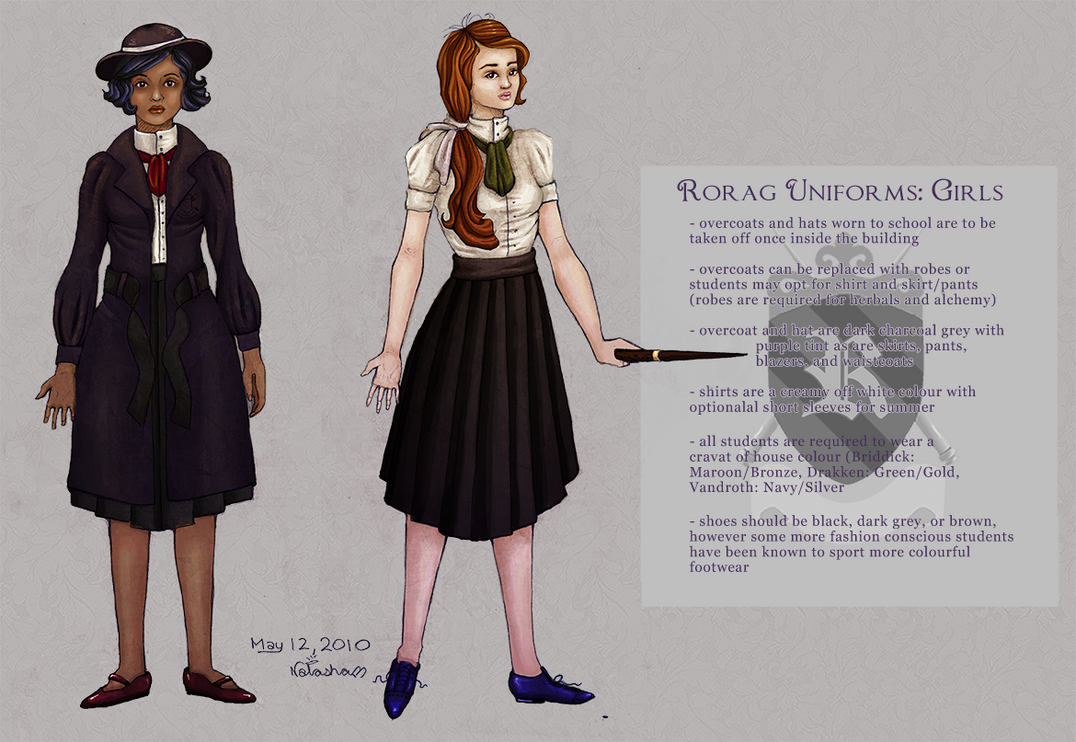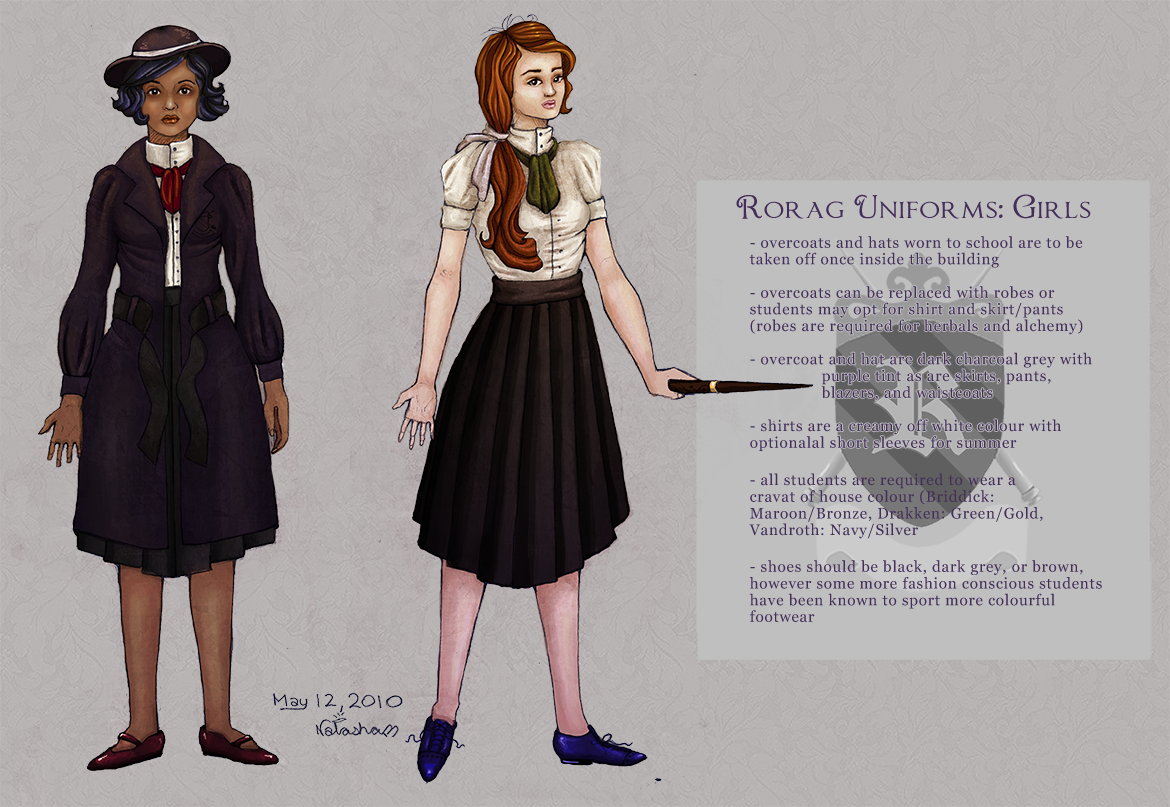 Watch
edit:
oh wow did i ever fight with the file upload here

sorry it's so tiny but when i tried to upload a 100dpi version the compression just destroyed it. does anyone know the tricks of not having your digital paintings raped by image compression????

more rorag saturation XD
so i decided to stop mucking around with scrappy drawings and really dig into the details of these uniforms among other things. i plan on doing a series of typical fashions and uniforms for different roles in society, classes, etc. starting with the kids uniforms once and for all i wanna get these done and move ON DAMMIT XD.
sketchies [link]

weapons: shit noname brand mechanical pencil .07 in size and printer paper. in my bed done on an old copy of noi.se magazine yey fashion!
yay coloured version is here! with some tidbits about how the kids rock their threads LOL. i really need to stop taking five years to colour something so simple XD. i get so bored with it actually which kinda sucks for my future endeavors but whatever.

don't save your work as Jpegs. PNG format is the best, always and ever! it does not add that wonky artifacting that shreds quality.

also i love... the outfits. o_o the shirt and hat especially.
Reply

ah i shall try png then. i'm sure some of my things are uploaded as pngs i just forget how to do things sometimes lol
anyway thank you!

the hat is one of my faves too hehe.
Reply

I love the attention you give to fabric folds... really lovely

Reply

thank you very much. i always think i suck at folds XD. i can do skirt pleats okay but yeah. folds are tough lol

Reply

OI. KITTEN. Did you reopen Rorag? o.o;
Reply

well i'm developing it again from the ground up. i've reopened the forum for chat and warm up play and such but things have died off again since school started and i've just moved and have no internet lol. it's taking forever but i eventually want to have it running again.

im having fun with it though i've really discovered what a nerd i am XD
Reply

I like these. Very thoughtful!
Reply

I love all your Rorag stuff. Does the forum still exist? O.o
Reply

thank you! and yes the forum does still exist. however i am fully rebuilding the thing from ground up. it really didn't have enough background story or plotting to get off the ground and keep going, poor thing.

so yeah reworking things, building a sort of wikki for it (using wordpress though xD), and piling my gallery high with rorag arts in hopes of generating an audience. then hopefully more members haha.
Reply

Yeah, forums are rough like that. Gotta have enough over-arching plot to keep people interested, but still be flexible enough for them to make an impact...
Reply

it is tricky.

i've been tempted to give up so many times but i just can't XD. i've invested way too much into it to just leave it so once and for all i'm taking one more stab at it, the right way. we shall see what comes of it heh.
Reply

Oh man now I want to doll lilli in the new attire.

Reply

do it up!! XD i can't wait to do the boys uniform hehe. lilli would look so cute in the little skirt but she'd probably go for the pants uniform, eh?

Reply

I kinda wanna do her in the skirt regardless, it looks fun to pixel!
Reply

These are love <3 Am digging how they look practical while keeping the Victorian feel

Reply

yes smart and practical was the goal with the lil' girls. i actually took most of my inspiration from blair waldorf of gossip girl's wardrobe and the girls of marcia blaine academy from the pride of miss jean brodie movie XDD i highly recomend that movie/book *lol*
ANYWAY thank you love!!

Reply